Page 3: People-First Language
The words we use to express ourselves convey meaning, but they also communicate attitudes, perceptions, and emotions. For example, there are a number of words you can use to describe someone who is quiet: reserved, shy, aloof. Which would you prefer people use if referring to you? Do any of these carry a more positive or negative connotation than others?
The use of positive terminology is an important issue for many individuals with disabilities and their families. In some cases, terms that were once considered acceptable now carry negative connotations and are no longer used (e.g., crippled). In other cases, the order in which words are placed is problematic (e.g., a disabled person) because the emphasis is on the disability rather than on the person

People-first language is a positive, respectful way to refer to individuals with disabilities. People-first language considerations include:
The person is mentioned first, followed by the disability. This places the focus on the person rather than on the disability.
Preferred word order
Non-preferred word order
a person with a disability

a disabled person
the disabled

a student with ADHD
an ADHD student
students who receive special education services

special ed kids
IEP kids
sped kids
The use of current terms rather than those that are outdated, negative, or derogatory.
Current terms
Outdated terms

intellectual disability
cognitive disability
intellectual and developmental disabilities

mental retardation
a person with a disability
handicapped
a person with a physical disability
crippled
Use terms that reflect positively on the person, rather than those that make negative assumptions or judgments about the person and his or her disability. For instance, a person who uses a wheelchair considers it a tool that provides him with greater mobility, and not something to which he is confined. Ironically, he would be more confined without the wheelchair to get him from place to place.
Appropriate terms
Non-preferred terms

a person who uses a wheelchair

a person who is confined to a wheelchair
a person who is wheelchair-bound

a person who has microcephaly

a person who suffers from microcephaly
As with any rules or guidelines, there are some exceptions to the use of people-first language. Individuals who are blind or Deaf are often referred to as blind individuals or Deaf individuals, particularly for those in the Deaf community which has its own language (American Sign Language) and culture. Similarly, many individuals with autism refer to themselves as autistic or as autistic individuals.
Lance Smith, whom you met on Page 1, addresses the issue of language and terminology in his poem, Special Needs World, which he performs in the video below (time: 2:12).
Special Needs World
She gasped as she clasped at her chest
pulling his hand away from her breast
She was shocked and upset by the act
when moments before she knew the fact
that my brother Taylor is handicapped
Special needs is the term that most parents learn
to say to make it okay that their child has a label
He is retarded, mentally disabled
I look down at my little bro, thinking he didn't know
any better than to reach for her sweater, but he did
With that twinkle in his eye he lets me know
that he is slick by design
My brother Taylor has Angelman Syndrome,
a depletion of the fifteenth chromosome,
which is all scientific mumbo-jumbo to say
that he is not the same
He can't talk and, yes, he rides
the short bus,
you know, the one the rest of us make fun of
And he gets off that bus to go to that
special class
Yes, the one you would pass
and look inside, seeing a kid
go for a ride in a wheelchair
while you stare at his hair
because it looks like he cut it himself
And he probably did, because raising
a handicapped kid is hard
Sometimes it's like having a toddler in the body
of a twelve-year-old
He's big and bold
and can't be told
to get down off the TV
My brother Taylor was always into something,
if not that then one thing
like a bull in a china shop
He can't stop
because he is who he is
My brother has deficiencies
It's not a disease,
so please
don't give him your sympathies
If anything, he'll give you his
You're the one who's having trouble
understanding his situation
All the while he sits
and smiles,
thinking of his evaluation of you
My brother knows nothing
of the problems of this world
like war, poverty, famine,
religious contention,
or social ascension
He can't comprehend that we can't
mend something like racism
It's not of his world,
and the only problem that faces him
is when he gets to open his
Christmas presents
My brother Taylor has a simple loving mind
in a world that can be unkind
and where it's hard to find peace and equality
and that's a fault of me
and you
and anyone who has ever refused
to help someone in need
because of their own greed
or maybe just because of their busy schedule
So the next time you think
of the problems
and difficulties
that everyone on Mother Earth must tend to,
remember who thinks you are only here
to make him smile,
my brother Taylor and his
simple life style
Activity
Consider the following scenarios:
Someone you know casually uses the word retarded to refer to a friend who does not have a disability.
Someone you know uses the word retarded in a derogatory fashion to refer to someone who has a disability.
How would you handle each of these situations? Would you handle them differently? Why or why not? Discuss this situation with others in your class. Can you think of several different ways to respond?
At one point in history, mental retardation was a clinical term used to refer to people with a specific set of characteristics. Over the years, derogatory versions of the term (e.g., retard or retarded) were used as insults. When used in this way, these thoughtless and hurtful terms reflect negative stereotypes about people with intellectual disabilities.
Now, over 200 organizations like Special Olympics and Best Buddies have joined forces to end the use of the R-word. You can learn about their campaign, pledge to eliminate the use of these terms, and find more ways to be involved in this movement at r-word.org.
You might have noticed that Lance uses some terms in his poem that do not reflect people-first language. He did so purposely to draw attention to the issues of language and labels. In the audio interviews below, Lance and his mother Leona offer their insights about the use of disability related terms and labels.

Lance Smith
(time: 1:13)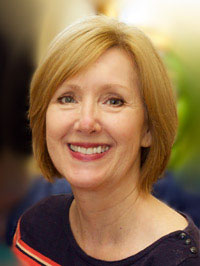 Leona Smith
(time: 1:27)