Page 3: High-Stakes Testing and Teachers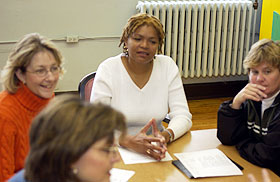 Standards-based reform gives teachers a clear outline of the educational goals they are expected to help their students reach within the school year. Standards typically include instructional content that is academically focused (e.g., reading, language arts, math, science, history) and, less often, vocationally focused. The standards are linked to assessment outcome measures, which can pose new challenges for teachers. As a result, teachers must place emphasis on increasing student understanding of topics rather than rote skill development. Therefore, high-stakes tests can have multiple benefits for teachers.
The Benefits of High-Stakes Testing For Teachers
Rewards or recognition for high or improved performance
Motivation to teach the standards
Opportunities to identify and address student weaknesses
Means for evaluating teaching performance based on student assessment scores
Activity
Find out about the accountability system in your state or local school district. Talk to teachers in your area and ask them how high-stakes testing affects their teaching. See if you can find answers to the following questions:
What are the current standards? When and how were they adopted?
What is the curriculum?
At which grade levels are students tested?
How is the test selected or developed?
What are the rewards or sanctions for schools? For teachers? For students? (Remember, there might not be rewards and sanctions at all of these levels.)
How are the results reported to policymakers and the public?