Addressing Disruptive and Noncompliant Behaviors (Part 1):
Understanding the Acting-Out Cycle
Assessment
Take some time now to answer the following questions. Please note that the IRIS Center does not collect your Assessment responses. If this is a course assignment, you should turn them in to your professor using whatever method he or she requires. If you have trouble answering any of the questions, go back and review the Perspectives & Resources pages in this module.
1. List three reasons why some students continue to cause problems even when there is a good classroom management plan in place?
2. Discuss at least one benefit and one challenge of intervening early in the acting-out cycle to prevent problem behaviors from escalating.
3.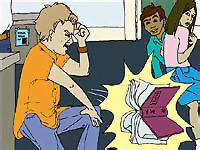 Think back to the Challenge at the beginning of this module. Ms. Rollison is having trouble with Patrick, who is a model student on some days and is rude and disruptive and refuses to work. Unfortunately, she probably does not have enough information to figure out what Patrick's triggers are. Although not discussed explicitly in the module, can you think of three methods by which Ms. Rollison could determine his triggers?
4. 
Ms. Rollison is also having trouble with Tameka, who refuses to do any written work. In this case, Ms. Rollison does have enough information to figure out what Tameka's trigger is. What is it?
5.
 Once either Patrick or Tameka enters the Agitation Phase, what would you recommend that Ms. Rollison do? If she doesn't recognize the Agitation Phase, what would you recommend differently for the Acceleration Phase?
6. What is the primary reason that teachers are often reluctant to engage in debriefing during the Recovery Phase? Why is it important to debrief in spite of this reluctance?