What is Ms. Valens's role as a school nurse?
Page 1: Assists All Students
In the Challenge, you were introduced to Angela Valens, the itinerant school nurse who serves Harwood High School. As you work through this module, you'll learn more about the vital role the school nurse plays in promoting health and education for all children in schools. In order to better understand the role of a school nurse, let's first look at the definition of school nursing as defined by the National Association of School Nurses (NASN):
A specialized practice of professional nursing that advances the wellbeing, academic success, and life-long achievement of students. To that end, school nurses facilitate positive student responses to normal development; promote health and safety; intervene with actual and potential health problems; provide case management services; and actively collaborate with others to build student and family capacity for adaptation, self-management, self-advocacy, and learning.
Responsibilities of the School Nurse
Students greatly benefit from nursing services because good health allows them to focus on their academic performance. Consequently, it is essential that school personnel understand the specific roles of school nurses so that each student is best served. According to NASN, a school nurse has multiple roles.
School Nurses' Roles
Provide direct healthcare to students and staff:
Provide short-term care for acute injuries, illnesses, or crisis intervention.
Provide long-term care for students with chronic health conditions.
Administer medication.
Perform the healthcare procedures required for children with special health needs.
Provide leadership for the provision of health services:
Develop a plan for emergencies and train staff to carry out that plan.
Delegate care within applicable laws. This might mean training other school staff—such as a nurse assistant—to carry out care for a student and, subsequently, supervising and evaluating that care.
Provide screening and referrals for health conditions:
Provide screenings (e.g., vision, hearing, posture, or body mass index).
Provide health assessments.
Promote a healthy school environment:
Monitor immunizations.
Report communicable diseases as required by law.
Monitor the school's physical environment, including air quality and playground safety.
Monitor the school's emotional environment to decrease problems such as violence.
Promote health education:
Provide instruction to students, staff, families, and the community on health topics.
Counsel students concerning health-related issues.
Serve in a leadership role for health policies and programs:
Advocate for programs and policies that seek to improve the health of students.
Assist in the development of health curriculum.
Support the development and engage in the evaluation of health policies for school districts.
Serve as a case manager and healthcare provider for students with disabilities who have special healthcare needs:
Communicate regularly with families and community health providers.
Coordinate school and community health activities.
Participate in individualized education program (IEP) team meetings.
Participate in home visits.
School Nurse Requirements
Although NASN defines the role of a school nurse, the organization does not set the licensure requirements for the profession. It does, however, recommend a bachelor's of nursing degree as a minimum requirement. School nurses are governed by the particular state in which they practice. Some states require a teaching certificate and/or certification as a school nurse, while others require only registered nurse licensure within the state. This, in turn, may affect the roles and responsibilities of the school nurse in a given state or district. Furthermore, these requirements may dictate who else in the school may be permitted to perform health-related services.
Unlicensed Assistive Personnel
In some cases, an itinerant school nurse (that is, a school nurse who travels from school to school) or district-wide school nurse is responsible for the health concerns of all of the children in numerous schools. In such cases, he or she can train assistants to help provide necessary services. The term unlicensed assistive personnel (UAP) refers to individuals who assist a school nurse with his or her school responsibilities. UAP should never replace school nurses and should always have appropriate levels of training as determined by the school nurse. After training, ongoing supervision and evaluation of the UAP's performance by the school nurse is necessary to ensure that safe and effective care is being provided to students. Ideally, teachers should not serve as UAP, inasmuch as these duties would detract from instructional time. UAP may include:
School staff (e.g., a school secretary)
Health/ nursing assistants or aides
Parents
Click here to listen to Judy Harrigan, RN, describe how healthcare tasks can be delegated to others within the school environment (time: 1:40).
Transcript: Judy Harrigan, RN, MSN, FNASN
First of all, not every state allows delegation. But in the states that allow delegation, there is a process that's established. The person who is delegating must make sure that, number one, the person that they are identifying is competent and capable and willing to take the task. And then the second piece of that is that they would be required to provide a level of training that may be specific to that task or may be broader than that—and it depends. For instance, in Colorado there is a four-hour medication training course that enables people to administer medications orally, topically, and through an inhaler. But if any other kinds of medications are given—rectal medications, injections, epinephrine, and so on—that training is given separately, relative to the individual child who needs that particular medication. With something like a gastrostomy-tube feeding, the training would be done—at least in this state—on an individual basis for that particular child. There are different protocols in different states, but I think, probably pretty standardly, you could say that training must be provided for anyone who is doing healthcare procedures. The choice of the person needs to be appropriate, the training needs to be provided, there needs to be a supervision-and-evaluation piece to it, and there needs to be a record-keeping system whereby the training and the ongoing supervision is documented on a regular basis.
Back to the Challenge: Harwood High's UAP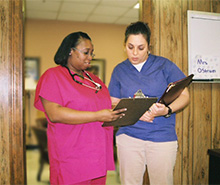 The UAP, Mrs. Carpenter, has certain duties to perform while Angela Valens, the itinerant school nurse, is serving other schools. When the UAP position opened, Angela Valens recommended that Mrs. Carpenter—formerly an educational assistant at Harwood High School—be hired because of her competence, organizational skills, and rapport with the students. She received training in CPR, medication administration, and other medically related response procedures, such as those for asthma and allergic reactions. Now she meets with Ms. Valens on a consistent basis to monitor student health, maintain student records, and coordinate communication between school personnel and families. Ms. Valens documents her meetings with Mrs. Carpenter for evaluation purposes.