Activity: Calculate Rate of Growth (Student B: Secondary)
Calculate the slope of your student's CBM scores over the seven-week monitoring period. Look at his graph to find the information you need.
Enter the information in the slope calculator
Enter the slope here:
The slope is .86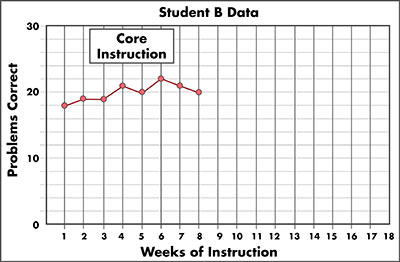 This graph is titled "Student B Data." The x-axis is labeled "Weeks of Instruction," and each week from 1 to 18 is labeled on the axis. The y-axis is labeled "Problems Correct." This axis is labeled from 0 to 30, with 10, 20, and 30,delineated numerically with five tick marks between each label, representing 2 digits correct each. The lines indicating 0, 10, 20, and 30 problems correct are labeled. There is a box in the upper-left corner labeled "Core Instruction." There are data points for weeks 1 through 8 at 18, 19, 19, 21, 20, 22, 21, and 20 problems correct, respectively. These points connect to form a red line graph.