Paso 4: Enseñe los procedimientos de auto-supervisión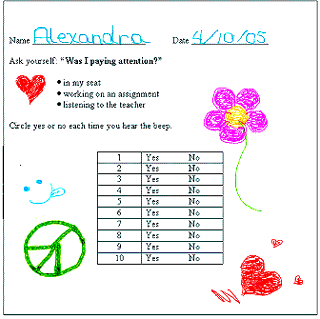 This is a self-monitoring form for Alexandra on 4/10/05. Underneath her name and date is the text, "Ask yourself: 'Was I paying attention?'" and the following three bullets: in my seat, working on an assignment, listening to the teacher. Below the bullets is the text, "Circle yes or no each time you hear the beep," and a table numbered 1 through 10 with the options yes or no beside each number. Surrounding the text are Alexandra's doodles of hearts, a peace sign, a smiley face, and a flower.
Ahora el profesor está listo para comenzar a enseñar los procedimientos de auto-supervisión. El proceso es simple y generalmente requiere poco tiempo para implementarse. El profesor explica dónde y cuándo se usará el autocontrol y enseña los procedimientos reales que se utilizan en la auto-supervisión.
El profesor:
Define el comportamiento identificado específicamente (por ejemplo, hablar con un vecino) y el estudiante modela el comportamiento deseado (por ejemplo, escuchando al maestro)
Modela el comportamiento problemático y el comportamiento objetivo (por ejemplo, hablar con un vecino y escuchar al maestro) y le permite al estudiante identificar cuál es la conducta deseada
Explica cuándo y cómo registrar la aparición del comportamiento deseado en el formulario de autocontrol o en la hoja de conteo (haga clic aquí para ver hojas de conteo)
Dramatice los procedimientos de auto-supervisión anteriores con el estudiante
Especifique cuándo y dónde el estudiante auto-supervisará su comportamiento.
Es importante que el estudiante pueda usar los procedimientos sin esfuerzo. Los procedimientos de autocontrol no deben distraer al estudiante. Más bien, deberían ser casi automáticos.
Para su información
Permitir que el alumno personalice el formulario de autocontrol ayuda con la propiedad y hace que el proceso sea más agradable. Además, las hojas de conteo deben diseñarse para reflejar la edad, el nivel de desarrollo y las necesidades individuales del estudiante. SMA (autocontrol de la atención) por lo general usa señales para recordar a los estudiantes que se autoevalúen. Por ejemplo, un profesor puede usar una cinta de audio que contiene tonos o algún otro método para señalar un intervalo de tiempo. El SMP (autocontrol del desempeño) generalmente requiere que el estudiante cuente la ocurrencia del comportamiento.