DRAFT
What resources should Ms. Milton consult to learn more about Evan's and Emily's needs?
Page 1: Getting Started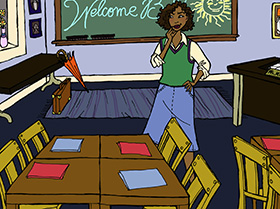 It is certainly understandable that Ms. Milton feels at a loss about how to prepare for the inclusion of Evan and Emily in her classroom with only 3 days left before school starts. She needs to reorganize her room, set up and become familiar with new equipment, and think about how she's going to facilitate Evan's and Emily's participation in student work groups.
Some adjustments will likely be necessary for safety, and other modifications will increase the ease and efficiency with which students with visual impairments can function in the classroom. But in actuality, major changes in the classroom are rarely needed for the inclusion of students with visual disabilities. Additionally, it is usually the case that all students in the class benefit from classroom arrangements that are helpful for students with visual impairments. For example, organizing materials and keeping them in consistent places not only helps students with visual disabilities, but it also helps all the students in the class.
Establishing Your Resources
Before Ms. Milton tackles all these issues related to the arrival of Evan and Emily, her first priority should be to consult their individualized education programs (IEPs) . The IEP will serve to guide her as she develops a plan of action to meet their needs. In addition, the IEP will identify members of the students' support teams. Ms. Milton should contact each member of the support teams to gather information on the students' strengths and weaknesses, disability-related information, and the best methods of inclusion for the students. The members of the support teams may include:
Family members or parental guardians of the student with the visual disability