DRAFT
What does Ms. Milton need to know about students with visual impairments?
Page 5: Assistive Technology
Ms. Milton received a delivery of equipment for Evan and Emily, and now she realizes that she doesn't even know the names of most of the equipment, let alone how to use it. Even for a seasoned teacher, the vast array of assistive technology (AT) available for students with visual impairments can be intimidating.
Now that Ms. Milton is familiar with the professionals who can assist her, she decides to consult the Teacher of Students with Visual Impairments. The TVI reassures her that she does not need to be an expert in the use of all of these devices, however, it is helpful to know the:
Appropriate names and purposes of each device

Level of the students' skill in using each of the devices

Strengths and limitations of the assistive devices

Activities in which the students should be using each of the assistive devices
Ms. Milton is relieved to know that some of the assistive technology can be learned with a short investment of time. When general education teachers acquire basic skills in how to use the assistive technology (e.g., turning equipment off/on, general trouble shooting for paper jams), it certainly benefits students with visual impairments. However, expertise with complex or highly specialized equipment isn't typically expected of the general education teacher.
Types of Assistive Technology Devices



With the use of AT, students with visual impairments have increased access to the same kinds of information their classmates have. Many devices that originally required that users have vision, such as computers, notetakers, calculators, dictionaries, and even watches, are now equipped to provide speech output, braille, or have a large print display for those with visual impairments. Smart phones and tablets have built-in accessibility features and  free or low-cost apps available for these devices can perform many of the assistive functions that require expensive equipment less than a decade ago. It is important to note that not all assistive equipment is "high tech" and that many devices used to improve the functional capabilities of students with visual impairments are inexpensive and "low tech," such as the long cane, reading stands, or felt-tip pens. Ideally, an assistive technology assessment will be conducted to identify which devices a student will benefit from using.
Click below to view photographs and descriptions of various assistive devices and equipment used by students with visual impairments.
Optical



Magnifiers (hand-held, stand)

Magnifiers may be used to aid reading print or viewing pictures and other graphics. In general, the higher the magnification power of the device, the smaller the field of view. 

Magnifiers use lenses to aid the use of vision by enlarging the image (such as print) that the viewer sees. Magnifiers come in a variety of styles (e.g., hand-held, stand, or mounted on to eyeglasses).



Monocular telescopes

Monoculars are small telescopes that may be either handheld or attached to eyeglasses. Monoculars may be used to view indoor (e.g., the chalkboard, overhead projections, bulletin boards) and outdoor objects (street signs, addresses, traffic and pedestrian lights).
Nonoptical



Lamps

For some individuals with low vision, lamps may aid their use of vision by increasing the illumination of the object being viewed. The amount of illumination for comfortable viewing may be related to many individual factors, including the type and degree of the viewers' visual impairment and their personal preferences. In addition to the type of lighting (e.g., fluorescent or incandescent) and the position of lighting (e.g., directly on the task, behind the individual's shoulder) must be considered when attempting to maximize an individual's use of vision.



Bold-line paper and felt-tip pens

Bold-line paper and felt-tip pens are examples of 'low-tech' nonoptical devices that aid students with low vision in the development of their writing skills. Writing paper may be individually designed and photocopied by the teacher or purchased commercially.



Reading stand

Reading stands can change the position of the reading or writing surface, increase comfort in the viewing position, and/or reduce overhead lighting glare for students with low vision.



Writing guide

Made out of cardboard, plastic or metal, writing guides come in rectangular forms of various sizes, and each have a space cut out to allow signatures or other information to be written within their boundaries. Many blind people use such guides to sign their names or write checks.
Video magnification



Closed-circuit television (CCTV)

Video magnifiers, sometimes called CCTVs, provide electronic magnification using a video camera that projects the image (e.g., reading material, pictures) onto a monitor. Video magnifiers come in a variety of sizes and styles, and many allow for both near and distance viewing – allowing a student to magnify reading material at their desk and see what a teacher shows across the room on a projection screen or white board.

*An updated photo of a device with near and distance viewing would be good. Perhaps the Visiobook? https://tech.aph.org/vb_info.htm




Computer screen magnification

M

ost

modern

computers

have accessibility features that

allow users to choose the

text size

,

color in which text is displayed and the background color shown on the screen.

Specialized software also exists that will allow greater control over screen magnification properties

.
Braille



Braille (sample)

Braille is a code of raised dots arranged in six-dot cells that represent the letters of the alphabet, numbers, and punctuation marks. Braille may be written in uncontracted form, which is letter-for-letter translation, or in contracted form, which is written using abbreviations and contractions.

Photo reproduced with permission from the document entitled "What Do You Do When You Meet Someone Who Can't See?" from the Lighthouse International Website

http://www.lighthouse.org




Perkins brailler

Braillewriters or braillers are similar in function to typewriters and may be manual or electric. The most commonly used in the United States is the Perkins brailler, which is made of heavy aluminum and has six keys, a space bar, and knobs to insert and maneuver the paper.



Braille note taker with tactile (or speech) output

Braille notetakers have braille keyboards and provide spoken and/or tactile output. The user can take notes and compose documents in braille, store the notes in the computer's memory, and retrieve the notes for spoken or braille output.

Photo courtesy of Freedom Scientific




Braille watch

Braille watches typically have hinged crystals that can be lifted so the user can feel the raised-dot hour markers and hands.



Braille embosser

The printing of text in braille may be done with a braille embosser. Before embossing, however, the text on the computer must be translated into braille. This is done with braille translation software, which is compatible with many word processing programs.



Slate and stylus

The slate has rows of cells and holds the braille paper. It may come in a variety of sizes; the smaller versions are portable and meant to be carried with the user. The stylus also comes in a variety of models but generally has a pointed end (used to poke the paper and make raised dots) and a rounded end (used as an eraser to rub the dots flat when there is an error).



Braille labeler

The braille labeler works like a print label maker, producing braille on self-adhesive plastic or magnetic tape that can be used to identify books, clothing, or other objects. This allows students to be independent in organizing and using their own materials.



Refreshable braille display

Refreshable braille display is an output device that is connected to a computer, often in front of or under the keyboard. It consists of pins arranged in the shape of braille cells that rise and descend to form braille characters.
Audible/Speech



Optical Character Recognition (OCR) with speech output

Optical character recognition (OCR) software converts a scanned document into a text file. Reading systems for students with visual disabilities often combine OCR with speech synthesizers (devices that change text into spoken words).



Braille note taker with tactile (or speech) output

Notetaker keyboards come in braille or standard QWERTY keyboard versions and have features such as synthetic speech output, refreshable braille, and braille translation. Most notetakers can interface with a regular computer, and some have computer or tablet capabilities

*Recommend an updated photo. Perhaps the BrailleNote Touch? https://store.humanware.com/hus/braillenote-touch-32.html




Talking calculator

Talking calculators come in a variety of types and styles, and they perform the same functions as standard calculators. They typically have raised, high contrast buttons, and provide speech output during entry and after calculation.

 Speech output on computers


Most

modern

computers have

built in accessibility features

that

include

narrating functions to read text on the sc

reen aloud. Specialized

screen reading

software also exists

for

reading

text on

a computer screen

for students who are blind or have low vision.




Talking watch

Talking watches may have either digital or analog displays. With the push of a button, the watch will announce the current time, and some models also announce the day of the week and the date.



Tape recorder and cassettes

Digital talking book players may be used to record classes or to listen to textbooks, journals, or leisure reading materials. Digial books are available from a variety of commercial sources and nonprofit organizations.

*We need a new pic here. Perhaps the Bookport Plus from APH? Or the Victor Reader Street from Humanware?


Digital recorder


Digital recorders can be used to record short notes and lectures that can be played at a later time.

*We need a new pic here. Perhaps the Wilson Digital Voice Recorder (from APH)?
Optical



Monocular telescopes

Monoculars are small telescopes that may be either hand held or eyeglasses.

*Deleted: This is repeat from category above "Devices to aid use of vision"

Nonoptical



Long cane

The long cane is a mobility device for individuals who are blind or who have low vision. When used properly, canes help users to detect obstacles, drop-offs, and changes in ground surface.



Visor and sunglasses

Wide-brimmed visors or hats are often used during O&M lessons to assist in controlling glare for students who have low vision. Sunglasses are used to provide ultraviolet protection from the sun's rays and to remediate the impact of glare upon individuals with low vision who are sensitive to bright light. Students who experience night-blindness may need flashlights to light their path of travel,  look for landmarks, or aid in reading street signs and addresses.

*Brenda take new pic with all three (visor/hat, sunglasses and flashlight)?




Flashlights

Flashlights can provide additional illumination at night and in dimly lit environments. Students who experience night-blindness may have particular need for flashlights. Wide-beam flashlights are often used to light the path of travel and look for landmarks. Narrow-beam flashlights are often used for tasks such as reading street signs and addresses.")

should we combine with above?

Orientation aids



Compass

Braille and talking compasses serve to provide navigational assistance for individuals who are visually impaired. Individuals who use braille compasses can identify North and the other directions by feeling the position of the raised arrow on the face of the compass via braille letters. Talking compasses typically announce the direction in which the compass is pointed.



Tactile map

Maps provide a tactile-visual representation of the spatial layout of environments such as classrooms, hallways, neighborhoods, and cities. Because children who are blind or who have low vision may have difficulty seeing or conceptualizing large environments, the use of tactile maps can enable them to develop the 'big picture' of surroundings beyond their immediate perception.

GPS


Global positioning satellite (GPS) receivers can relay information from GPS satellites and inform travelers who are visually impaired of their current location.  Travelers can review the street layout of unfamiliar areas and can plot the route – including distance and directions – to destinations.

*Need pic of updated GPS device, e.g. Victor Reader Trek: https://store.humanware.com/hus/victor-reader-trek-talking-book-player-gps.html

Ultrasound

There are a variety of devices that are designed to emit ultrasonic waves (sound waves beyond the human threshold to hear) to provide advanced warning of obstacles in one's path and to find openings (e.g. hallways, open doors). They may be hand held, worn or mounted on a long cane.

 

*Need pic of device using ultrasound.

Perhaps the Ultracane? (ultrasound mounted on a long cane)

or, the Miniguide? (hand-held device) https://www.lssproducts.com/product/Miniguide-Mobility-Aid/other-canes-and-accessories

or, the Suno band? (worn on wrist)
Activity
CHANGE? Help Ms. Milton decide which devices are for Emily and which are for Evan. Click here to begin.

Smart Phones and Tablets
While some teachers might question the use of smart phones in the classroom, they can be very useful tools for students with visual impairments, such as Evan and Emily. Most modern smart phones and tablets come with a variety of built in accessibility features for people who are blind or have low vision, such as:
Options for screen magnification, which allow one to change the size, boldness, color and contrast of text and background for easier viewing

Screen reader

s

with speech output (e.g.,

VoiceOver

for

i

OS devices; Talkback for

Android devices

)

"Intelligent Assistants" that can follow voice commands for many tasks, such as scheduling appointments, making phone calls, reading or writing texts (e.g., Siri for iOS devices)

In recent years, many apps for smart phones and tablets have been developed that can assist people with visual impairments to conduct a variety of daily tasks that are part of the expanded core curriculum for students with visual impairments.
Click on the link below for some examples of apps that can be used with iOS or Android smart phones (and some tablets) to aid students with low vision or blindness in a variety of daily living tasks.
ADD TABLE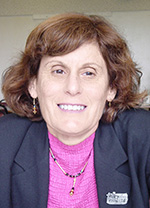 Sharon Sacks, PhD
Professor, CSU-LA Charter College of Education
Division of Special Education
ADD ACTIVITY FROM page 5 of Instructional aCCommodations