How can Ms. Rollison determine why Joseph behaves the way he does?
Page 6: Collect Data: Interviews and Rating Scales
The second step in the FBA process is to collect data. The purpose of these data is to provide information on when, where, and how frequently the problem or target behavior currently occurs, or how long it lasts. Data are collected from several sources (e.g., parents, teachers, student) and through several different means.
| | |
| --- | --- |
| | Interviews |
| | Behavior rating scales |
| | Direct observations (discussed on the next page) |

This data collection is usually coordinated by an education professional (e.g., teacher, school counselor, behavior analyst, school psychologist, member of the pre-referral intervention team). By pulling together all of this information, the team gets a more complete understanding of the student's behavior. In Joseph's case, this information can help Ms. Rollison begin to:
Determine the function of his behavior (i.e., why he engages in the problem behavior)
Identify reinforcers for the problem behavior
Set reasonable goals for change
Interviews
Interviews are often one of the first tools used to assess a behavior's function. Interviews (formal or informal) are conversations with teachers, parents, and the student that include questions geared to determine:
Background information about the problem or target behavior
Possible antecedents and consequences associated with the problem behavior
The times of day, places, and settings in which the problem behavior is likely to occur (as well as when and where it does not occur)
Intervention strategies that have already been tried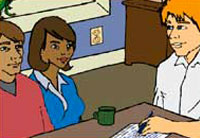 Interviews can take ten to thirty minutes to complete. Though the student interview (e.g., Student Assisted Interview) should be conducted individually, some adult interviews (e.g., Preliminary Functional Assessment Survey) can be conducted either individually or with a group. For example, a teacher and a paraprofessional could be interviewed together, as could a mother and father. Although interview questions are typically straightforward, the team members may sometimes find that they need to probe for additional information.
Click on the icons below to view sample interview questions and responses for David, the student who displays off-task behavior.
Rating Scales
Rating scales (e.g., Achenbach Behavior Rating Scales, Motivational Assessment Scale, Social Skills Rating System) include a set of questions or statements to which parents, teachers, or the student respond. The responses provide information about the behavior in question, such as how often or during which activities it occurs. Adults who fill out rating scales may be asked to gauge how frequently a behavior occurs in different settings or whether the student gets attention from peers or others after exhibiting the behavior. Students may be asked to provide information on the difficulty of their work, or how well they like certain activities. These questions may be read to the student or completed by the student independently, depending on his or her age or reading ability. Results from rating scales can help identify possible antecedents, consequences, reinforcers, or possible functions of the behavior, particularly when comparing the answers of several respondents. The forms below show portions of teacher ratings of David's behavior, as well as David's ratings of his own behavior.