What strategies can educators implement to prevent or address challenging behaviors?
Page 7: Choice Making
Choice making, sometimes referred to as instructional choice, is the process through which a teacher provides structured options to facilitate a student's ability to follow an instructional or behavioral request. Choice making can be used to proactively reduce challenging behavior, especially among students likely to engage in challenging behavior to avoid or escape from non-preferred tasks. Offering students choices for non-preferred tasks or tasks that they find challenging gives them more control over their own learning and fosters independence.
Research Shows
Incorporating instructional choice leads to improvements in student engagement.


(Ennis, Lane, & Flemming, 2021)

Choice making can be beneficial for students with or at risk for disabilities because it gives them the opportunity to take control of their own learning.


(Ramsey, Jolivette, Patterson, & Kennedy, 2010)
Using the Strategy
To help educators prevent or address challenging behavior, the table below describes the steps to implement choice making and provides an example.
Steps
Description
Example

Decide when to use choice making.

In situations in which a student does not consistently follow instructional or behavioral requests, consider allowing the student to make a choice.

The teacher notices that a few students frequently talk with each other instead of working on their independent writing assignments. She decides to use choice making to facilitate students' completion of their assignments.

Decide how to use choice making.

There are two common ways to provide students with choices:

Within activity. Offer students a choice of how to complete a task. This includes choosing materials (e.g., write in a journal or type on a computer), environments (e.g., sit by yourself or with a group), or the order of the tasks.
Between activities. Allow students to choose between two or three options (e.g., work on math or writing).

The teacher decides to use a within-activity choice. When it's time to begin working on their papers, the teacher gives them two options:

Brainstorm ideas with a partner for three minutes.
Begin writing at your desk.

Provide opportunities for choice making.

To avoid overloading the student, limit the number of available choices (e.g., two or three).

Options for choice making can be provided in multiple means, such as:

Picture cues: Use pictures or illustrations to display the choices visually and have the student select one.
Written: List the choices on the dry-erase board, on top of an assignment, or in a student's notebook.
Verbal: State the choices orally.

The teacher says to the students, "It's time to begin working on your papers. If you're ready to get started, you can begin writing at your desk. If you would like to brainstorm ideas, find a partner and discuss for three minutes."

Praise the student.

Provide praise after the student makes a choice and again after the original instructional or behavioral request is completed.

Once the students get started brainstorming ideas, the teacher says, "Mirabel and Jess, you're generating some good ideas."

Once students begin writing, the teacher says, "Mirabel and Jess, thank you for respecting the time limit and getting started on your writing."
In addition to the four steps listed above, the three actions below can be helpful when implementing this practice.
Explicitly teach and model choice making.
Give students opportunities to practice choice making. Offer prompts and provide guidance as necessary.
Some students might take a long time to make their choice. Avoid this by limiting the amount of time they have to do so.
For example, before an educator offers choice opportunities, he should:
Teach the procedure: The teacher might say, "For our next project, you will need to complete three tasks: a paper, a poster presentation, and a speech. Read the requirements for each, and then choose the one you would like to get started on first. Once you have made your choice, please quickly and quietly grab the materials needed to complete your project."
Model the procedure: The teacher might say, "As I read through the requirements, I think a poster project is the best option for me to start first. Now that I have decided, I'm going to grab the materials needed for my poster project in the back of the room, take them back to my desk, and get started."
Make sure the choices you select match the student's age and developmental level. The student must have the skills necessary to engage in the instructional or behavioral task.
Only offer options that are acceptable to you and will not disrupt classroom learning.
Consider which choices you would like to add at different stages of instruction (e.g., modeling, guided practice, independent practice). Focus on providing choices for non-preferred tasks or tasks that students find challenging.
For example, in an activity at the beginning of class, an educator could list five math problems and ask each student to choose three they'd like to complete. Or an educator might offer two journal prompts for the beginning of a writing activity, and students can pick one they would like to write about.
Give students the opportunity to provide feedback on choice making. Some students may find that making choices is difficult, which likely means that they need more practice or that too many choices are being provided.
For Your Information
It's easy to confuse choice making with offering a menu of activities. A menu of activities allows students to choose a task they would like to complete based on their preferences or interests, while choice making helps students get started or re-engage in a task they are resistant to.
In these interviews, Kathleen Lane and Johanna Staubitz explain choice making in more detail.
Kathleen Lane, PhD, BCBA-D
Professor, Department of Special Education
Associate Vice Chancellor for Research
University of Kansas
(time: 3:19)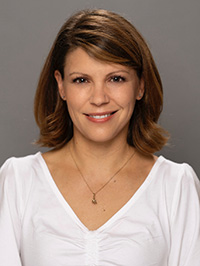 Johanna Staubitz, PhD, BCBA-D
Assistant Professor
Department of Special Education
Vanderbilt University
(time: 3:01).
Transcript: Kathleen Lane, PhD, BCBA-D
Oftentimes, I think, to some students in school, maybe even a lot of students in school, they feel like everything is just like lockstep. It's very a didactic experience. I come in and somebody with a really big desk is telling me what to do all day long. And a lot of students want to push back. Maybe I would have done that normally, but I don't want to do it because you just told me I had to kind of a thing. So offering choices is a way of gaining momentum to help students participate instructionally by allowing them to have an opportunity to choose. And this is actually really important to building their self-determined behavior and helping to motivate them. And when I talk about choice, choice is not like, "Hey, do you feel like working today?" Instead, it's something like, "There's three assignments that we've got to do today." And after you've checked for understanding to make sure they know what to do, then they get to choose which one to do first. Or it might be kids walk into a classroom, there's two journal prompts, they can pick one to write on. Or it might be there's a closing activity and you have five math problems on the board, and you tell students, "Pick any three that you'd like to do." And then you let that student choose and then whatever they choose, that is what they do. And sometimes I've seen students try to do a choice in the form of a group where the teacher says the class vote on the one you want to do. But that's not the same as instructional choice for all, cause the downside of trying it as a group is that some students are going to get access to what they want to do in the first place, and other students are going to have to go with whatever the majority rule was, so they didn't get their choice. So instead, you want to make sure that each student has the opportunity to pick whatever their first choice is. So we need to think carefully about how we present those choices. For example, some students may have huge test anxiety and they don't know what to do. And so you might offer them a choice when it comes time to take a test. "Would you like to do half this test on paper? Would you like to do the other half on the computer?" So we can even build in choices to assessment situations as well. Again, it's just a way to give students this feeling of autonomy and independence and let them know that the choices they're making influences their day. It could be, "We're going to do a unit on the Civil War, and I'd like you to pick a literature book. And you can pick from any of these four options."
In addition, you can oftentimes allow students to do more of what you need them to do if you give them an option on how to show what they know. So you might do things like offering a choice between "Do you want to show me what you know by doing a video? Would you instead like to write a little two-page paper? Would you like to write an instructional manual?"
So in brief, instructional choice is something that can be embedded all throughout the day. It can be done in starter activities during independent time. It can be a way for kids to show what they know. But the idea is that choices are presented. You have clarity on what those objectives are, what you're hoping to learn from each of those activities that might get selected. And then when the student makes their choice, they're given that opportunity to engage in what they themselves chose.
Transcript: Johanna Staubitz, PhD, BCBA-D
If I had to name one thing an educator could do that would have the most impact, it would be giving students more choices. Offering choices can reduce interfering behavior by allowing students to do things in the way that they most prefer at that given moment, or at least do things in a way that is relatively preferred to whatever you would have assigned as the teacher if you didn't give a choice. And in doing that—doing the thing that's relatively preferred—students escape something that bothers them about the activity. No challenging behavior needed to escape that thing.
Some examples are offering choices about the modality of the assignment. Maybe you allow a student to choose whether they handwrite the journal response or type it. You can offer choices about the independence of the activity. "Do you want to work by yourself, with a partner, or a group?" Let the student have a role in deciding how that works. Sequence can also be an opportunity for choices. "In what order do you want to tackle these different practice activities we have planned for this particular learning objective?" You can also provide choices about the activity itself, provided the choices are all aligned with the skill that needs to be practiced. For example, maybe a student could choose whether they use the computerized fluency practice program versus doing hard copy fluency timings or complete a written quiz versus participate in a Jeopardy game where you can still evaluate their mastery of that skill. And this relates closely to the next one, which is a choice in the product. How does the student want to demonstrate their mastery of the content? If it's all the same to you as the teacher, why not let the student choose whether they want to present live or record their presentation and then show it in class? Or maybe instead of presenting, make a written report or develop a website to demonstrate their knowledge. One last opportunity for choice—although there are more—is choice among the subject of a given activity. So if a student's writing a biography project about the American Revolution, maybe they choose the historical figure that they write about. You can even give a choice about [laughs] whether there is a choice. Some students would rather be told the sequence or the subject of an activity or rather be told what product to submit. So you can say, "Do you want me to assign you something or do you want to make a choice about it?"
In those ways, doing stuff like that can allow students to escape something that's really hard about an activity that they otherwise would have resorted to challenging behavior to escape. But another upside of offering choices is that it helps students to develop some important life skills, like identifying their preferences and communicating them. Those skills contribute to development of self-determination and are core skills for self-advocacy. Also offering choices is a way to share governance with your students, and that strengthens the relationship between teacher and student. And strong relationships or strengthening of those relationships can have cascading positive effects on behavior down the road. So you're working toward the long term. Ultimately, embedding choices in instruction is a pretty low effort way to work toward several goals at once: reducing escape-maintained behavior, supporting self-determination, and establishing a collaborative relationship with students.
Tier 2 Support
Although choice making can be used as a Tier 1 strategy, it can also be used as a Tier 2 support for students with moderate levels of externalizing or internalizing behaviors. The steps are the same as when used as a Tier 1 support, but for Tier 2 the educator uses choice making with greater intensity (e.g., more frequently). To determine if the strategy is effective, the educator collects and analyzes the data using the following steps:
Identify the student behavior to be addressed (e.g., student engages in off-task behavior to avoid writing an essay) during an instructional period in which the behavior typically occurs (e.g., science, math).
Collect baseline data on the student behavior for a designated timeframe (e.g., first 20 minutes of class) during the identified instructional period. Collect this data across several days (e.g., 3 to 5 days) to see how often this behavior occurs or how long each episode lasts.
Implement or intensify choice making and continue to collect data (e.g., same instructional period, same length of time) for 3 to 5 days to determine whether the student's behavior changes.
Evaluate the effect of choice making. Compare the implementation data to the baseline data to evaluate whether the strategy has had the desired effect on the student's behavior.

To make sure you are using this strategy with fidelity, download this choice making implementation checklist.
To view our IRIS Fundamental Skill Sheet on choice making, click on the title below.