Which study skills strategies can improve students' academic performance?
Page 2: Graphic Organizers
Students like Kyra who have difficulty processing information often have trouble connecting new ideas and concepts to their prior knowledge, identifying main ideas and important pieces of information, and ignoring irrelevant information. Graphic organizers, sometimes called webs or concept maps, can help these students more easily process information. More specifically, these tools allow students to:
Organize information
See the relationships between ideas
More easily understand, remember, and apply information
Douglas Dexter, whose primary research interest is successful inclusion practices for adolescents with LD, has focused much of his attention on the effectiveness of graphic organizers. Listen as he describes three reasons that graphic organizers are effective for students with learning difficulties (time: 2:02).
Transcript: Douglas Dexter, PhD
The good news about graphic organizers and in such content enhancements, they really benefit everyone. This isn't just a tool for my students with high-incidence disabilities. This is a tool that's going to really help everyone in the classroom. Why are graphic organizers so effective? We have three big ideas that we can focus on. The first one, graphic organizers make information extremely explicit and clear. The spatial arrangement of the main concepts or information on the graphic organizer make it very clear for the students how those facts or concepts are related. It makes those relationships very apparent. And when I talk about relationships, those can be temporal, having to do with time, spatial, semantic, sequential, hierarchical, or comparative. The second big idea for why graphic organizers are effective is because they serve as a bridge between new information and prior knowledge. So as a teacher if I present very general ideas of a new concept and compare that to a concept that I have previously taught my students, it's going to better allow my students to understand that information and link it to their prior knowledge, which is critical for students to learn new information. This is much more effective than giving an introductory lecture or a text introduction to a new subject. And finally the third big idea for why graphic organizers can be so effective for students with LD and ADHD is because graphic organizers really minimize the stress on the working memory. Students with LD and ADHD, they have difficulty identifying those main ideas and supporting details. They have those issues with identifying and ignoring extraneous information. If we can cut that out for our students, really cut the fluff so to speak, we can really minimize the stress on the working memory, which is going to allow the students to learn much more about the subject.
Research Shows
The results of two research syntheses and one meta-analysis suggest that graphic organizers increase comprehension for students with learning disabilities across all grade levels.


(Dexter & Hughes, 2011; Gajria, Jitendra, Sood, & Sacks, 2007; Kim, Vaughn, Wanzek, & Wei, 2004)

Graphic organizers, proven effective for students with and without learning disabilities across all grade levels, can improve reading comprehension and writing skills and increase learning in content areas.


(Ellis & Howard, 2007)

Students with learning disabilities and ADHD who used graphic organizers outperformed those who did not use graphic organizers on a test of conceptual understanding of linear equations. This suggests that graphic organizers are effective tools for learning higher-level mathematics.


(Ives, 2007)

A meta-analysis shows that middle and high school students with disabilities who used graphic organizers to learn science content displayed increased vocabulary knowledge and comprehension.


(Dexter, Park, & Hughes, 2011)
Because there are many kinds of graphic organizers, teachers should carefully select those that will best convey the information and relationships they wish for their students to learn. The table below lists several of the most common types of graphic organizers and the purposes for which they can be used. Click on them to learn more as well as to see completed versions of each (when the link is clicked, the content will open underneath the table).
Cause and effect chain
Students can use this type of graphic organizer to clarify the relationship between specific events and the outcomes deriving from them, thus illustrating the concepts of consequences, inevitability, and causality.
Example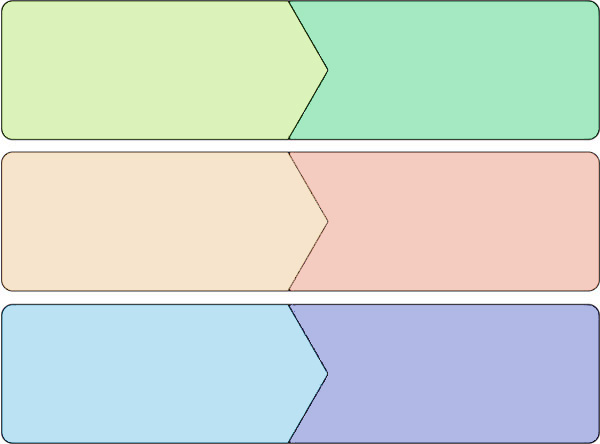 Romeo secretly attends the Capulets' masquerade

Romeo falls in love

with Juliet

Romeo slays Tibalt

The prince banishes Romeo

from Verona

Friar John fails to deliver his message to Romeo

Romeo falsely believes