With whom can Ms. Milton communicate, consult, and collaborate to meet the needs of students with visual impairments?
Page 4: Teachers of Students with Visual Impairments (TVI)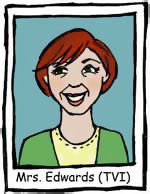 During her meeting with Mrs. Edwards, Ms. Milton discovers that the role of the teacher of students with visual impairments (TVI) is a multifaceted one. A special education teacher with expertise in the area of visual disabilities, the TVI serves as a resource to parents and recommends additional services, equipment, materials, and placement options for students. The TVI may instruct and assess students with visual disabilities. Additionally, he or she may provide technical assistance and support to the general education teacher, members of the student's IEP team, and the school community. Instruction, assessment, and technical assistance are ongoing and interrelated activities.
After meeting with Mrs. Edwards, Ms. Milton learns that the TVI will work with Evan and Emily once a week. For example, Mrs. Edwards may provide one-on-one instruction to Evan in order to teach him the same writing strategies and concepts that Ms. Milton is teaching the rest of the class. In addition, Mrs. Edwards may teach him how to use a Perkins Brailler to write his stories using the strategies. Likewise, the TVI may work with Emily in the general education classroom to describe in greater detail the science concept Ms. Milton is teaching the class.

Later in the year, Ms. Milton teaches a science unit about plant cycles. Needing assistance to make the information accessible to Evan and Emily, she collaborates with Mrs. Edwards to discuss the lesson.