What are some general instructional practices that can be beneficial to students who are learning to speak English?
Page 8: Teach Comprehension Strategies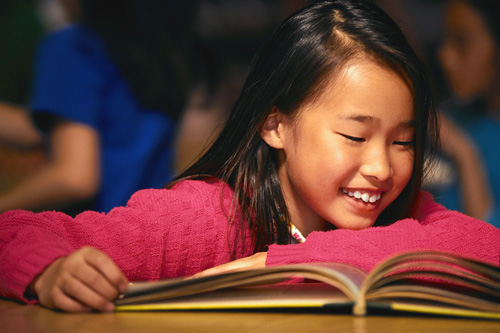 Reading comprehension influences whether ELL students can understand content across subject areas. Because each subject area requires some reading, all teachers should incorporate reading-comprehension strategies into their instruction. When students comprehend what they read, they are able to more fully participate in learning the curriculum.
Reading content in a familiar language may serve as a bridge for comprehension in English. For example, students allowed to read a science lesson in their home language might find it easier to comprehend the information. Later, when those same students read a comparable passage in English, they might better understand the science content. The table below describes some of the common reading comprehension skills of students at the beginning, intermediate, and advanced levels of second language acquisition.  
Reading-Comprehension Usage
Beginning
Intermediate
Advanced

Responds using single words after information is read aloud
Uses gestures to communicate understanding of what has been read
Uses one- or two-word responses to factual- knowledge questions

Understands and follows simple written instructions
Identifies the sequence of events read
Identify main ideas or concepts

Reads and orally responds to questions about texts by restating facts and details
Summarizes information
Can discuss complex information with greater detail (e.g., problem/ solution; cause/ effect)

Teachers should use explicit instruction when teaching reading-comprehension strategies and should strive to make their lessons as engaging as possible. Teachers can choose strategies to use before, during, or after reading.
Pre-reading strategies:
Preview words from the passage, using visuals whenever possible. Check for student comprehension by asking the student questions and actively listening to his or her responses.
Activate background knowledge by asking students to brainstorm what they already know about a topic.
Ask students to predict what they think will happen in a story when reading narrative text or what they think they will learn when reading informational text.
Before reading assignments in English, allow students to read them in their native language to aid in their comprehension.
Strategies during reading:
Teach students to monitor their understanding as they read (e.g., develop metacognitive awareness).
Teach students strategies to use context clues and knowledge of word parts to determine the meaning of unknown words.
Ask students to identify the main idea for each section of text they read.
Make nonfiction texts available to older ELLs who are reading below grade level. Older students may find nonfiction written at their reading level to be more interesting than fiction written at a level that they are able to read but which may not be appropriate to their reading level.
Use multicultural literature to increase student interest.
Strategies after reading:
Ask students to generate and answer their own "teacher-like" questions.
Provide students with question stems to help them come up with questions of their own (e.g., "The attitude of the author is…," "The main idea of the passage is…").
Ask students to summarize or retell what they read.
Teach students to use or create visuals (e.g., charts, diagrams, timelines, semantic webs) to improve their understanding.
Example: The bilingual teacher collects some text books in Spanish that are about the course topics in Ms. Westerman's science class, for example an upcoming lesson on the solar system. Prior to a lesson, she allows her Spanish-speaking students to take these books home and read about the topic. Later, during whole-group instruction, Ms. Westerman reads aloud a section from the science textbook. As she does so, she points out pertinent information such as titles, headings, vocabulary in bold print, captions, graphs, and pictures that help depict what she is reading. The students then work in small groups to create visuals like diagrams and charts to demonstrate their understanding.