What should Ms. Lin know in order to provide effective writing instruction?
Page 2: Prerequisites for Written Expression
If students are to become successful writers, they must develop the ability to communicate effectively. Effective written communication involves two prerequisite skills:
Transcription skills
Grammar skills
To become successful writers, students must also regulate their writing behavior and learn the prerequisite skills. Students who struggle with these skills will find writing to be a frustrating undertaking. Those who have to concentrate on transcription or grammar may be unable to think about higher order skills during the writing process.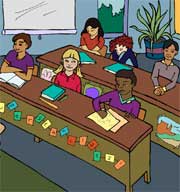 Transcription Skills

In the context of writing, transcription is the process of transferring one's thoughts and ideas into words and putting those words on paper. Transcription skills are basic writing skills—primarily handwriting and spelling—and proficient writing requires a mastery of them.
Steve Graham has researched the factors that contribute to the emergence of writing difficulties. In the audio below, he explains how students develop transcription skills (time: 0:57).



Steve Graham, EdD


Professor and Currey-Ingram Chair




of Special Education




Vanderbilt University,

Nashville, TN
If students have not yet mastered the mechanics of writing and need to concentrate on putting their language on paper—for instance, if they need to concentrate on how to write the letter "h"—they might have difficulty attending to higher level skills, such as planning and organizing their compositions. In order to promote effective and efficient composition skills, teachers may need to adjust demands on their students' transcription skills. This can be accomplished by:
Providing alternatives to handwriting
Telling students not to worry about handwriting and spelling on the first drafts
Allowing students to write shorter compositions
Providing additional instruction that is explicit and systematic (modeling how to write a paragraph without addressing handwriting and spelling problems in the first draft)
Grammar
The ability to use proper grammar is necessary if students are to communicate effectively through written language. Students must understand:
The order in which words occur
The way words change according to their relationship with other words
How words are built up into units (e.g., sentences)
Students who have not yet mastered the formal structure of language will find it difficult, if not impossible, to construct coherent written compositions. Imagine trying to write a story in a foreign language of which you are unfamiliar. Even if you understood the meaning of words in that language, it would be very difficult to write a coherent story unless you had mastered its grammar.

Teachers who use explicit instruction (modeling, providing feedback and ample time for practice) can effectively demonstrate grammar skills to their students. For example, teachers can model how to revise compositions by combining simple sentences into complex ones. "The wind was blowing. There were branches all over the yard" might become, "The wind blew branches all over the yard." Teachers can model additional examples to support students as they learn this skill. Students can then continue to practice with their teachers' help; eventually, they can work with peer partners to practice sentence combining. Finally, teachers can instruct the students to go back to their compositions and look for places where they can combine simple sentences to form complex ones.
Activity
In order to preserve the purpose of this writing simulation, please do not use a word processor; instead, use a piece of paper and a pencil or a pen. The objective is to write two essays. This activity should take approximately 10 minutes. For each essay, you will receive 30 seconds for planning and 3 minutes for writing.
Topic: A Favorite Summer Vacation
Planning Time
(30 seconds)
fifteen seconds left
For the next part of this writing simulation, use the same piece of paper. This time however, there are some adapted grammar rules you need to follow. Click on the rules button to begin the process. First, the rules will be displayed. Then you will hear the prompt to begin planning. Finally, you will receive a prompt to begin writing.
In this writing exercise, follow these adapted grammar rules:
Topic: An Inspirational Person in My Life
Natalie Olinghouse, PhD
Assistant professor of teacher
education/ counseling, educational
psychology, and special education
Michigan State University,
East Lansing, MI
Click to listen to Natalie Olinghouse offer feedback about the writing activity above (time: 0:59).
---
Click for suggestions on how to support students who struggle with writing (time: 1:44).