How can the Rosa Parks teachers effectively implement the RTI components in each tier?
Page 4: Universal Screening
As he begins Tier 1 instruction, Mr. Brewster will administer the universal screening measure. He will then use the data to:
Verify whether students should remain in the existing small groups or determine whether the groups need to be restructured
Identify students who are potentially struggling with reading and who need to be monitored frequently to determine if intervention would be beneficial
Administering the Universal Screening Assessment
Teachers should schedule the administration of the universal screening assessment to fit their schedules and their classrooms' needs. The S-Team and the principal at Rosa Parks have decided that all universal screenings should be completed by mid-September (i.e., two weeks after school begins), so Mr. Brewster chooses to conduct the screenings during the last 10 minutes of reading class while his students are engaged in independent practice. By screening four to five students a day, he anticipates that he can easily assess all 24 by the end of the second week, if not earlier.
Although the first-grade teachers at Rosa Parks are using a Dolch sight word list for the universal screening, the second-grade teachers are using a one-minute reading (curriculum-based measurement) probe. They have chosen to use a different measure for two primary reasons. First, research indicates that while the Dolch sight word list may be sufficient and even superior to other assessments for identifying potentially struggling first-grade students, the data also indicate that an assessment using curriculum-based measurement (CBM) is better at identifying struggling second-grade students. In addition, the second-grade teachers had planned to use CBM Passage Reading Fluency (PRF) probes for their weekly progress monitoring data collection and thought it would be easier and more convenient to use the same materials for both assessments (i.e., universal screening and progress monitoring).
For a demonstration of how to administer PRF as the universal screening assessment, click on the portrait of Louisa to the left.
Now that Mr. Brewster has completed the universal screening with all of his students, he is ready to restructure his small groups. Because his original grouping was based on last year's assessment data, Mr. Brewster only has to make a few changes to his original group assignments. In addition, he will begin collecting progress monitoring data for those students who scored in the bottom 25 percent of the class on the screening—the criteria determined by Rosa Parks school personnel to identify students as potential struggling readers.
Grouping
Once Mr. Brewster has collected the universal screening data for each of his students, he rank-orders the scores so that he can determine how best to group his students. Mr. Brewster can go about this in a variety of ways, including same-ability grouping and mixed-ability grouping. Mr. Brewster decides that by grouping the students according to ability level (same-ability grouping), he can more effectively differentiate instruction and, as a result, better address each student's instructional needs. After carefully reviewing the scores, he divides the students into three groups based on performance level: low, middle, and high.
Below are the universal screening results for the students in Mr. Brewster's class. The color-coding differentiates the three groups and will be used to represent the three performance levels for the remainder of this page and on the next.
First Name
Fall Universal
Screening Scores (PRF)

Jack *

5

Laney *

7

Adam *

8

Sammy *

9

Paloma *

10

LaToya *

11

Caleb

19

Jenny

28

DeJuan

29

Casey

31

Susie

32

Niklas

35

Harris

35

Teri

36

Leoni

38

Irina

40

Jaye

41

Caroline

43

John

49

Misty

53

Benika

65

Hannah

71

Twyla

104

Alfredo

126

* Students who scored in the bottom 25 percent of the class on the universal screening measure must have their progress monitored.
As depicted in the table above, Mr. Brewster's middle-performing group is the largest, with 12 students, whereas each of the other two groups contain six students. It is usually a good idea to limit the number of students in the low-performing group to five or six. The three groups are represented by the tables above.
Activity
Review your initial groupings for Mr. Brewster's class on Perspectives and Resources Page 3. Compare how you grouped Mr. Brewster's students to how Mr. Brewster grouped them following the universal screening. Discuss the similarities and differences of your initial student grouping and Mr. Brewster's.
Keep in Mind
During the school year, Mr. Brewster can continually reorganize these small groups as students' reading skills improve or as students begin to struggle. For example, Caroline's scores on the universal screening initially led Mr. Brewster to place her in the middle-performing group; however, after several weeks of observing Caroline during small-group instruction, it becomes apparent that she would benefit more from the instruction provided in the high-performing group.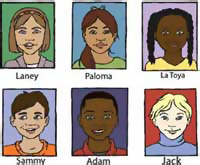 Identifying Potential Struggling Students
Those students who scored in the bottom 25 percent of the class on the universal screening assessment (the criteria determined by Rosa Parks school personnel to identify students as potential struggling readers) are noted by asterisks in the table above. They are Jack, Laney, Paloma, Sammy, Adam, and LaToya. Mr. Brewster will monitor all of these students, except for Jack (see box below for more information), for the next eight weeks.
Jack's Story
As Mr. Brewster learns from viewing the students' files from previous years, Jack was identified as having a learning disability in first grade and his individualized education program (IEP) was developed at this time. He has been receiving special education (Tier 3) services ever since. Because he has an existing IEP, Jack has already begun Tier 3 intervention this year with the special education teacher, Ms. Jacobs. She will collect progress monitoring data on him and will discuss the results with Mr. Brewster on a regular basis. For this reason, Mr. Brewster will not collect progress monitoring data on Jack during Tier 1 instruction.