What types of accommodations are commonly used for students with disabilities?
Page 5: Presentation Accommodations
To review, accommodations are changes to educational environments or practices designed to help students with disabilities overcome learning barriers that result from their disabilities. Presentation accommodations change the way that instruction, directions, and information are presented. These accommodations allow a student with a disability to access information in ways other than standard visual or auditory means such as by reading or listening.
They provide support that allows students with disabilities to access the same instructional opportunities as students without disabilities; however, keep in mind that presentation accommodations:
Do not change the expectations for learning
Do not reduce the requirements of the task
Do not change what the student is required to learn
The table below offers examples, though by no means an exhaustive list, of presentation accommodations that address some of the common barriers or challenges students experience when they access learning.
Presentation Accommodations
Common Barrier
Example Accommodations
Decoding text

Audio formats (e.g., audio book)
Text-to-speech software
Human reader

Comprehending text

Advance organizers

x

advance organizer

A preview or organizational guide used to acquaint students with the content, structure, or importance of written material or a lecture.

Visual cues (e.g., color coding, highlighting key information,)
Digital text with on-demand dictionary
Alternate formats (e.g., diagrams, pictures, hands-on activities)
Previewing vocabulary

Understanding information presented orally

Alternate formats (e.g., written text, diagrams)
Repeated or paraphrased information
Advance organizers
Note-takers

Remembering information

Visual cues
Graphic organizers
Repeated or paraphrased information

x

repeated or paraphrased instructions

Directions for a task or assignment that are repeated either verbatim or in slightly different language; students are also sometimes asked to paraphrase the directions as a way to demonstrate their understanding.

Identifying key information

Advance organizers
Visual cues (e.g., color coding key information)
Auditory cues (e.g., "This is important…")
Study guides

x

study guide

Any of a number of instructional tools, such as note-taking forms that contain key concepts and blanks for students to add notes or outlines, the purpose of which is to help students to focus on important concepts and information and to better process the meaning of what they have read or heard.

Staying focused or maintaining attention

Advance organizers
Visual or auditory signals or prompts
Organized materials
Reduction of visual distractions (e.g., clutter)
Reduction of auditory distractions (e.g., provide headphones, permit quiet time)
Clear and simple directions
Repeated or paraphrased instructions

Seeing standard text

Large print or graphics
Magnification devices
Reduced glare
Braille
Text-to-speech software
Audio formats
Human reader
Tactile materials
Talking devices (e.g., calculators, clocks)
Descriptive videos

Hearing information presented orally

Assistive listening or amplification devices
Visual cues
Advance organizers
Augmentative and alternative communication (AAC) devices

x

augmentative and alternative communication

One of a family of alternative methods of communication, which includes communication boards, communication books, and computerized voices; used by individuals unable to communicate readily through speech.

Sign language
Video captioning
Alternate formats (e.g., visual formats, printed materials)
Note-taker
Sign-language interpreter
Digital pen

x

digital pen

A multi-function instrument that is part ballpoint pen, part computer and recording device. Digital pens use a computer to collect data about a student's pen strokes during notetaking and matches that data to an audio recording of a teacher's spoken instruction or lecture. Later, the student can touch pen to paper and listen to what the teacher was saying at the moment that particular note was written. Notes can also be transferred to another computer. Digital pens are sometimes referred to as smart pens.

Holding materials

Book stand
Slanted desk
Page holder
Digital text
Several of the accommodations listed in the table above are also instructional strategies or interventions, including advance organizers, previewing vocabulary, graphic organizers, and study guides. How can teachers tell the difference between the two when they plan instruction for an individual student? As outlined in the table below, one key difference is the purpose for which each is used.
Accommodation
Instructional Strategy or Intervention
Definition
Adaptation or change in practices or educational environments (e.g., the way in which information is presented)
Instructional strategy or intervention (e.g., a reading comprehension strategy)
Purpose

Addresses a barrier that results from the disability

Allows students with disabilities to access learning opportunities equivalent to those of students without disabilities (i.e., levels the playing field)

Addresses a skill or knowledge deficit but does not specifically address a barrier or increase access

Improves the performance of most students with or without disabilities

Example: Advance Organizer
Jayla has an auditory processing disorder and has difficulty following the information presented in class. The teacher provides an advance organizer to help her attend to the key points during lectures and class discussions. This helps address the barrier associated with Jayla's auditory processing disorder.
Each week, Ms. Britton provides her science class with an advance organizer outlining the main points of her instruction. By doing so, she hopes to improve all of her students' comprehension of the instruction, Jayla's included.
Following are examples of presentation accommodations teachers can implement to help students access learning.
Kaden
Age: 10
Disability: attention deficit hyperactivity disorder (ADHD)
Kaden is an energetic 10-year-old who often becomes distracted by what is going on around him and has difficulty identifying main points during instruction. To address Kaden's challenges, his teacher gives him a graphic organizer, allowing him to better follow her instruction.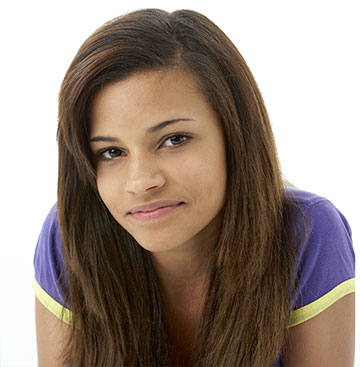 Rae
Age: 15
Disability: learning disability (LD)
Rae has difficulty identifying and remembering important information. For this reason, any time her teacher uses a handout in class, she highlights key information (i.e., a visual cue) on Rae's copy.
Cierra
Age: 6
Disability: autism spectrum disorder (ASD)
Cierra has difficulty comprehending information presented orally. To support her, the teacher provides diagrams and pictures (i.e., alternate format) to help her remember and follow classroom procedures, such as washing hands before lunch and walking down the hall to the cafeteria.
Keep in Mind
It is possible to bundle accommodations within the same category (e.g., two presentation accommodations) or from different categories (e.g., presentation and setting accommodations). However, teachers might want to start by implementing just one accommodation. Doing so will allow the teacher to collect data about that single accommodation, evaluate its effectiveness, and determine whether it is practical for use in the classroom. After effectively implementing one accommodation, the teacher can then implement another that also might benefit the student.