What is the school counselor's responsibility in the transition planning process?
Page 6: Post-Secondary Preparation: Education/ Training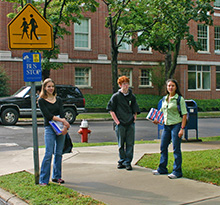 Measurable post-school goals for students with IEPs are developed to further their education or training. These measurable goals are coordinated with a student's course of study and other education/ training (e.g., technical training institutes, community colleges, or other community training programs).
Scheduling Courses of Study
The IEPs of transition-age students include a course of study, which contains all the courses and other educational/ training experiences a student will need to prepare him or her for post-school options. The course of study should be tied to the student's measurable post-secondary goals. It should also be flexible, reflect the changing needs of the student, and:
Individualize the high-school curriculum
Specify all available electives
Specify the courses and additional experiences planned for each subsequent grade through graduation
Depict the grade-by-grade progression in an organized fashion
One aim of the high-school course of study is to ensure that the student has the necessary foundation to be successful. In those instances when the student wishes to pursue a college degree, the course of study can be used to augment the basic graduation requirements in order to give students a competitive edge in the college admission process.
Steps in the Higher Education Admissions Process
Higher education settings include trade and technical schools, community colleges, four-year colleges, and universities. Click on each of the links below to learn more about the steps to prepare a student to pursue a degree at an institution of higher education.
Accessing Informal Training
A range of more informal training options may be available, some only in metropolitan areas and others available anywhere:
On-the-job training
Apprenticeship programs
Adult education, continuing education, or community education classes
Home study courses
Transition Update – Sandra's Course of Study
Although Sandra does not want to attend a 2- or 4-year post-secondary institution, Mr. Hunter works with her to develop a course of study that will support her current career goal: to become a certified nursing assistant. Mr. Hunter is careful to help Sandra select courses that are directly tied to her post-secondary goals.
Courses listed in black address core curriculum credits required for high school graduation.
Courses listed in red indicate the electives that Sandra and Mr. Hunter have selected. Other course offerings may be substituted.

TRANSITION SERVICES

Course of Study for Sandra

Year
Courses Selected for High School Program
Yr. 1/
9th grade

Skills for Personal Success (reading, future planning, personal management)

English I
Algebra I
P.E./ Girls Basketball
Physical Science
U.S. History

Yr. 2/
10th grade
English II
Applied Math I
P.E./ Girls Basketball
Keyboarding/ Computer Literacy
Biology Concepts/ Biology
World Geography
Yr. 3/
11th grade
Speech
Geometry
World of Work Experience I
Psychology/ Sociology
Health 1A/ Health 1B


English III

Yr. 4/
12th grade
Creative Writing/ Journalism
Child Development
World of Work Experience II
Yearbook/ Girls Basketball
Communication


Zoology/ Human Development
Explain whether you think Sandra's proposed course of study addresses her future post-school needs.
Does this course of study address her future recreational and leisure interests? What about her community participation goal? If not, what courses would you recommend substituting?