How can education professionals identify and select evidence-based practices or programs?
Page 5: Resources: Three to Five
For Your Information
In the early childhood field, an evidence-based practice is defined as:
"[A] decision-making process that integrates the best available research evidence with family and professional wisdom and values."
(Buysse & Wesley, 2006; Buysse et al., 2006)
Although the term "early childhood" broadly refers to the population of children ages birth to eight, this page will focus on preschool-aged children, ages three to five. As with early intervention, high-quality research is still the basis for defining an EBP in the field of early childhood, but professional expertise also plays a role. Because family members are often active participants in early childhood education, their circumstances and preferences should be considered when choosing an EBP.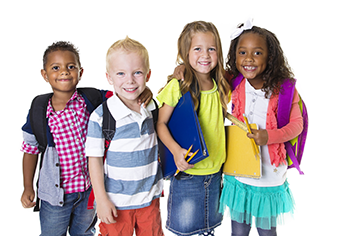 Once you have determined a child's needs, the family's preferences, and your own available resources, you can begin your search for an EBP. Because the collection of EBPs is constantly changing and being updated, it is important to consult reliable sources that provide current information. Click on the links below for lists of organizations that are trustworthy sources for current evidence-based practices and for training resources in early childhood. As you review these resources, keep in mind that each organization or agency has its own rating system for evaluating the quality of a practice or program. You should become familiar with each organization or agency's rating system so that you can make an informed decision.
EBP Resources That Target Young Children
The following list of trusted resources includes information about practices and programs for young children.
Center for Early Literacy Learning (CELL)
Description: This center promotes the use of evidence-based early literacy learning practices with children identified with disabilities, developmental delays, and those at-risk for poor outcomes. The CELLreviews are research syntheses of early literacy learning studies.
Sample Topics
Effectiveness Rating

Research review with key findings (includes effect sizes)
Division for Early Childhood (DEC)
Description: This organization offers a vast collection of Recommended Practices derived from scientific literature on effective practices for young children and their families, as well as the knowledge and experience of those who work with them.
Sample Topics

Assessment
Environment
Family
Instruction
Interaction
Teaming and Collaboration
Transition

Effectiveness Rating
Technical Assistance Center on Social Emotional Intervention (TACSEI)
Description: This site features resources about evidence-based models and practices that improve the social-emotional outcomes for young children with delays or disabilities or at risk for them. On the "What Do You Want To Do?" menu, select "Browse Resources." Of particular interest are the Issue Briefs, Roadmap to Effective Intervention Practices, and Tools.
Sample Topics

Social-Emotional Behavior

Effectiveness Rating
(Close this panel)
EBP resources that target children, including young children
The resources in this section provide information on practices and programs for children of all ages, including those ages three to five.
Center on Instruction (COI)


RMC Research Corporation

Description: Although useful for improving the achievement of all students, these resources target struggling learners, students with special needs and diverse learners. Of particular interest in searching for EBPs are the "Research: Meta-analyses" and "Summaries and the Practitioner Guides."
Sample Topics
Effectiveness Rating
Child Trends
Description: The "What Works" section of this website presents research evidence about a variety of programs. Of particular interest are the "LINKS Synthesis" and the "List of Programs."
Sample Topics

Education
Social-Emotional Health
Relationships

Effectiveness Rating
The Collaborative for Academic, Social, and Emotional Learning (CASEL)
Description: These resources focus on social and emotional learning (SEL) from preschool through high school. Of particular interest is the CASEL Guide, which "provides a systematic framework for evaluating the quality of classroom-based social and emotional learning programs."
Sample Topics

Social-Emotional Learning

Effectiveness Rating

N/A (Reports evaluation outcomes such as improved academic outcomes and increased positive social behavior.)
Home Visiting Evidence of Effectiveness (HomVEE)


U.S. Department of Health & Human Services

Description: This site provides evidence of effectiveness for home visiting program models that target families with pregnant women and children from birth to age five. Sections of the website of particular interest include "Program Model Reports," "Outcome Domain Reports," and "Implementation Profiles."
Sample Topics

Home Visiting
Child Development and School Readiness
Positive Parenting Practices

Effectiveness Rating
Promising Practices Network (PPN)


RAND Corporation

Description:

Although the project Promising Practices Network (PPN) on Children, Families and Communities has ended, this document contains the summaries of the Programs That Work section of the PPN website, as of June 2014.

Sample Topics

Behavior Problems
Cognitive Development/School Performance

Effectiveness Rating
Social Programs that Work
Description: This site describes social programs that are supported by high-quality research. They can be located under the "Social Programs Reviewed" menu.
Sample Topics

Prenatal / Early Childhood
Education (K–12)

Effectiveness Rating

Top tier
Near top tier
Suggestive tier
What Works Clearinghouse (WWC)


U.S. Department of Education Institute of Education Services

Description:
This site reviews the research on educational practices and programs and makes available information useful in facilitating evidence-based decision making. It has a variety of helpful resources:

Find What Works: Summarizes and compares the evidence level of interventions
Practice Guides: Present recommendations about addressing classroom challenges
Intervention Reports: Summarize high-quality research findings for practices and programs

Sample Topics

Literacy
Math
Science
Student Behavior
English Language Learners
Children and Youth with Disabilities

Effectiveness Rating

For Find What Works:

Positive or potentially positive
Mixed effects/no discernable
Negative or potentially negative

For Practice Guides:
(Close this panel)
Training resources for personnel working with young children (i.e., CONNECT Modules)
The resource below is largely intended for training purposes. Although it presents research evidence about the effectiveness of a practice or program, its primary purpose is to model implementation.
CONNECT
Description: This site offers modules that are designed to build the ability of early childhood practitioners to use the integration of multiple sources of evidence to make decisions about practice dilemmas. These modules focus on how those working with young children with disabilities and their families in a variety of learning environments and inclusive settings can respond to the challenges they face every day.
Sample Topics
Family-Professional Partnerships
Communication for Collaboration
(Close this panel)
Another source of information about EBPs is the IRIS Center's Evidence-Based Practice Summaries. These summaries of research about the effectiveness of instructional strategies and interventions contain links to research reports and include information about an intervention's level of effectiveness and the age groups for which it is designed.
Activity
Note: The activities on Perspectives & Resources pages 4, 5, and 6 are identical, with the exception of the age group. Complete an activity for the age group most relevant to your current or future position.
Choose a topic that interests you or might be helpful for a child and family you are currently working with. Using the resources referenced on this page, print out and complete the EBP Comparison Worksheet. Choose the most appropriate practice or program from the ones listed on your completed worksheet and explain why you chose it.