What additional information would be important for Mr. Logan to know as a school nurse?
Page 6: Collaboration
Working with others to support the physical, mental, social, and emotional health of students within the school environment is part of the collaborative role of school nurses. More specifically, when working with students with special healthcare needs, school nurses collaborate with others to support their students' participation in the school curriculum to the greatest extent possible. Working in partnership with others is also important for nurses because it can literally save lives.
In particular, school nurses should purposefully collaborate with school personnel, families, and the community. Mr. Logan should be proactive by initiating these collaborative efforts with families, with school personnel, and with community professionals and agencies. This contact can be accomplished through telephone calls, face-to-face visits, and written communications. As Mr. Logan establishes the various collaborative relationships surrounding Megan's healthcare needs, he will find it helpful to have a list of guiding questions. Here are a few examples of such questions:
Questions for Collaborating With School Personnel
How can the school nurse communicate regularly with all school personnel who work with the student?
What kind of training is needed concerning the student's health issues?
Questions for Collaborating With Family
What information is needed from the student's parents or guardians regarding health issues?
How should new medical information be communicated between the school nurse's office and the family?
Questions for Collaborating With Community
Are all procedures regarding the administration of medicine or other medical issues clear to the school nurse, or is more information needed from the physician?
What kinds of professionals or agencies in the community could provide information to the student in the school environment?
Examples of Mr. Logan's Collaboration With. . .
School Personnel
One of Megan's goals in her IEP is to administer her insulin injections with minimal support. Because Megan's cerebral palsy affects her coordination, she needs assistance to give herself insulin. By working with the occupational therapist, Mr. Logan is able to help Megan to reach her goal of administering her insulin with minimal assistance.
Family
To record the information gathered through his collaborative interactions with parents, Mr. Logan keeps a communication log. He also keeps a log that documents the health services he provides to students. Because he knows the importance of exchanging this information daily with families, he uses additional forms to facilitate ongoing communication about each student's health status.
Community
Mr. Logan maintains regular contact with Megan's doctor through email. They exchange information regarding Megan's health status.
Listen to Christy Brookshire discuss the importance of collaboration with parents and guardians (time: 0:25).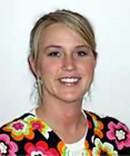 Transcript: Christy Brookshire, RN
The collaboration between the nurse and the family plays a very important role in the child's education as well as their health while they're at school because if there's something going on at home that the parent feels comfortable talking to me about, then I can relay that to the teacher and the teacher can be aware. If there's problems in the classroom, then we can kind of weed out what may be causing it. So I feel like good rapport with the family is vital.
Here are some ways school nurses can practice collaboration:
Talk with parents and guardians about their children's healthcare needs.
Serve as a liaison between school personnel, family, the community, and other healthcare providers.
Set up appointment times with teachers to discuss students' health and performance concerns.
Provide assistance to teachers and paraprofessionals who require information about students' medical issues, procedures, medications, and the side effects of medications.
Meet with the school principal and other key players in the school on an ongoing basis.
Participate as the health expert in IEP and Section 504 team meetings.
Act as a case manager for students with health-related needs.