School Nurses:
Roles and Responsibilities in the School Setting
Wrap Up
As a new school nurse, Mr. Logan set out to obtain more information about his role—including how to meet the healthcare needs of students who have Section 504 plans and IEPs. In order to serve all of his students, Mr. Logan:
Promotes health education for all students
Provides a variety of healthcare services based on his students' needs
Participates in meetings to develop Section 504 plans and IEPs
Provides services based on decisions made during these meetings
Knows how to access evidence-based information about disabilities and about related healthcare needs
Advocates for his students and educates others about his roles in order to promote communication and awareness among his colleagues
Collaborates with families, school personnel, and community professionals
Listen as Christy Brookshire gives some final thoughts about being a school nurse (time: 1:36).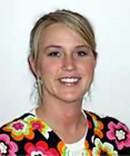 Christy Brookshire, RN
Sonoraville High School
Calhoun, Georgia
Transcript: Wrap Up
Like I said, my role is school nurse, and I love public health nursing, and that's just very dear to my heart. Public Health Nurse Specialist is my title, and that entails a whole realm of things. For me, as a nurse in the school, what I would love my role to be is education, prevention, and promotion. First I want to educate these children on proper eating, proper hygiene, healthy lifestyles, and then promote those things out into the public. Also, the school nurse is a good resource to find resources. We know a lot of agencies out there, and lot of times teachers don't have time to get in touch with those agencies for children in need, and we're a very good resource for that. Also, we are a mediator between the school administrator, the parent, and the teacher. We have many different roles as a school nurse. I also act as a parent and the student advocate; that's—I love every kid at our school and, you know, I'm definitely gonna pull for that child no matter what, especially if they have a medical condition that requires a lot of attention and care. I try to help the teachers understand the condition. Like if a child has ADHD and that teacher says, Okay, on Monday here's your list of homework and you need to turn it in on Friday. Well some children with ADHD are totally incapable of realizing that on Monday, hey I've gotta make sure I get all my homework done and I gotta turn it in on Friday, so just asking that teacher to make sure she reminds the children on Wednesday or Thursday, you know, don't forget you have homework that you had to do on Monday to turn in on Friday, I feel like that's helped the parent, the student, and the school as well.
Revisiting Initial Thoughts
Think back to your responses to the Initial Thoughts questions at the beginning of this module. After working through the Perspectives & Resources, do you still agree with those responses? If not, what aspects about them would you change?
What are Mr. Logan's roles and responsibilities, and what types of services should he provide in a school setting?
What additional information would be important for Mr. Logan to know as a school nurse?
To educate teachers and others about the roles of school nurses, visit the IRIS Module:
When you are ready, proceed to the Assessment section.