How can teachers increase the chances that their students will behave appropriately?
Page 6: Create a Structured Classroom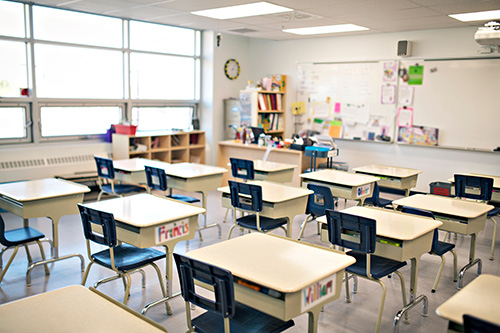 Just as they should be aware of how culture and climate influence behavior, it's important for teachers to consider the structure of their classrooms, including both physical structure (classroom arrangement) and the classroom's day-to-day routines. Creating a structured classroom environment can promote student engagement as well as limit factors that might lead to disruptive behaviors.
Effective Classroom Arrangement
Effective classroom arrangement refers to the placement and organization of the room's physical elements (e.g., seating, materials) to help establish a learning environment that facilitates effective instruction and student growth. Well-designed and organized classroom environments:
Increase academic engagement
Decrease the likelihood of inappropriate student behavior
Facilitate appropriate social interactions among students
Positively affect student performance
For Your Information
Because every classroom has its own individual needs and character, there is no one best way to create a structured learning environment. To effectively structure their classrooms, teachers should keep a number of important considerations in mind, such as:
Student learning needs (e.g., students who learn better in groups, students who prefer visual aids)
Instructional formats (e.g., independent work, group work, class discussion, presentations)
Various seating arrangements (e.g., rows, clusters, U-shape)
Use of classroom and hallway walls (e.g., to display rules, content-specific strategies, word walls, exemplary student work)
Below are a few do's and don'ts for setting up a structured classroom space.
| | |
| --- | --- |
| Do | Don't |
| Arrange the room to best support whatever activity is at hand. This might mean clusters for group work, rows for independent work, and U-shapes for discussion. Arrangements can vary depending on the activity, and different areas of the classroom can be used for different purposes. | Use the same room arrangement no matter what the activity (e.g., seats arranged in clusters during discussions and tests). |
| Arrange classroom furniture to create a smooth traffic flow that allows the teacher and students to easily move throughout the room. | Place bookcases, file cabinets, or other pieces of furniture in areas that may block students' view or create visual obstructions for the teacher. |
| Place frequently used supplies (e.g., pencil sharpener, notebook paper, trash bin) and instructional materials (e.g., calculators, lab equipment, textbooks) in easy-to-reach locations. | Place frequently used materials in areas that are easily congested. Challenging behaviors are more likely to occur when students or teachers routinely bump into each other, one another's belongings, or furniture. |
| Post materials that support student learning (e.g., rules, routines, word walls, math equations, exceptional student work) on walls that are easy for students to view from all parts of the classroom. | Cover every inch of your classroom's walls with posters, images, and other decorations that don't support student learning. This can be overwhelming and distracting for students. |
| Create additional space for movement (e.g., wider aisles) as well as special equipment storage for students who may use wheelchairs or walkers. | Keep any unnecessary furniture and equipment in your classroom that may limit classroom space and restrict student movement. |
To learn more about effectively organizing the classroom, view these IRIS Case Studies:
Establishing Classroom Routines
When teachers establish classroom routines, they are creating a consistent, predictable sequence of events to help students understand what to expect (and what's expected of them) during class. In both elementary and secondary classrooms, routines are critical to the creation of a classroom environment that maximizes instruction and minimizes disruptive behaviors.
Classroom routines will differ according to the grade levels of students. At the elementary level, routines typically incorporate the entire school day and could include:
Morning meeting
Specials or Related Arts (e.g., art, physical education, music)
Specific routines in content areas (e.g., warm-up activity, guided practice, exit ticket)
Lunch
Recess
Packing up and dismissal
x
guided practice
Instructional method that involves students practicing previously modeled or taught skills with feedback and support from the teacher.
x
exit ticket
A tool used at the end of a lesson or class period as a brief formative assessment of student understanding of a topic or skill introduced in class; sometimes referred to as an exit card.
In secondary classrooms, routines can be content-specific (e.g., journal writing in ELA, conjugation practice in Spanish) and are generally established within each unique class period. They can include:
x
bell work
A short activity students complete at the beginning of class to warm-up and review previously taught skills and concepts; also commonly referred to as a bell ringer.
x
independent practice
Instructional method in which students are encouraged to work on their own or to work separately from the teacher on activities that they are capable of performing without significant assistance.
x
formative assessment
Ongoing evaluation of student learning during the learning process that provides continuous feedback about performance to both learners and instructors and informs or guides instruction.
Secondary teachers' routines also usually extend over a full week (e.g., vocabulary quiz on Wednesday, discussion on Friday) month (e.g., essay, poster project) or quarter and semester (e.g., unit test).
Keep in Mind
Predictable classroom routines can help to create a sense of calm and order and ease some students' anxiety and related behaviors. Likewise, when routines are not in place there is more opportunity for confusion among students. This often results in disruptive behaviors.
Below are a few do's and don'ts for setting up classroom routines.
| | |
| --- | --- |
| Do | Don't |
| Explicitly go over your classroom routines with students on the first day of school. Review and practice them frequently. | Expect students to automatically know your classroom routines. |
| Post written or visual cues for routines in your classroom so students can refer to them each day. | Change the location in which routines are posted or put them in a location that students can't easily see. This will lead to the age-old question, "What are we doing today?" |
| Make sure routines occur around the same time (and in the same order) each day. | Frequently skip or change the order of daily routines. Consistency is key! |
Listen as KaMalcris Cottrell and Ashley Lloyd offer examples of how they create a structured classroom environment.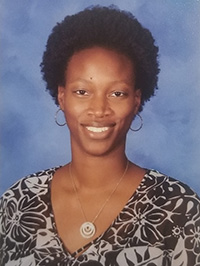 KaMalcris Cottrell
School Behavior Support
(time: 2:46)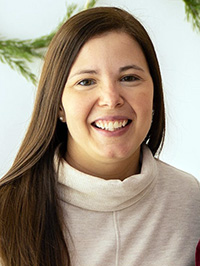 Ashley Lloyd
Elementary Teacher
(time: 1:45)
Transcript: KaMalcris Cottrell
I think people underestimate their classroom and that environment before the students even arrive. So I would suggest, I call it my "Two Es with an R": environment, engagement, and the response. Environment would be the physical classroom, the desk, the tables, your learning space, your group space, and to have that laid out in a way that's comfortable and convenient for you to move around the classroom as well as students. The Engagement piece, I will often sit at various spaces in the classroom to see what the students' vantage points will be. Will they be able to see me if they're sitting here? Can they see if I walk here? Maybe I need to adjust a group of desks so they have a better view of the learning piece in the front of the class or even to the side of the classroom. My response, I would invite colleagues into my classroom. How does this feel? How does this look? If I'm standing here and you're sitting there, is this OK? If I'm holding this book and you're here on the carpet, is that a good spot? I would also, once the students are in, be open to their feedback. Not that you have to jump when they say, "I can't see this right away." You make a small adjustment. Or maybe the next day when they come in, the classroom is adjusted a little bit more, so it's more conducive for a proper learning environment.
I think it's important to maintain consistent classroom procedures, to create a positive learning environment and helps to maintain the effectiveness of your learning environment because the students know what is happening next, when something is going to happen. And it can also lower the anxiety level of a student if they know what to expect as the day progresses. So after we have our community circle in the morning, my next step is to go over the schedule, and the students know this. That's our classroom procedure. We do our caring community circle. We go over the schedule. If Ms. Cottrell happens to miss that step, they remind me, because that's what we've started to set up as our routine in our classroom. So I have my schedule hanging, and we go through each subject, each transition, and what time those transitions are happening. For my younger students, I may draw a clock next to that piece of the schedule since we're not working with time, but it really helps. They'll say, "Ms. Cottrell, that clock looks like that clock up there. It must be time to go to lunch." "You know, you're right. That clock says 12:45." It's a multi-beneficial way of working through your schedule. And like I said, we go over that every day right after our community circle. That way they know what to expect as our day progresses.
Transcript: Ashley Lloyd
Structure of the classroom is what I would say is the absolute most important key to dealing with behaviors in the classroom. So, for me, making sure that every single aspect of a child's experience throughout their day is well laid out, whether it be physically…They know where their materials are. They know when they are allowed to get them, how they are allowed to get those materials, as well as how are they to move about the classroom? When are they allowed to be up? When are they allowed to be seated? If they need to know how they can get my attention, how they can ask questions to me. And, for me, I try to use as many visuals as possible, so they know what their morning routine is because they walk in, and there's a poster that they know exactly what to look and how to follow that morning routine, what is expected of them at each moment of that routine. Throughout the day, if there is group work, if there is independent work of any kind, I tend to use slides, and all their directions for that activity will be up. But I'll also have little icons that they have learned, so they'll know if there's just one person they have to be working independently. If they see a two-person, they'll know that they're allowed to work with a partner. I will use a box that will have all of the materials that they need listed there, so they know exactly what materials that they need for that exact activity. So if they don't have their crayons out then they're going to be behind because they know that that little picture of that crayon box is up there. I also make sure that they know what their voice level should be at that time. They should know exactly if they're allowed to be speaking out loud or if they need to be silent during the activity.