What strategies can educators implement to prevent or address challenging behaviors?
Page 2: Behavior-Specific Praise
Behavior-specific praise is a positive statement directed toward a student or group of students that acknowledges a desired behavior in specific, observable, and measurable terms. An educator using behavior-specific praise explicitly states the exact behavior the student demonstrated to meet expectations.
By reinforcing positive behaviors, behavior-specific praise is a highly effective strategy that educators can use both to increase positive behavior and decrease challenging behaviors. Although educators can use general praise to reinforce student behavior, behavior-specific praise is proven to be a more effective strategy. In the table below, note that the examples of behavior-specific praise 1) identify the student who met the behavioral expectation and 2) clearly describe that behavior. In comparison, general praise could cause the students to wonder what it was they did well.
| | |
| --- | --- |
| General Praise | Behavior-Specific Praise |
| "Nice work, yesterday!" | "Kai, I like how you followed directions the first time. I really enjoyed your reading." |
| "Good job, Nora." | "Nora, great job sitting quietly when other students were asking questions." |
Research Shows
The use of behavior-specific praise is linked to increases in students' on-task behavior and decreases in their challenging behavior.


(Royer, Lane, Dunlap, & Ennis, 2019)

Behavior-specific praise can be effectively used to support students with or at risk for emotional and behavioral disorders (EBD).


(Allday, Hinkson-Lee, Hudson, Neilsen-Gatti, Kleinke, & Russel, 2012; Sutherland, Wehby, & Copeland, 2000)
Using the Strategy
To help educators prevent or address challenging behavior, the table below describes the steps to implement behavior-specific praise and provides an example.
Steps
Description
Example

Establish behavioral expectations.

Establish and explicitly teach behavioral expectations—the behaviors you want your students to display.

The teacher identifies the following behavioral expectation.

Classroom: Follow directions.

Because Sofia has difficulty has difficulty following directions during independent practice, the teacher establishes the following expectation for Sofia.

Student: Sofia will stay at her desk during independent practice.

Scan the classroom.

During instructional time, transitions, or down time, look for students engaging in the desired behaviors.
The teacher observes that Sofia stays at her desk while completing math problems during independent practice.

Praise the student.

Frequently offer behavior-specific praise to the student by stating the student's name and describing the behavior immediately after she performs it.
The teacher says, "Sofia, great job staying at your desk while you were working."
In this video, Mr. Santini uses behavior-specific praise during a brief transition in class activities (time: 0:31).
Transcript: Behavior-specific praise
Teacher: [To class] Alrighty friends, we're going to read a passage about the landmarks in Tennessee. Would someone like to volunteer to pass out the readings?
Teacher: Thank you, Kayla.
Teacher: Colin, nice job sitting quietly.
Teacher: Kai, excellent job showing me you're ready for reading by sitting quietly.
Kai: Thanks.
Teacher: Thank you, Kayla.
Teacher: Okay, so…
In addition to the three steps listed above, the four actions below can be helpful when implementing this practice.
In the first interview, Harold Holmes describes why it's important to use behavior-specific praise equitably. Next, Janel Brown discusses how providing behavior-specific praise to one student can influence the behavior of other students.
Harold Holmes
Teacher
(time: 0:44)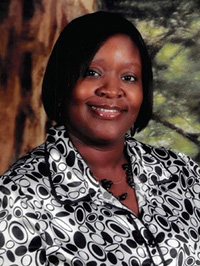 Janel Brown
Behavior Interventionist
(time: 1:24).
Transcript: Harold Holmes
I think behavior-specific praise should be throughout the day. You quickly do it and you make sure that you're doing it for everyone. You may have a kid who's a frequent flier who always has problems. You may find that you're not praising that student at all. This is the student who's the loudest, who disrupts the most, and you may be happy that that student is quiet. A first-year teacher may think that if you're giving positive praise to the kids who are acting right, you're okay. But to the child, you're just showing favoritism. So, I think behavior-specific praise should be done throughout, and it should be equitably applied for everyone, equally across the students, no matter how challenging they may be.
Transcript: Janel Brown
So, behavior specific praise… When you are in the middle of your instruction, you have given your students instructions, and everyone is working. Suppose Johnny he's off coloring or doing something that he's not supposed to be doing. You don't want to call him out in front of the class. That could be embarrassing. But if Johnny is supposed to be with Michelle and her group, you praise Michelle. "Michelle, I love how you're sitting, and you're writing, and you're having a discussion with Sally. I really appreciate you guys following directions." Then that's going to tell Johnny, "I want that kind of praise. I want my teacher to be proud of me and what I'm doing." Johnny's going to go back to doing what he's supposed to be doing so that he can get that praise as well. You walk around, and then you go back to Johnny. "Oh, Johnny, Ms. Brown is so proud of you. I'm so glad how you're interacting with your group." In that moment, he's the happiest kid in the world. So next time, Johnny may not be so quick to veer off and do something else. He's going to do what he's supposed to be doing because he wants that praise specific to what he's supposed to be doing. And he wants everybody to hear it.
Although this strategy works as a Tier 1 support, it is also effective as a Tier 2 support when working with students who consistently display challenging behaviors. For these students, educators should:
Identify specific behaviors they want students to demonstrate.
Frequently observe the student to identify instances of desired behavior.
Increase the frequency of behavior-specific praise (e.g., 9 praise statements to every 1 corrective statement)

To make sure you are using this strategy with fidelity, download this behavior-specific praise implementation checklist.
To view our IRIS Fundamental Skill Sheets on behavior-specific praise, click on each title below.