What strategies can educators implement to prevent or address challenging behaviors?
Page 6: Opportunities to Respond
Opportunities to respond (OTR) involves giving students frequent chances to answer questions or prompts in a set amount of time (e.g., 3-5 per minute). Rather than one student responding at a time, all students respond simultaneously using verbal responses (e.g., choral response) or non-verbal responses (e.g., thumbs up/thumbs down). When students have frequent opportunities to respond to questions and prompts, they are less likely to become off-task or engage in challenging or disruptive behaviors.
OTR is often used when teaching the entire class and is most effective when used to review material already taught, making sure students have at least a basic understanding of the academic content. Because increased academic engagement decreases rates of challenging behaviors, OTR's benefits are twofold: helping students increase fluency and subject area content knowledge while also effectively promoting and reinforcing student participation and engagement.
For Your Information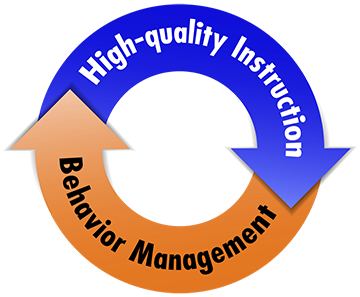 Academics and behavior are interlinked: When teachers provide high-quality instruction, students tend to be more engaged in the lesson, and exhibit fewer disruptive behaviors; when teachers effectively manage student behavior, they have more time to provide high-quality instruction.
Research Shows
Opportunities to respond has been found to increase on-task behaviors and student engagement:
For students with and without disabilities
Across all grade levels
During small- and whole-group instruction
(Clarke, Haydon, Bauer & Epperly 2016; Fitzgerald Leahy, Miller, & Schardt, 2019; MacSuga-Gage & Simonsen, 2015)
Using the Strategy
To help educators prevent or address challenging behavior, the table below describes the steps to implement opportunities to respond and provides an example.
| | | |
| --- | --- | --- |
| Steps | Description | Example |
| Create a list of questions or prompts. | After choosing a content area and a specific objective or skill (e.g., addition problems, phonics), create a list of questions or prompts based on the content. | The teacher uses 20-25 images that represent fractions (e.g., a circle divided into four equal parts with three of them shaded). |
| Choose the method you will use for asking questions. | Determine how you will ask questions (e.g., note cards with questions, presentation slides). | The teacher prepares presentation slides with these images. |
| Choose the method students will use to respond. | Determine how students will respond (e.g., writing answers on dry-erase boards; holding up cards with A, B, C, and D options). | The teacher instructs students to write their responses on dry-erase boards. |
| Ask a minimum of three questions per minute. | Offer three to five opportunities to respond per minute to ensure that students are frequently answering questions and staying engaged. | The teacher shows an image on the screen and gives students ten seconds to write down the fraction. At the teacher's prompt, the students all hold up their dry-erase boards at the same time. This activity takes roughly five minutes. |
| Provide feedback based on student answers. | Be brief and constructive when providing feedback. | The teacher scans the responses quickly, gives the correct answer, and provides reinforcement and corrective feedback as appropriate. |
In addition to the five steps listed above, the five actions below can be helpful when implementing this practice.
Although this strategy works as a Tier 1 support, it is also effective as a Tier 2 support when working with students who consistently display challenging behaviors.

To make sure you are using this strategy with fidelity, download this OTR implementation checklist.