How do teachers differentiate instruction?
Page 7: Differentiate Product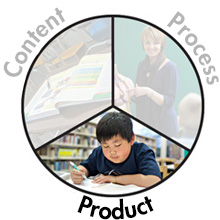 When teachers differentiate product, they assess the same concept or skill for each student at the end of a unit of study; however, teachers offer their students a variety of ways to demonstrate their knowledge (e.g., video, written report). When doing so, the teacher strives to:
Make the product assignment challenging but not so difficult or complex that the students are unable to complete it on their own.
Provide clear directions.
Create a task that reflects real-world application.
Teachers should also include visual, auditory, and kinesthetic (i.e., involving movement or hands-on activities) options as well as analytic, creative, and practical ones. They might also allow the students to complete the product alone or as a group. Although teachers typically allow students to choose the type of product they complete, they need to make clear that their students cannot always choose to complete the same type of product assignment. The table below highlights a few strategies for differentiating product. Click on each link to learn detailed information about implementing these strategies.
Tiered Products
Keep in Mind
To design and match the product assignments to the students' readiness levels, teachers should refer to the pre-assessment and ongoing assessments results.

As activities can be tiered to differentiate the learning process, so too can products be tiered to differentiate how students demonstrate their learning. When teachers assess students' knowledge in this way, they design a range of products that are challenging for students at different levels of readiness (in general low, middle, and high groups).

The example below illustrates the use of tiered products. By being aware of her students' readiness levels, the teacher has developed a different assignment for each level of learner: Group 1, below grade-level learners; Group 2, grade-level learners; and Group 3, above grade-level learners.
Language Arts-Fifth Grade

Key Concept: Make and Revise Predictions.
Lesson: Students have been reading a novel, The Witch of Blackbird Pond by Elizabeth George Speare. They have just finished the first chapter and will make predictions based on the events that have transpired. Their predictions will come in written form and will be turned in at the end of class.

Group 1
Group 2
Group 3
These students need to understand the events of the first chapter of the novel. They will have read the chapter but will answer questions given to them to check on their comprehension of the facts of the chapter first. After understanding the facts, they will write a letter from Kit to her friend in Barbados telling what she expects will happen next. The letter needs to be turned in at the end of the class.
These students will analyze the events in chapter one. They will analyze according to Kit's thoughts concerning her "disappointment in America." They will focus on analysis of why America would be disappointing to a person who was coming from Barbados. Do a prewriting exercise of creating a Venn diagram that shows a comparison of America (as Kit sees it) and Barbados (as Kit remembers it). Then use your information to write a journal entry from Kit's point of view that explains why she is so disappointed and predicts what she thinks will happen next. Turn in your journal entry at the end of the class.
These students will synthesize the words used in chapter one according to what the words help them learn about Kit. They will then predict what will happen next from a synthesis of the words used to tell the events in the first chapter. Important words to present to them to begin their search are embarrassment (p.6), dour-looking (p.7), impulsively (p.8), Heathen Island (p.11), Puritans (p.12), humiliation (p.13), respectable woman (p. 13), and nonchalance (p. 14). If they do not know word meanings, they should begin their search in a dictionary. Then they should write Kit's explanation (in any form they choose) of what has happened and what she predicts next. Turn in the piece at the end of class.
Adapted from http://www.doe.in.gov/exceptional/gt/tiered_curriculum/languagearts/la5r.htm
Tic Tac Toe

Tic-tac-toe, sometimes referred to as Think-tac-toe, is a method of offering students choices in the type of products they complete to demonstrate their knowledge. As in a traditional tic-tac-toe game, students are presented with a nine-cell table of options. The teacher should make sure that all options address the key concept or skill being learned. There are several variations on this method:
Students choose three product options that form a horizontal, vertical, or diagonal line.
Students choose one product choice from each row or from each column (without forming a straight line).
The teacher can create two or more versions to address the different readiness levels.
In the example below, a high-school teacher creates a Tic-tac-toe assignment for a unit on Romeo and Juliet. The teacher wants the students to complete assignments for three categories: characters, setting, and theme. Notice that the teacher creates three assignments for each of these categories, resulting in a total of nine tasks from which students can choose.
Example
Directions: Complete one activity from each row.
| | | | |
| --- | --- | --- | --- |
| | Write an essay comparing and contrasting yourself to one of the major characters. | Create a list of at least five interview questions to ask Romeo or Juliet about what the reader should learn from their experiences. Create an audio including the questions and answers. | Now that you've read Romeo and Juliet and watched Westside Story, create a play that contains these two major characters and is set in modern times. |
| | Choose your favorite scene and describe how the setting affects the mood of the play. | Choose your favorite scene and create a detailed scaled model of it. | Choose your favorite scene and write an essay describing the differences in the settings of Romeo and Juliet and Westside Story. |
| | List five well-known quotes from the play. List the character who said the quote and describe how each quote relates to a major theme of the play. | Create a table that compares and contrasts the Montagues and Capulets with the Hatfields and McCoys. | Create a video trailer for a new version of the movie Romeo and Juliet. |
Learning Menus
When teachers use learning menus, or choice boards, they offer students four to six options for producing a final product. Each choice should be challenging and should require approximately the same amount of time to complete. Below are some examples of product choices that teachers can include in a menu.
Examples of Product Choices

Video
Poster
Web page
Mock trial
Letter to the editor
Exhibit
News report
Written report

Diorama
Skit
Puppet show
Map
Demonstration
Photo essay
Play
Creative writing project

Travel brochure
Song
Poem
PowerPoint presentation
Debate
Reenactment
Diagram
Advertising campaign
Although there are a number of ways to offer these choices, some teachers present them as a dinner menu. For this method, students often select one "entree" task and two "side-dish" tasks. Additionally, students may elect to complete a "dessert" task for enrichment. Below is an example of one such dinner menu.
The School Diner – Idioms
Appetizer (You must do this)
With a partner, select one idiom from the bulletin board. Discuss what you think the idiom means. Then look up the idiom in the book In a Pickle: And Other Funny Idioms, Scholastic Dictionary of Idioms, or Super Silly Sayings That Are Over Your Head: A Children's Illustrated Book of Idioms. You can find copies in the class library.

Entrees (You must do all)
Read one of the following books provided by the teacher:

Any Amelia Bedelia book
Butterflies in My Stomach and Other School Hazards
Reach for the Stars and Other Advice for Life's Journey
You Are What You Eat and Other Mealtime Hazards

Make a list of all of the idioms in the book and write their meaning.
Side Dishes (Select at least two)
Write an idiom you have heard used in your life and explain what it means. Draw a picture of what the main character of the story you read might do if he or she heard it.
Select an idiom from the bulletin board or one that you have heard used and add it to the story you read. Write at least 6 sentences.
With a partner, create a short skit using an idiom from the bulletin board or one that you have heard used.
Dessert (Optional)
Learn more about idioms from other cultures.

Read I'm Not Hanging Noodles on Your Ears and Other Intriguing Idioms From Around the World
Use the bookmarks on the computer to visit several Websites that illustrate idioms from other cultures.
RAFT
Teachers can offer students product choices by using a RAFT (role, audience, format, topic). Each column specifies the role the student will adopt, the audience he will address, the format of the work, and the topic to be addressed. Sometimes, students are asked to choose a row, and sometimes they are asked to make a selection from each column. In other instances, the teacher may assign students a row that matches their readiness levels. Typically, RAFTs can be completed in a relatively short amount of time and can be assigned as classwork or homework.
Example
A fourth-grade social studies class is studying the colonization of America. The teacher creates the following RAFT for this unit.
| | | | |
| --- | --- | --- | --- |
| Role | Audience | Format | Topic Profile |
| Pilgrim | relatives in England | letter | the first winter |
| Myles Standish | male pilgrims old enough to defend the colony | map of settlement | defending the settlement |
| John Carver | future generations | diary | establishing and maintaining law and order |
| Squanto | other members of his tribe | oral report of observations (audio recording) | settlers (physical characteristics, ways of life, daily routines) |
| Journalist | newspaper subscriber | newspaper article | the landing of the Mayflower |
Tip
Teachers often find Bloom's taxonomy helpful when differentiating product based on student readiness.
Bloom's taxonomy identifies six levels of learning, from the most basic (i.e., recalling facts) to the most complex (i.e., evaluating information). For instance, when she creates a tiered assignment, the teacher often develops three levels of activities. For the lowest level, she might develop activities that assess students' knowledge and comprehension; for the middle group, she might assess their ability to apply and analyze information; for the high group, she might require them to synthesize and evaluate the information. The tables below present the hierarchy of six levels of learning. For each level of learning, the table provides verbs teachers often use when designing product assignments or test questions.
Bloom's Taxonomy (original*)
Knowledge
identify, list, arrange, define, describe, label, match, order
Comprehension
classify, summarize, predict, locate, discuss
Application
compute, demonstrate, show, solve, write
Analysis
compare, contrast, experiment, model, separate
Synthesis
arrange, combine, formulate, revise, propose
Evaluation
argue, defend, justify, appraise
*Published in 1956.
Bloom's Taxonomy (revised**)
Remembering
identify, list
Understanding
categorize, summarize, compare, explain, give examples, predict
Applying
perform lab test, solve a math problem, write an essay using correct grammar and punctuation
Analyzing
differentiate, draw conclusions, organize
Evaluating
determine, judge, critique, test
Creating
generate, plan, construct, design
**Drafted in 1999 in response to new evidence about students' development and educational practices.
For Your Information
Differentiating product contrasts with how teachers in a traditional classroom typically assess their students' knowledge—administering a written test at the end of a unit of study. Teachers in a traditional classroom often assume that a written test is an accurate indication of what their students have learned. However, issues such as a student's ability to read and comprehend text sometimes interfere with accurately assessing what the student knows. Although they should continue to administer written tests, teachers should redesign or build their tests so that they are differentiated.
When they create written tests to use in a differentiated classroom, teachers should keep a number of factors in mind:
Using a variety of question types. In addition to using traditional question types (see table below), teachers should include nontraditional question types such as analogies, demonstrations, drawings, and real-world applications. This allows teachers to determine which students have mastered the content or skill. Different students perform better on certain types of question types than on others, so having a variety of question types maximizes the probability that each student will have the opportunity to demonstrate his or her knowledge. Teachers should also use a combination of forced-choice items (e.g., matching, multiple choice) and constructed response items (e.g., create a timeline, write a short essay).

Traditional Question Types
Considerations and Suggestions
Multiple choice

Write in simple language and use as few words as possible.
Avoid negatives (e.g., Which of these is not an example of an insect?).
Make sure the construction of the stem or answers does not give the answer away (e.g., The stem ends with "an" and only one answer begins with a vowel).

Matching

Write the definitions on the left and list the words on the right so that students read a definition and then scan the list of words instead of vice versa.
Keep all matching items on the same page.
Include no more than eight items.
Note: This type of question is good for struggling readers because it requires minimal reading.

Sentence completions and fill-in-the-blanks

Provide answer blanks and adequate space for written responses.
Understand that students' handwriting is often difficult to decipher.
Write sentences so that the blanks are near the end to minimize issues with reading comprehension.

Labeling diagrams, charts, and maps

Provide adequate space for the students to label.
Understand that students' handwriting is often difficult to decipher.

Ordering items or events

Note: This type of question works well for literature, history, science, and math.

Short answers or essays

Grade only the content being tested and not the students' writing skills (e.g., grammar, punctuation); an exception is the spelling of content area vocabulary.
Allow students to convey their knowledge in the most efficient manner (e.g., bulleted items, diagrams). Requiring them to write complete sentences may impede their ability to fully demonstrate their knowledge.

True/ False

Teachers may want to avoid true/ false questions because they often involve the use of negatives, which are difficult for many students (e.g., Plants do not need sunlight to produce chlorophyll). Additionally, this test format is typically a difficult one for struggling readers and for students who experience test anxiety.
Provide a "T" and "F" for true/ false questions for the student to circle. This avoids the misinterpretation of a student's illegible written T's and F's. It also prevents students with handwriting challenges from tiring during the tests when they are required to write out "true" and "false."

Preteaching test-related vocabulary. Teachers should preteach unfamiliar words or phrases included in test items such as "compare" or "contrast."
Making the format efficient for students. This allows students to demonstrate their knowledge without having to spend time and energy navigating the layout of the test.
Highlighting key words. When words such as four, most, least, and excluding are highlighted, students are less likely to forget the criteria while formulating their answers.
Making test items straightforward. The test items should assess the students' knowledge of the content or skill. Items that include negatives or require overly complicated logic interfere with students' ability to accurately demonstrate their knowledge.
Specifying the criteria for constructed response items. Items that require the students to formulate responses (e.g., essays, short answers) should specify the criteria (e.g., length of essay, number of examples).
Using authentic assessment. Test students in the same way they were taught. For example, if students have been working on the addition of two-digit numbers using only computation problems, the test should not include word problems.
Adapted in part from Fair Isn't Always Equal: Assessing & Grading in the Differentiated Classroom, by R. Wormeli, 2006.
Teachers are sometimes concerned that if they allow their students to demonstrate their knowledge in ways other than written tests, these students will not be prepared to take standardized tests. Carol Ann Tomlinson discusses why this is not the case (time: 0:49).
Carol Ann Tomlinson, EdD
Professor of Educational Leadership, Foundations, and Policy
The University of Virginia
Charlottesville, VA

Transcript: Carol Ann Tomlinson, EdD
A lot of times, teachers will feel like the standardized test is not going to be differentiated, so I can't differentiate now because they won't be prepared for that test. Teaching is not the test. The test is one moment in a time. You can give kids hints on how to take tests. They can take a couple of dry runs. But to teach them in ways that are ineffective for nine months before the test comes is not likely to benefit them much. What some research suggests to us is that kids do better on standardized tests when the teaching-learning process is a fit for them, even if the standardized test is not in their preferred way of learning. And probably the two reasons for that is that they learn more on the way to the test, and they also develop more confidence as a learner.