What should teachers understand in order to address student diversity in their classrooms?
Page 4: Linguistic Diversity
Teachers lead classrooms with a mix of students who may be fluent in English, learning English as a second language, or bilingual. One in five students in the United States (ages 5–17) speaks a language other than English at home or speaks English with difficulty. These students are often referred to as English language learners (ELL), English learners (EL), or students with limited English proficiency (LEP, although this term is used less frequently). Across the nation, more than 150 languages are spoken in our schools, with Spanish being the most predominant. Such a marked increase in ELL enrollment suggests that teachers need to be adequately prepared to work with these students.
Most Spoken Languages in Homes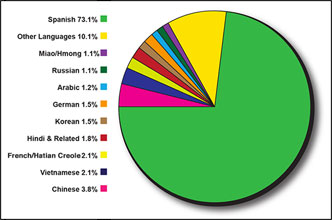 Percent Change in U.S. Total and ELL Pre-K–12 Enrollment between 1997–1998 and 2007–2008
Most Spoken Languages in Homes
Source: Migration Policy Institute, National Center on Immigrant Integration Policy, 2010.
This is a pie chart detailing the Most Spoken Languages in Homes. The different languages and their percentages are listed to the left of the pie chart, with a corresponding color box next to the information. The pie chart itself does not have the percent designations on the graph itself. The languages, percentages, and colors are listed as follows: Spanish 73.1% – green; other languages 10.1% – yellow; Miso/Hmong 1.1% – purple; Russian 1.1% – dark green; Arabic 1.2% – blue; German 1.5% – orange; Korean 1.5% – brown; Hindi & Related 1.8% – red; French/Haitian Creole 2.1% -light yellow; Vietnamese 2.1% – dark blue; Chinese 3.8% – pink.
Percent Change in U.S. Total and ELL Pre-K–12 Enrollment between 1997–1998 and 2007–2008
Source: Migration Policy Institute, National Center on Immigrant Integration Policy, 2010.
This is a double line graph showing the Percent Change in U.S. Total and ELL Pre-K-12 Enrollment between 1997–1998 and 2007–2008. The x-axis is labeled year and each year from 1997-1998 to 2007-2008 is listed and labeled. The y-axis is labeled Percentage Increase and every 10 percentage points from 0% to 60% are labeled. The first line plot graph spans from 0% to around 10%, steadily increasing over the 10-year span. This graph is yellow and is labeled as "U.S." in the key at the top of the graph. The second line plot graph spans from 0% to around 50%, with a large increase from 1998–1999 to 1999–2000. From the year 1999–2000 the increase is steady. This graph is purple and is labeled "ELL" in the key at the top of the graph.
Why Language Matters
In today's classrooms, a growing number of students have difficulty understanding English and as a result often struggle to follow instruction. To get a better sense of what these students might be experiencing, watch the movie below and try to follow along with the teacher's lecture in Portuguese (time: 0:26).
Were you able to understand the lesson? Imagine how frustrating and exhausting it is for students who are unable to comprehend what their teacher is saying. To further understand what students might experience, apply any foreign language skills you might have to translate the following sentences.
1. My name is ____. What is your name?
2. I like your sweater. Where did you get it?
3. This weekend I went to a movie and out to dinner with my friends.
4. Answer questions 12 through 15 on page 216 in your textbook for homework tonight.
5. Look at the diagram on page 96. Which figure has the greater area, the quadrangle or the octagon? Write the formula for determining each area and show all of your work.
6. Photosynthesis is the process through which plants change the sun's light into food, consuming carbon, carbon dioxide and producing oxygen.
Which items were easy for you to translate? Which items were difficult? Did you notice any similarities between the easy items? Between the difficult ones? Would you be surprised to know that item 6 is from a first-grade science curriculum?

It is important to understand the difference between social and academic language. A teacher might be confused that a student who appears to be proficient in English when communicating with his friends on the playground struggles to communicate and understand content in class. A lack of awareness about the difficulty of academic language might lead a teacher to believe that the student is not trying or that he or she has learning difficulties.
In the items above, 1–3 require social language skills, also known as Basic Interpersonal Communication Skills (BICS). This type of language typically takes one to two years to develop. On the other hand, items 4–6 require competency in academic language, also known as Cognitive Academic Language Proficiency (CALP). This level of competence typically takes five to seven years to develop. Because social and academic language often develop at the same time, proficiency in social language does not have to be achieved before teachers introduce academic language.
Basic Interpersonal Communication Skills (BICS) & Cognitive/Academic Language Proficiency (CALP) differences
Basic Interpersonal Communication Skills (BICS)
Cognitive/Academic Language Proficiency (CALP)

Social language that allows students to express their needs and desires and to communicate socially with peers and adults (e.g., in the cafeteria, on the playground)
Develops rapidly (1–2 years)
Easier to acquire than CALP

Academic language that uses advanced vocabulary and more complicated grammar and syntax, and that frequently refers to abstract subject matter
Takes more time to develop (5–7 years)
More cognitively demanding than BICS
Develops faster if a student has already learned the content in his first language*

*A student with a strong academic background who immigrates to the United States as a ninth grader might have less difficulty learning academic language in English because he has already learned required academic concepts in his native language. On the other hand, a younger student may have greater difficulty with academic language if she has not yet learned more difficult material (e.g., the concept of friction) or abstract concepts (e.g., civil rights or democracy) in her native language.
Janette Klingner talks about some common misperceptions teachers have about English language learners (time: 3:25).
Transcript: Janette Klingner, PhD
We tend to think of English-language learners as being sequential bilinguals or, in other words, speaking a different language than English at home and then learning a language, such as English, when they start schools. But in fact the majority of English-language learners in the United States are actually simultaneous bilinguals, meaning that they actually speak another language than English, as well as English, in their homes and so start school speaking some of both. Because if you assess that child in his or her presumed home language, you might find that scores are low. Same thing with English. You might test the child and find out scores are also low. But if we combine all the words the child knows, we find out that the total number is actually higher than his or her peers who are monolingual in one language or another.
Another misconception is that instructional frameworks developed for students in English are appropriate for developing skills in a second language. I think it's important to realize that, although there are similarities, there also are very key differences in learning to read in a second language, and that instruction needs to take that into account. Another misconception is that the more time students spend in English instruction, the faster they will learn English. We know from research that some instruction in the native language actually helps students acquire English faster. Another misconception is that all English-language learners learn English at about the same rate. And in fact what we know is that the length of time students take to acquire English really varies a great deal and really depends on a lot of different factors. Another misconception is that errors are problematic, that when children seem to be confusing language that it's problematic to be code-switching or mixing English and Spanish. In fact, we know that they are a positive sign that the student is making progress, and that's very much a normal part of the language-acquisition process to be drawing from both grammatical structures, vocabulary, in whatever languages are available to the child. So they should not be considered errors but rather a sign of progress and a natural thing to be doing. I think, perhaps, the most important one of all is the sense that children who are not yet fully proficient in English somehow aren't as intelligent and also that they're not ready to engage in higher-level thinking activities until they learn basic skills. What we see in schools is this being played out, where kids need to go through drill, focus on basic skills sort of over and over again until they are asked to engage in higher-level thinking related to content learning, etc. Clearly, English-language learners are every bit as intelligent as fully proficient peers, and we need to structure our instruction accordingly.
What Teachers Can Do
Students who are ELLs often receive services from a bilingual or English-as-a second-language (ESL) teacher, the ultimate purpose of which is to teach students English. At the same time, general education teachers should promote the success of ELL students in mastering academic content. In addition to adding to their own knowledge about language acquisition and proficiency, teachers should use effective supports and strategies to strengthen students' learning outcomes.
For more information view the following IRIS resources:
Modules:
Activity:
Diversity: Understanding Sheltered Instruction
---
Janette Klingner discusses the use of evidence-based practices with ELLs. Further, she talks about elements of a learning environment that help ELLs to be successful in the classroom (time: 2:52).
Transcript: Janette Klingner, PhD
One of the first things we need to do is look at the instructional practice to determine whether it really is evidence-based for that population of student. Because one of the things that's happened is we have a lot of generic evidence-based practices out there that in fact were not validated with English-language learners. Another challenge is that very often research reports do not include enough information about the participants or about their levels of language proficiency. It's not enough to ask what works; we must ask what works with whom and by whom and in what situations or contexts and for what purposes. One of the things I see happening in schools is that when a teacher is given a program or asked to use an evidence-based practice and then it doesn't work with a particular group of kids, say English-language learners, the teacher tends to think the students can't learn or they're not getting enough support at home. It's the parents not helping them. But really to blame the kids, the families, etc. And what I've also seen is others—the principal or the developers of the program—then blaming the teacher. Saying, oh, the teacher's just not doing it right. If the teacher would just do it right then we'd get these results we got in a different situation with different kids. So I think we have to be really careful. Also we need to look at the level of instruction, at the support provided to students to understand the language being used, whether or not instruction is comprehensible. We need to look at the conclusions the teacher is drawing about why students struggle and whether or not the teacher is misunderstanding those reasons. There are a lot of reasons kids might not understand something, and it takes a pretty sophisticated understanding of the second language-acquisition process to get a good sense for why that might be and then what kinds of support the children need because of those struggles. The environment is very important. I think we tend not to look enough at how conducive to learning the environment is, whether there are a lot of positive supports provided for kids, a lot of reinforcement, whether it's a safe environment where kids feel comfortable trying out new language structures. We know that the relationship with the teacher is very important and whether or not the teacher has a close relationship not only with the student but also parents and the community. All of that matters, and there's some research to suggest that it may be more important with culturally and linguistically diverse students than White mainstream students.
Research Shows
English language learners perform better when information is scaffolded in their first language.


(August & Shanahan, 2006)

Literacy in one's native language is a predictor of reading success for English language learners


(Ford, 2005)

Reading instruction in a student's primary language promotes higher levels of reading achievement in English and in his or her primary language.


(Goldenberg, 2008)
Something to Consider
One common misperception is that students who are learning English should not have difficulty with mathematics. Teachers often think of mathematics as being purely symbolic, a sort of universal language, and that an inability to speak English should not interfere with mathematics instruction.
Diane Torres-Velasquez explains why this belief is false and what teachers need to consider when teaching mathematics (time: 1:55).
Transcript: Diane Torres-Velásquez, PhD
A lot of people think that mathematics is a universal language and that it's something that can be taught without any difficulty for someone who's arriving from another country and doesn't speak our language. And there's a couple things that I would want to caution teachers about. It's important to consider what the profession is viewing as mathematics instruction these days, as a science of pattern and order. And mathematics is really looking at the world around us and making sense of it. And so as we're looking at this type of perception of mathematics then it's really important for us to understand that it's much more than just computation and learning to add and subtract and multiply and divide just by learning the steps. We're looking at mathematics in a way that involves children at a much deeper level. They are active participants in their learning and their experience of mathematics. And when we look at the content of mathematics we have five general areas, and one of them is number and operations. Another is algebra. We have geometry, measurements, data analysis, and probability. And when we're looking at the verbs of what it is to do mathematics, we are looking at words like explore, solve, justify, develop—words that are action words and not just the directional words that we used to associate with arithmetic. Sometimes vocabulary has different meanings, and so when you just translate things for a student into English, they may have a different understanding of the word. For example, table. If you're looking at data and you have it in a table, and you use the word table and you've got a student who's just learning English and they've learned table is that object that has a flat top and has four legs then there's going to be some initial confusion. And, obviously, that vocabulary needs to be taught.