What should teachers understand in order to address student diversity in their classrooms?
Page 4: Linguistic Diversity
Teachers lead classrooms with a mix of students who may be fluent in English, learning English as a second language, or bilingual. One in five students in the United States (ages 5–17) speaks a language other than English at home or speaks English with difficulty. These students are often referred to as English language learners (ELL), English learners (EL), or students with limited English proficiency (LEP, although this term is used less frequently). Across the nation, more than 150 languages are spoken in our schools, with Spanish being the most predominant. Such a marked increase in ELL enrollment suggests that teachers need to be adequately prepared to work with these students.
Most Spoken Languages in Homes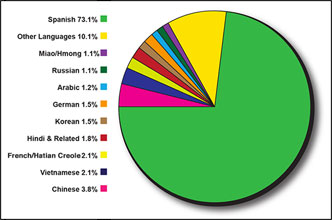 This is a pie chart detailing the Most Spoken Languages in Homes. The different languages and their percentages are listed to the left of the pie chart, with a corresponding color box next to the information. The pie chart itself does not have the percent designations on the graph itself. The languages, percentages, and colors are listed as follows: Spanish 73.1% – green; other languages 10.1% – yellow; Miso/Hmong 1.1% – purple; Russian 1.1% – dark green; Arabic 1.2% – blue; German 1.5% – orange; Korean 1.5% – brown; Hindi & Related 1.8% – red; French/Haitian Creole 2.1% -light yellow; Vietnamese 2.1% – dark blue; Chinese 3.8% – pink.
Percent Change in U.S. Total and ELL Pre-K–12 Enrollment between 1997–1998 and 2007–2008
This is a double line graph showing the Percent Change in U.S. Total and ELL Pre-K-12 Enrollment between 1997–1998 and 2007–2008. The x-axis is labeled year and each year from 1997-1998 to 2007-2008 is listed and labeled. The y-axis is labeled Percentage Increase and every 10 percentage points from 0% to 60% are labeled. The first line plot graph spans from 0% to around 10%, steadily increasing over the 10-year span. This graph is yellow and is labeled as "U.S." in the key at the top of the graph. The second line plot graph spans from 0% to around 50%, with a large increase from 1998–1999 to 1999–2000. From the year 1999–2000 the increase is steady. This graph is purple and is labeled "ELL" in the key at the top of the graph.
Why Language Matters
In today's classrooms, a growing number of students have difficulty understanding English and as a result often struggle to follow instruction. To get a better sense of what these students might be experiencing, watch the movie below and try to follow along with the teacher's lecture in Portuguese (time: 0:26).
Were you able to understand the lesson? Imagine how frustrating and exhausting it is for students who are unable to comprehend what their teacher is saying. To further understand what students might experience, apply any foreign language skills you might have to translate the following sentences.
1. My name is ____. What is your name?
2. I like your sweater. Where did you get it?
3. This weekend I went to a movie and out to dinner with my friends.
4. Answer questions 12 through 15 on page 216 in your textbook for homework tonight.
5. Look at the diagram on page 96. Which figure has the greater area, the quadrangle or the octagon? Write the formula for determining each area and show all of your work.
6. Photosynthesis is the process through which plants change the sun's light into food, consuming carbon, carbon dioxide and producing oxygen.
Which items were easy for you to translate? Which items were difficult? Did you notice any similarities between the easy items? Between the difficult ones? Would you be surprised to know that item 6 is from a first-grade science curriculum?

It is important to understand the difference between social and academic language. A teacher might be confused that a student who appears to be proficient in English when communicating with his friends on the playground struggles to communicate and understand content in class. A lack of awareness about the difficulty of academic language might lead a teacher to believe that the student is not trying or that he or she has learning difficulties.
In the items above, 1–3 require social language skills, also known as Basic Interpersonal Communication Skills (BICS). This type of language typically takes one to two years to develop. On the other hand, items 4–6 require competency in academic language, also known as Cognitive Academic Language Proficiency (CALP). This level of competence typically takes five to seven years to develop. Because social and academic language often develop at the same time, proficiency in social language does not have to be achieved before teachers introduce academic language.

Janette Klingner, PhD
Professor
School of Education
University of Colorado, Boulder
Janette Klingner talks about some common misperceptions teachers have about English language learners (time: 3:24).
What Teachers Can Do
Students who are ELLs often receive services from a bilingual or English-as-a second-language (ESL) teacher, the ultimate purpose of which is to teach students English. At the same time, general education teachers should promote the success of ELL students in mastering academic content. In addition to adding to their own knowledge about language acquisition and proficiency, teachers should use effective supports and strategies to strengthen students' learning outcomes.
For more information view the following IRIS resources:
Modules:
Activity:
Diversity: Understanding Sheltered Instruction
---
Janette Klingner discusses the use of evidence-based practices with ELLs. Further, she talks about elements of a learning environment that help ELLs to be successful in the classroom (time: 2:52).

Janette Klingner, PhD
Professor School of Education
University of Colorado, Boulder
Research Shows
English language learners perform better when information is scaffolded in their first language.


(August & Shanahan, 2006)

Literacy in one's native language is a predictor of reading success for English language learners


(Ford, 2005)

Reading instruction in a student's primary language promotes higher levels of reading achievement in English and in his or her primary language.


(Goldenberg, 2008)
Something to Consider
One common misperception is that students who are learning English should not have difficulty with mathematics. Teachers often think of mathematics as being purely symbolic, a sort of universal language, and that an inability to speak English should not interfere with mathematics instruction.
Diane Torres-Velasquez explains why this belief is false and what teachers need to consider when teaching mathematics (time: 1:55).

Diane Torres-Velasquez
Associate Professor Teacher Education Department University of New Mexico