What strategies can teachers use to support these children?
Page 8: Use the Children's Home Language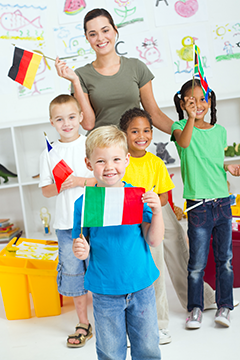 Using key words and phrases in the child's home language is another way that teachers can support the learning and language needs of young DLLs with disabilities. Most importantly, teachers should start by learning to correctly pronounce each child's name. This can go a long way to building healthy relationships not only with the children themselves but also with their families. Next, teachers should learn and use important words and phrases in the child's home language. Although it is not feasible for them to become fluent in every language spoken by the children and families, at a minimum teachers should learn the words for things such as greetings, routines, transitions, comforting, and commonly used classroom objects. Using key phrases increases the opportunities for the teacher to communicate with the children throughout the day. When feasible, teachers should also learn words and phrases in the child's home language that help the child understand new concepts being taught in the classroom. Many sources offer professionals help in learning key classroom words and phrases in languages other than English. These include:
Families
Bilingual staff
Professional resources (e.g., Colorin' Colorado's ELL Starter Kit for Educators)
National centers (e.g., the Head Start National Center on Cultural and Linguistic Responsiveness)
Community resources such as churches
For Your Information
When resources are available, teachers should schedule language-focused activities (e.g., reading a book, singing a song) primarily conducted in the children's home language. These activities:
Support home and second language development and early literacy
Create a safe time when children do not have to talk to others in English
Reduce the language demands on children who are still in the early stages of acquiring a second language
Listen as Rosa Milagros Santos offers suggestions as to where teachers can find resources for supporting young DLLs in their classrooms. Next, listen as Irlanda Jimenez and Carola Matera provide tips for teachers who work with young DLLs.


Rosa Milagros Santos, PhD
Professor, Special Education
University of Illinois at Urbana-Champaign
(time: 3:25)


Irlanda Jimenez
Multicultural Coordinator
Bilingual/ESL Teacher
Urbana Early Childhood Schools
(time: 1:13)


Carola Matera, PhD
Early Childhood Studies
School of Education, California
State University Channel Islands
(time: 1:45)
Transcript: Rosa Milagros Santos, PhD
Teachers tend to get really, really scared when they have a child or a family who speaks a different language, and they're going, "I will never, ever learn how to speak that language," or "I don't know what to do with this child, because they speak a different language." What's really most important when you come upon these situations is really keeping an open mind and be almost like a child yourself. You know, take this opportunity to learn and feel this sense of wonder, of like, "Oh, wow, that's different, that's unique. Let me learn about more of that." And, I think, when you have that kind of disposition, you're more likely to be able to really meet the needs of the children and the families you work with, because now you're open to new things and possibilities, and so you're going to seek out information that will most support that child, that family. And through them, or from others, in many ways what's going to happen is you're going to be able to also improve your teaching because now you've grown and you've learned. Part of it is just being open to difference and being okay about that.
Professional organizations will have some resources through their Websites or through their conferences that teachers can easily access. There're definitely a lot of resources within the community that teachers should be able to access, and to me the biggest one is the library. The children's librarians are probably one of the biggest resources and oftentimes, I think, under-used resources in many communities. They will know what children's books are there that you can bring to your classroom to introduce different cultures. Or there might be a book written in multiple languages. Teachers should really make an effort to go out and check their libraries. Even if you're in a community that might not have a library, check on how you can access books. Some of these libraries have a way that they can get books to you without you having to drive out to the library every day.
Another place that I would recommend are migrant centers. Certain communities, many medium-size, highly-populated communities, there are migrant centers there. Community centers specific for cultural groups or ethnic groups, centers that support or provide support for new immigrants, for example, those are places where you can find access to translators or interpreters or resources around particular cultures.
The third place I would think about going to is local colleges and universities, whether it's a community college or a four year or a large university. These universities, colleges often have an international program that you can get information about other countries, access to students who may be fluent in different languages. They're also a great resource for teachers for information and resources for their classroom.
Families are always a great resource. Many of the families, especially if you're dealing with new immigrants or immigrants, they are very connected to other immigrants within their community, and so they may be able to connect you to other people within the community that you have not heard about. Many of these connections are very informal, and so the only way to access them would be through the people who are part of that connection.
Transcript: Irlanda Jimenez
It feels like a challenge when you have a variety of different languages present. Just kind of taking a step back and really thinking about, where is my student in the continuum of learning English as a second language? Paying attention to my rate of speech right now. Because we both speak English I feel like I can talk in my normal speed. But if you were learning Spanish, I would make sure that my rate of speech is a lot slower so that that way you'll be able to catch what I'm saying. Giving the kids a chance to really have those concrete experiences, paying attention to the themes and units that teachers are choosing as well then even using the kids to be able to support one another. One of the things that we try to do in our program is to pair up same-language speakers within a classroom. That's an opportunity for the kids to be able to use their home language with one another. For my Spanish speakers, give them the message it's okay to speak Spanish in your classroom. Giving the kids that message that the home language is also valued, not just English.
Transcript: Carola Matera, PhD
In terms of tips for teachers, I want to make sure that teachers know that they do not have to be bilingual or multilingual and speak all the languages that might be present in their classroom. But that even if they're monolingual English speakers or they're bilingual but do not speak all of the languages, that there are strategies that can and must be provided so that all children have access to the experiences that happen during the day. Those strategies are about facilitating friendships, connecting children, using words that we've learned from the parents, and using phrases that help children navigate the day and know what the routine looks like and what is expected of them. Knowing some songs and chants and poems, having bilingual picture dictionaries in the classroom, being able to use concrete things like realia. If we're talking about the little red hen and making and cooking and then bringing wheat and water and engaging in touching these materials and making flour together and learning those words in a real context with real things. Also know that collaborating with families is key. The teachers are teachers, and the parents are also the child's first teacher. So, together, we can co-construct the experiences that we want children to have and support them in learning English and continuing their home language.
A look inside Mrs. Raymond's classroom
Mrs. Raymond is working hard to bring the children's home languages into her classroom. With Ms. Mansilla's help, she has learned that the phrase for washing hands in Spanish is "lavarse las manos." As Mrs. Raymond is transitioning the children to lunch, she uses this phrase for all the children to hear: "It's time to WASH HANDS. LARVARSE LAS MANOS. Let's go to the bathroom to WASH HANDS. LAVARSE LAS MANOS."