What can teachers do to make the classroom environment more conducive to children's learning and development?
Page 2: Physical Environment
The term physical environment refers to the overall design and layout of a given classroom and its learning centers. Teachers should design the environment by organizing its spaces, furnishings, and materials to maximize the learning opportunities and the engagement of every child. To effectively do so, teachers can apply a concept known as Universal Design for Learning (UDL), which stresses that the environment and its materials in it should be accessible to everyone. Creating this accessibility might involve providing books at different reading levels, placing materials within easy reach on a shelf, or creating ample space so that a child who uses a wheelchair can maneuver around the classroom.
When they set out to design an effective physical environment, teachers should consider all of that environment's various aspects. Once they have selected child-sized, age-appropriate furnishings, teachers should then think about each of the following. Click the items below to learn more.
For Your Information
To help prevent problem behavior:
Minimize large open spaces in which children can run
Provide enough materials within the centers so that children do not have to compete for them
Use visual and environmental cues to help children know what to do
Including Families
Teachers can collaborate with families to create a physical environment that reflects the importance of those families and that promotes a sense of belonging. They can do this by:
Creating a parent communication board and welcome area in the room to share information
Requesting family pictures to be displayed throughout the classroom and the early childhood center
Asking families to provide resources that are representative of materials and objects their children use at home
Ensuring the diversity of families within the program, as well as other families throughout the world, through such things as artifacts, artwork, posters, toys, puzzles, and toy people sets
Including Children with Disabilities
Teachers need to ensure that young children with disabilities are able to fully access and participate in learning experiences. They can do this by making minor changes to the physical environment, such as:
Changing or modifying the chairs to meet children's needs (e.g., making sure the children's feet touch the floor, using a sensory cushion- a cushion that stimulates kids who crave sensory or tactile input when sitting, having bean bag chairs available)
Putting squares or pictures on the floor to indicate where children should line up or sit
Modifying materials, such as markers, to make them easier for children with motor difficulties to hold (e.g., using pencil grips)
Providing specialized equipment (e.g., built-up handled spoons, adaptive scissors) as recommended by an occupational therapist or physical therapist to help children be more independent
Making room for specialized equipment (e.g., walker) or assistive technology (e.g., communication board)
Creating individualized visual materials to help children to take part in daily routines (e.g., flip book)
Did You Know?
When they make items like pencils grips or specialized scissors available for all children, teachers avoid making certain children stand out.
Listen as Abby Green talks about how she arranges the physical environmental to help the children understand classroom expectations. Then listen as Ilene Schwartz talks about the concept of Universal Design for Learning in an early childhood environment.

Abby Green-Taylor, MEd
Teacher III / KidTalk Coach
Susan Gray School
Vanderbilt University
(time: 1:24)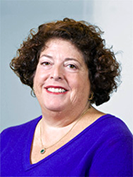 Ilene Schwartz, PhD
Professor, Special Education
Director, Haring Center for Research
and Training in Inclusive Education
University of Washington
(time: 1:43)
Additional Considerations for Infants and Young Toddlers
Teachers have a great deal of control over what infants and young toddlers (i.e., birth–24 months) experience in the physical environment. This is at least in part to the fact that infants and young toddlers depend on adults for their mobility. Because of this, arranging a classroom for infants and toddlers requires some specific considerations in addition to those described above. These include:
Keeping all appropriate materials in the environment accessible to infants and toddlers so that they can explore on their own and therefore develop independence and initiative.
Creating spaces where children can crawl and walk. Self-initiated movement is essential to a young child's emotional development. Crawling to a desired toy and picking it up helps a young child to develop feelings of self-confidence and achievement.
Providing safe lofts and climbing structures to support the development of motor skills.

Rob Corso, PhD
Research Associate
Vanderbilt University
Listen as Rob Corso explains why it is so important for teachers to create a nurturing and responsive environment for infants and toddlers (time: 1:41).
Research Shows
Environments that have been carefully and effectively arranged and maintained can significantly increase positive peer-to-peer interactions.
Using toys or activities that support social interaction (e.g., wagons, painting a mural) and grouping children with social delays with their more social peers can dramatically affect the frequency and duration of positive peer interactions.
(

Bovey, T., & Strain, P. 2005)
Examples of a High-Quality and a Less-Supportive Environment
High-Quality
Less-Supportive

In this high-quality environment:

The bookshelves, easels, and other furniture are used to break the room into small centers.
A variety of materials are available and accessible to children.
Visuals are placed at eye-level to support children in understanding the day's schedules and routines.
Window shades are fully open to take advantage of natural light. A lamp and string of lights help to further offset the fluorescent light in the room.

In this less-supportive environment:

The wide-open space* and uniform carpet color are not supportive in helping children to know what to do.
The areas are not separated.
The cubbies are poorly organized.
The visuals are placed well above the children's eye-level.

* Note: This teacher may need more open space if one of her children uses a wheelchair. If this is the case, decisions regarding space must be carefully considered taking into account the children in the classroom.
Activity
Review the picture of the preschool classroom below and discuss the strengths of the physical arrangement, as well as some possible changes you could make to improve it.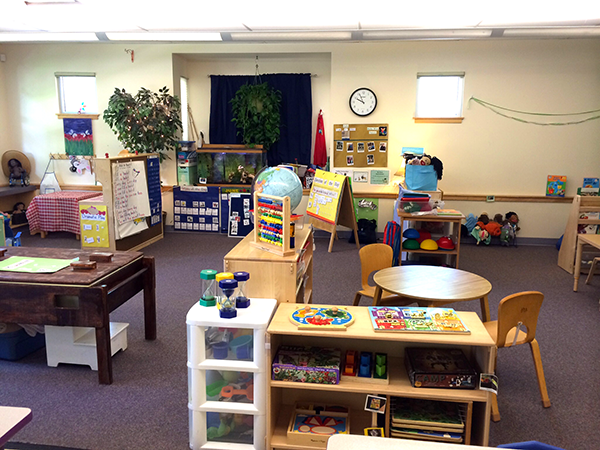 Strengths:
Sufficient number of centers
Utilizes the bookshelves, easels, and other furniture to break the room into small centers
A large variety and quantity of materials are available and accessible to children allowing them to play independently or work in small groups
Visuals placed at eye-level
Needs improvement:
Centers could be better defined to limit open spaces
Create a quiet area with soft materials (e.g., rug, pillows, bean bag chairs)
Post family pictures on the walls at eye-level
Make sure space allows for full participation and access for all children
Add labels to identify centers
Increase natural lighting (if possible)