What can teachers do to make the classroom environment more conducive to children's learning and development?
Page 3: Social Environment
The term social environment refers to the way that a classroom environment influences or supports the interactions that occur among young children, teachers, and family members. A well-designed social environment helps foster positive peer relationships, creates positive interactions between adults and children, and provides opportunities for adults to support children to achieve their social goals. To create a classroom environment that supports positive social interactions, teachers need to plan activities that take the following aspects into consideration. Click the items below to learn more.
Children should spend time every day in different kinds of groups. Groups of various sizes open up different opportunities for social interaction and learning. Activities suited to large groups include opening group circle time, story time, meal times, and outside time. Small groups allow more time for interaction with individual children and are ideal for teaching new skills and providing feedback. Additionally, small groups offer more opportunities for children to practice their language skills and for teachers to facilitate children's communication development.
Groups can either be made up of children with similar skills and abilities (i.e., homogenous groups) or mixed abilities (i.e., heterogeneous groups). Homogenous groups are ideal for teaching targeted skills or skills that meet the particular needs of a subset of children. Conversely, groups that include children with diverse skills and abilities provide opportunities for all children to learn positive social skills and communication skills from their peers. In this way, all children contribute to the classroom culture while also receiving the support they need to interact with their peers and teachers in meaningful ways.
When considering group size and composition teachers should:
Make sure children have opportunities to get to know each other and engage when in groups, including snack and meal times, to promote interactions.
Create activities that require children to work together and share materials.
Provide visual supports to promote social interaction and independence. Some children may not interact with their peers because they may not know what to do or how to do it.
Model, encourage, and teach positive social-interaction skills.
Model, encourage, and teach problem-solving skills.
Consider limiting the number of children allowed in a given area at one time.
A learning environment's daily routine should include both teacher-initiated and child-initiated activities. Teacher-initiated activities are those that the teacher plans and leads, such as story time or a small-group learning activity. Generally, a child-initiated activity is one that allows children to follow their interests and explore their passions. When they plan activities for the social environment, teachers should:
Take note of children's preferred activities when they have the opportunity to choose their own. Doing so can help teachers to identify the children's areas of strengths and interests.
Recognize that children may demonstrate challenging behavior during teacher-led activities that they find difficult, uninteresting, or overwhelming. Teachers can use their knowledge of children's preferred activities and materials and embed them in activities that may be more challenging (e.g., If a child love trains, but does not like to use any writing materials, provide pictures of trains for the child to color at the writing center).
Assign classroom jobs or responsibilities (e.g., plant water helper, animal feeder, lunch cart pusher, table setter) to help children feel a sense of belonging.
Make sure that every child has the opportunity to be a leader and a helper.
Make sure that every child has frequent opportunities to answer questions, make choices, or offer comments in a verbal or non-verbal way. For example, children can indicate their song choice during group time in a number of different ways (e.g., speaking, pointing).
Activities, games, and toys that require two or more children to participate have been shown to promote social interaction. More, different types of materials promote different types of play and social interaction. For example, a board game might lend itself to a couple of children, a home-living area might be more appropriate for a small group, and a game of duck-duck-goose requires a large group. When they think about what materials and activities should be included in their classrooms, teachers should:
Limit the amount of materials so that children have to share to promote social interaction. Be careful not to limit to the point that children argue over them.
Plan projects that can be done as groups or in pairs. For example, teachers can give two children one large piece of paper to create a collage.
Provide toys—such as dolls and building blocks—that are likely to encourage social interaction.
Including Families
Another important aspect of designing the social environment is to build rapport through frequent, open, and honest communication with families and by and making families and those important to them feel welcome. Family members can include a child's immediate family, extended family, and others in the community or neighborhood that are important in the family's life. Family members can share information about the strategies they use in their homes and cultures to promote social interaction. Teachers should listen to and incorporate parents' beliefs, as appropriate, into their instructional practices, including suggestions about how to encourage and guide children.
More specifically, when they partner with families to design the social environment, teachers should:
Offer opportunities for family members (including immediate family, extended family, and community members) to volunteer in the classroom.
Provide opportunities for families to meet and connect with each other.
Invite families to bring materials and share activities from their home and culture.
Collaborate with families to support the development of their child's social skills at home.
Include families in brainstorming and planning activities to meet a child's individual needs.
Including Children with Disabilities
Teachers also must ensure that young children with disabilities have opportunities across the day to interact with peers and adults alike. Some children with disabilities might need extra support to participate in the social environment. For these children, teachers might need to:
Teach friendship skills, including how to ask a friend to play, share materials, and give compliments. Teachers need to be intentional about teaching concepts of friendships like reciprocity and managing interactions. To assist children in the development of friendships, teachers might need to offer them instruction on how to connect with their peers, as well as give them the time and support within play activities to create these important relationships.
Teach how to recognize emotions and to express them in ways that are socially appropriate. Children who don't learn to use emotional language have a hard time labeling and understanding their own feelings, as well as accurately identifying how others feel. Songs (e.g., "If You're Happy and You Know It"), games, puppets, and activities like feeling faces can all be used to support children learning about emotions.
Embed opportunities to interact with peers throughout the day. Teachers can supply cooperative-use toys and materials to increase the opportunities for social interaction. Cooperative-use toys are those that naturally lend themselves to two or more children playing together. Some examples of cooperative-use toys include balls, wagons, a pair of telephones, and board games.
Use child preferences across the environment to promote social interaction. For example, if a child with a communication delay has difficulty being understood but enjoys the dramatic play area, she or he might be more likely to interact with a peer during that activity. The teacher can support this child's social interaction by facilitating her or his communication efforts with peers during this preferred activity.

Know a child's preferred playmates.
Facilitate social interactions by matching a child with peers who share interests or other similarities.
Abby Green talks about how to support positive interactions with young children. Next, Ilene Schwartz discusses some of the ways that teachers can help young children with disabilities participate in the classroom social environment.
Abby Green-Taylor, MEd
Teacher III / KidTalk Coach
Susan Gray School
Vanderbilt University
(time: 1:00)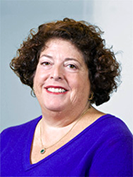 Ilene Schwartz, PhD
Professor, Special Education
Director, Haring Center for Research and Training in Inclusive Education
University of Washington
(time: 2:10)
Transcript: Abby Green-Taylor, MEd
I intentionally teach specific friendship skills for peer-to-peer interactions. Those include giving a toy, giving a compliment, asking to play with others. We also teach specific problem-solving skills. As a problem might start to arise, we'll jump in and help them define the problem, help them decide what their solutions might be, and then provide specific visuals, specific target language for those skills to help them navigate those situations and to frame it in a more positive way. So we have this problem, but what do you want to tell them to do, or what do you want to get out of a situation, rather than what do you not want to happen? We also use positive behavior support across the day and teach other teachers who come into our room how to use positive behavior support so that we're ensuring all of our interactions with children are based on a positive framework.
Transcript: Ilene Schwartz, PhD
Visuals also help the social environment of a classroom because visuals can help provide a script for teachers to prompt the play of children with disabilities. Some teachers in infant-toddler programs, in preschool programs, have a hard time knowing how to promote play for children with disabilities. On those picture schedules that may show the process of feeding the baby or making a meal in the kitchen, there can be simple prompts written down for the adults so that they can support the play behavior of the children with disabilities.
Another strategy that teachers can use to ensure that children with disabilities can fully participate in all activities in the classroom is to ensure that every child in the classroom has a functional communication system. That may be the most important thing that a teacher does. Every child, regardless of their ability level, needs to have a way that they can express their wants and needs. And needs to have a way that they can protest appropriately. They can say, "Yes, I want to do that," or "No, I don't want to do that." "I want more crayons, and I don't want any more stickers." Ideally, children do that verbally. But for children who don't have verbal communication, we need to make sure that they have some kind of system, whether it's a sign system or a picture system or a symbol system or even gestures. What we know is that challenging behavior's related to communication, and when children engage in challenging behavior they're trying to communicate something. So we need to ensure that every child has a way to communicate appropriately what they want to be doing, when they need help, when they're done with an activity, when they need a break.
Research Shows
Offering children choices is an effective intervention strategy to engage them in their learning and to limit challenging behavior.
(

Kern et al., 2001)

Embedding preferences into difficult activities supports children in completing tasks.


(Lohrmann-O'Rourke & Yurman, 2001)
For Your Information
To help prevent problem behavior during social interactions, teachers can:
Enlist the children's help in generating the rules for the different settings, activities, and routines.
Teach and practice the rules for the different settings, activities, and routines.
Acknowledge when children are following the various rules.
Offer young children a break from a challenging activity when necessary and appropriate.
Use scripted stories to assist children in understanding rules and to help address an individual child's challenging behavior.
Be proactive and teach social skills.
x
Scripted stories
Short books written from a child's perspective that are used to teach children how they are expected to behave in different situations or settings. In most cases, especially for young children, scripted stories are illustrated with drawings, photographs, or clip art. The length of the story, the type of visuals used, and the amount of text per page are dependent on the developmental needs of the individual child.
To learn more about developing and teaching rules, visit the IRIS Module:
Additional Considerations for Infants and Young Toddlers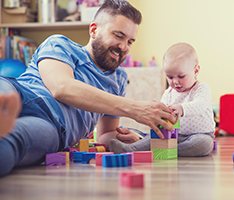 In effective social environments for infants and young toddlers, teachers acknowledge and respond promptly to infants' and toddlers' needs (i.e., responsive caregiving). In a good social environment, caregivers provide comfort and support (e.g., holding infants, holding toddlers' hands while walking, sitting close while reading). For example, when feeding young toddlers in a poor social environment, the teacher might line up all the children in highchairs and feed them in a mechanical fashion. In contrast, in an effective social environment, the teacher would feed a few young toddlers at one time while engaging and interacting with them.
Listen as Rob Corso discusses one of the biggest challenges teachers face when working with infants and toddlers (time: 1:32).
Rob Corso, PhD
Research Associate
Vanderbilt University
Transcript: Rob Corso, PhD
For infants and young toddlers, teachers really control pretty much everything they experience. So what they see, what they smell, what they touch. The key for effective environments for infants and young toddlers is really to embrace the concept of nurturing and responsive caregiving, which is a combination of relationships in the environment. The adult behaviors lay the foundation for healthy development of infants and young children. The environment and the curriculum are really blended together for how well caregivers can be responsive for the daily routines of mealtime, naptime, diaper changing. So how conducive the environment is for caregivers to be able to respond quickly and appropriately to the needs of infants and young children is really the core of what makes something a high-quality environment. In addition, for infants and young children high-quality environments have to have spaces for them to explore freely and safely in ways that are interesting and engaging, calm, and can promote interactions between adults and children, as well as children and other children. The environment for infants and young children is all about how to make sure caregivers can form close and secure relationships with the children. When adults are caring and responsive and consistent, infants and young children learn that they're valued and that the world is satisfying and predictable, so this is really all part of the environment for infants and young children.