What do educators need to understand about families of children with disabilities?
Page 3: Additional Roles of Families
Another consideration educators should keep in mind is that the families of children with disabilities often assume roles and responsibilities that extend beyond those typically associated with more conventional parental roles. These additional roles may:
Create considerable time demands
Require more specialized knowledge and skills
Require more effort and attention
For example, most parents schedule and take their child to annual medical appointments; however, parents like Luz Hernandez shoulder additional roles and responsibilities. Listen as she discusses the roles she assumed when raising her son who has a disability (time: 1:28).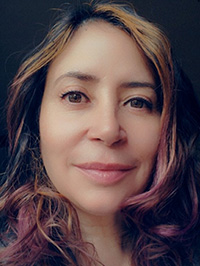 Transcript: Luz A. Hernandez
With Andy, I've become a physical therapist, an occupational therapist, a nurse. So there are needs that I would not normally have done with my other children. With Andy, I've had to literally learn to do certain exercises and certain therapies for him. I've had to go out of my way. He loves the park. And in order to get him to the park, we have to make it accessible, and we have to be more active with him. So I think the difference really comes in that my other children don't require the same attention from me and or even the same skill level from me as Andy does. With Andy, I literally, from when he was about eleven months, that I realized he's not walking, he's not doing this—I got to get, you know, on the ball with this—I literally sit on the floor and I would do physical therapy with him. And I help him hold the pencil and help him with all the fine motor skills issues. Even walking with Andy—I said he starting walking at about five-and-a-half years of age—he's broken his leg three times in the past year. So a lot of physical therapy goes back into that: You know, getting him to walk, 'cause I don't want him to end up in the stroller or in the wheelchair. So that has been a lot more different in parenting my son. Even feeding: I have to do a lot of pureed food and getting him to eat and coerce him into eating and playing with him and singing to him. We do what we have to do, right?
The roles and responsibilities described by Luz Hernandez were centered around her child's medical condition. However, the roles parents assume will vary, depending on the needs of their own children. The table below describes some of the additional roles that the parents of a child with a disability might assume.
| Role | Description |
| --- | --- |
| Case Manager | Overseeing all educational, health, and related services for the purpose of communicating and coordinating the care of the child |
| Medical/Insurance Expert | Understanding the medical issues surrounding the child and his or her disability or medical condition and communicating to others involved in the child's care as well as navigating insurance coverage, denials, and appeals |
| Advocate | Speaking out in the best interest of the child |
| Inclusion Specialist | Ensuring that the child is included in typical classroom activities and routines as much as possible |
| Transition Specialist | Creating continuity by easing the transition between teachers, grades, schools, and post-school environments (e.g., college, vocational school, employment) |
| Personal Future Planner | Assisting in planning for the child's future (e.g., college, employment, financial arrangements) by exploring all areas of interest, aptitude, strengths, and needs |
Listen to Anne Henderson talk about the roles of families who have children with disabilities and how educators can support them (time: 2:30).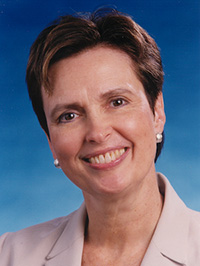 Transcript: Anne T. Henderson
For parents of children with disabilities, my goodness, they have so many more roles that they have to take on. They have to be a medical expert on their child's disability. They have to be a case manager. They have to be a transition specialist. They have to be a cheerleader and a coach. They have all sorts of roles that they have to play. And the more that we can help families understand what those roles are and point them out to people who are playing them—who can be role models and mentors and supporters so that they can learn how to play those roles well—that's critically important for how a parent sees themselves in terms of the job that has to be done.
Now often when I ask educators how do you support parents to be advocates for their kids. I'll get a sort of hesitation and a pause, and a well, we get along really well with our families. And I think they're hearing adversary. I think they're hearing a role that parents play where they're going up against the school. And that's not really what it is. It comes from the Latin which means to speak out for. That advocacy role means that parents are monitoring their kid's progress. They're stepping in if their child is struggling or needs help, or has a problem or is being treated unfairly or is being bullied. And they look for help, you know, does my child need tutoring, does my child need extra support, what can I do at home to help. And basically, being a collaborator with educators and others in the school to guide the child through the system successfully. And children with disabilities especially need parents who can play that advocacy role. And it's not a skill set that we're born with. Being a good advocate for a child, means you have to know when to step in, what to say, how to navigate the protocol of the school, who to talk to first, second, and third. What to say to get an appointment? How the system works to make it work? What the options are for the child? How to get help? How to access resources that may be in the community.
For Your Information
It's important to remember that the additional roles taken on by the parents of students with disabilities affect the entire family, including the child's siblings. These children often:
Experience varied emotions — Much like their parents, siblings may experience a range of feelings: empathy, pride, love, jealousy, embarrassment, fear, and guilt. And these emotions can occur in any sequence.
Become responsible and independent — Siblings might also be required to take on additional roles to help care for the child with a disability or become more independent in caring for themselves. In some instances, these children may not be able to engage in extracurricular activities or social events with their peers due to their need to help the family or the time restraints of their parents.
Feel left out or even neglected — At times, siblings may receive less attention from their parents. The demands created by the additional roles taken on by their parents can limit the amount of time and energy they have to spend with their children.
Develop positive characteristics — Siblings are frequently cooperative, patient, accepting of others' differences, and resilient. These characteristics are often enhanced by their interaction with their sibling with a disability and generalized into their daily interactions with others.
Listen to Aubri Girardeau talk about how her son Caleb has been impacted by having a sibling with a disability (time: 0:53).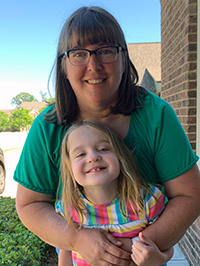 Transcript: Aubri Girardeau
Caleb is younger than Claire by almost two years. Yet he takes on the role of older sibling. He is protective of her in ways that usually you don't see unless it's an older sibling with more maturity. He is a lot more compassionate and kind, not just to her but to other people. I think he's more tolerant of other children. He picks up on differences quicker than other kids and in a positive way. So if he sees a child struggling, he can think to himself, well, they may have special needs like my sister. Let me try something different. It's made him definitely sweeter and more patient. But also he does have to make more compromises for her than she does for him. And that can sometimes create a little bit of jealousy. Things that he has to work through. It definitely is a struggle for him, but I don't think he sees it that way. He doesn't know any different. He's grown up with her like this, and he just loves her for who she is.
Supporting Families
In some circumstances, the additional roles adopted by families will last only a little while; in others, and depending on the complexity of the child's disability, those roles may last a lifetime. For many families, these new responsibilities can be both time-consuming and overwhelming. These time demands can result in less time for the parents to commit to school activities. To support these families, educators can:
Accommodate their schedules
Listen and respond to their concerns
Help them learn to navigate the education and social service systems
Assist them with finding support networks