How can educators engage these families?
Page 6: Meaningfully Involve Families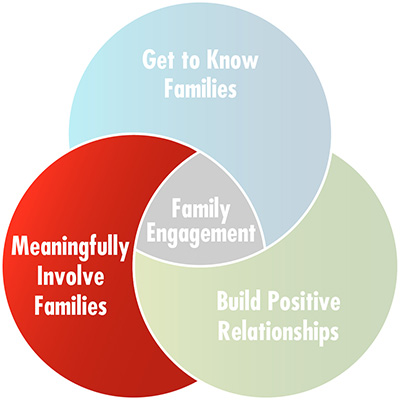 To encourage family engagement, educators should involve families in a manner that is meaningful to them. The way in which a family gets involved in the education system is likely to be as unique as the family itself. A single mother working two jobs and struggling to make ends meet might find it difficult to allow her children to participate in after-school activities. On the other hand, she might make sure that her children read every day and complete their homework. Likewise, families who have children with disabilities will demonstrate their involvement in a wide variety of ways. Educators must be willing to work with all families and value the many ways that they choose to be involved. Below are six common categories of parental involvement.
Category
Description and Examples
Parenting

Help families to develop environments at home to support their child's learning.

Offer parent education classes (e.g., GED or adult literacy classes).
Hold parent workshops on topics of interest to the families (e.g., behavior management, age- and grade-level expectations).

Develop an understanding of the families' needs and desires for their child.

Visit the family at home.
Attend neighborhood events.

Communicating

Establish procedures and create opportunities for two-way communication regarding a child's performance, school policies, and programs.

Host monthly coffees, socials, and other activities so that families and educators can meet informally.
Meet with parents at least once a year for parent conferences.
Communicate in as many ways as possible (e.g., emails, notes home, social media).
Schedule phone calls and in-person meetings at times convenient for families.

When communicating with families, consider the following tips.

Written communication:

Make information available in the parents' native language, when possible.
Use lay language and common vocabulary rather than professional jargon.
Use an appropriate reading level.
Attend promptly to parental requests or responses.

Verbal communication:

Allow time for a response.
Be aware of personal space, touching, and eye contact, if in person.
Be sensitive to different communication styles.
Describe the child's strengths and weaknesses in a nonjudgmental fashion.
Express optimism about the child's potential for improvement.
Be understanding about parents' reactions to information presented about their child.
Offer translators, as needed.

Note: In some instances, the only communication parents receive from their child's teacher is to address concerns about the child's behavioral or academic deficits. Educators should make an effort to initiate positive and relevant communication with parents to establish a strong foundation of trust and cooperation.

Volunteering

Recruit and train family volunteers to support students and programs within the school.

Invite parents to serve as room parents or school crossing guards.
Accommodate families' schedules and preferences for volunteer opportunities.

Learning

Facilitate families' involvement in their child's learning at home.

Share ideas about the ways families can support learning at home (e.g., employing strategies for completing homework, reading to child at home, talking to child about school).
Provide families with information about the skills being addressed in classrooms.
Collaborate with families when setting learning goals for their child and when planning for their transitions.
Inform families about the ways to link the learning in the classroom to home and community activities.

School Decision Making

Include families in school-related decision making.

Encourage families to participate in PTA/PTO meetings.
Inform families about the school board, its members, voting opportunities, and other related issues.
Invite family members to serve on committees that review school improvement plans.
Include family members on school committees, as representatives or leaders.

Collaborating with the Community

Develop partnerships with local businesses and organizations to provide resources for schools, students, and their families.

Make available information about community resources and services.
Ask local businesses to conduct workshops for educators or parents about the resources in the community.
Hold workshops and parent meetings focusing on community health, social service agencies, and other programs.
Make connections with the disability organizations that families are involved with or that they might benefit from (e.g., United Cerebral Palsy, Vocational Rehabilitation, parent centers, support groups).

Create opportunities for families to connect with the community.

Host a community service day in which members of the community can volunteer to paint or do other services in the school or students can volunteer to clean up a neighborhood playground.
(Adapted from School, Family, and Community Partnerships: Your Handbook for Action by J. Epstein, 2018 and 2002.)
Listen as Aubri Girardeau describes how she is involved in her child's education and what her school could do to increase involvement among families of children with disabilities (time: 1:31).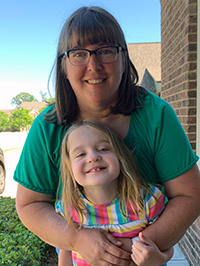 Transcript: Aubri Girardeau
My daughter was in an inclusion classroom the last two years, so she was able to spend a majority of her day in a general education setting. And both of those years, I was able to volunteer for one of the roles that they had for parents so that I could be a little bit more involved. And anytime there were parties or opportunities for parents to come help shop in the book fair with their kids, I could be there for that. So a couple of different ways for me to be involved. I'm fortunate in that I can be at her school as often as the opportunity arises. The struggle is that she is not as independent if I'm there. So I have to balance my desire to be present in her school with is that really what's best for her and her ability to go about her day.
I think if they encouraged parents of special needs kids to get involved in the PTA or PTO and tell them your voice could be heard, you can make changes that would benefit your child in addition to the rest of the kids, that would also probably be helpful. Just find a way for families to mix and mingle with parents of non-disabled children in the school setting. Just so everybody can see each other and be more aware of each other. One other thing, they probably would have to get permission from parents, but maybe feature the special needs students on social media like they do all the other kids. So if they'll say Miss so-and-so's class had a great time making artwork today. Do that also with these classes. Just some parents are oblivious really to, oh, there's a special needs setting in the school, I didn't know that. And it's no fault of theirs. They just weren't aware. Maybe just have more of a presence in the school community.