How can school administrators support implementation of high-quality IEPs?
Page 5: Implementing the IEP
Procedural Requirements Guidelines
Implement the special education services as written in the IEP
Ensure that parents are meaningfully involved in the IEP process
Adhere to required timelines
The purpose of the implementation stage of the IEP process is to deliver the services and supports outlined in a student's IEP. To ensure that these services and supports are implemented correctly, the school administrator should make sure that:
Parents are meaningfully involved in the IEP's implementation
School personnel understand their responsibilities and have the skills and training necessary to deliver the supports and services as outlined in the IEP (i.e., with fidelity)
Legislation and Litigation
School leaders who do not adhere to these procedural guidelines can face serious consequences.
In Kay Williams v. Cabell County Board of Education (1996), a school principal was removed in part due to failures to exercise leadership responsibilities, ensure that teachers implemented the IEP, and cooperate with parents.
In Van Duyn v. Baker School District 5J (2007), the U.S. Court of Appeals for the Ninth Circuit found that a school district had denied FAPE when it provided only slightly more than half the number of hours of math instruction per week called for in a student's IEP. According to the court, even if an IEP meets the procedural and substantive requirements of the IDEA, a school may still violate a student's right to FAPE if a material or important part of the IEP was not implemented.
Engage Parents
The Supreme Court's decisions in Rowley (1982) and Endrew F. (2017) emphasized the importance of the collaboration between school personnel and a student's parents throughout the IEP process. These case decisions provide evidence that meaningfully involving parents in the IEP process is vigorously protected by the courts. For parents to be meaningfully involved in the implementation of the IEP, the school administrator needs to ensure that systems and processes are in place to:
Establish and maintain open lines of communication—Because parents are valuable resources, any information they share should be considered. For example, when a student is having difficulty at school, the parent can often offer insight and can be instrumental in identifying possible reasons and solutions.
Frequently inform the parents of their child's progress toward meeting her IEP goals and objectives.
Involve parents in any changes to their child's IEP.
Tip
About a week after the meeting and once implementation begins, it is a good idea to check with the parents to see if they have any questions.
Breanne Venios describes how her school facilitates parent communication (time: 1:24).
Support School Personnel
For Your Information
Family Educational Rights and Privacy Act (FERPA) is a federal law, the purpose of which is to protect the privacy of a student's personally identifiable information (PII), such as educational records. To comply with FERPA, schools require a parent's or guardian's signature to release a student's educational record.
IDEA requires that school personnel begin to deliver the services outlined in the IEP as soon as possible. To guarantee there is no delay, the school administrator should make sure all individuals involved in implementation:
Have access to the IEP: Although they are confidential documents, IEPs should be shared (either in hard copy or electronically) with anyone responsible for the provision of services. This includes the special and general education teachers, related service providers, paraprofessionals, and other relevant school staff (e.g., administrative staff, bus drivers, substitute teachers). Although sometimes misconstrued as such, sharing a student's IEP with relevant parties is not a violation of the Family Educational Rights and Privacy Act (FERPA). However, because of confusion and misperceptions surrounding what is permissible and what is not, it's important that the school administrator remind those with access to the IEP that it is a confidential document and periodically meet with them to review their responsibilities regarding confidentiality.

Although school administrators might be tempted to provide a mere summary or overview of the IEP, it's important that everyone involved in the implementation of services and supports have the opportunity to read the document in its entirety. Similarly, merely providing access to the complete text of the IEP is not sufficient either. It is crucial to make sure that service providers fully understand the information contained in the IEP and the connections among its many components (e.g., PLAAFPs, goals, services).

Know their responsibilities for IEP implementation: To make certain that the IEP is implemented as intended—and thus to maximize the likelihood that the student will meet the outlined goals—every individual who provides services to the student must understand her or his responsibilities. These might involve providing specialized instruction for a specified portion of the day, providing accommodations, collecting and reporting progress monitoring data, or communicating a student's progress to her parents, among other tasks. If for whatever reason a member or members of the IEP team were unable to attend the IEP meeting, school administrators might want to consider establishing a process by which those parties can indicate that they have read the IEP and understand their individual responsibilities.

Are informed of the accommodations, modifications, and supports that must be provided to the student: Because students sometimes require different accommodations, modifications, and supports throughout the day, each service provider should be aware of those he is responsible for implementing. One way to do this is to use a form to record a student's IEP goals and the services and supports needed for the student to achieve those goals in different content areas. This form should be completed for each individual who will be implementing these supports. Following the meeting, it can be shared with relevant school personnel to help them understand their responsibilities to ensure the IEP is implemented as intended. Following is a form that school leaders can use to accomplish this.
Further, the school administrator is responsible for providing needed support for educators so that they can effectively deliver the services and supports outlined in the IEP. She can do so by 1) monitoring educators' professional development (PD) needs and providing training, and 2) creating structures and opportunities for collaboration.
Did You Know?
Providing instruction for students with disabilities necessitates special knowledge and expertise. Unfortunately, a large percentage of general education teachers, in particular those new to the profession, do not feel adequately prepared to teach these students.
Effective leaders ensure that school personnel have the knowledge and skills they need to effectively carry out their roles and responsibilities associated with the IEP process and the implementation of the services and supports documented in the IEP. One way to accomplish this is to provide effective professional development (PD). To determine PD needs, the administrator can conduct needs assessments and routine observations. The table below lists a few areas in which educators might need training, although factors such as prior knowledge, expertise, and level of experience will influence the type of PD they require.
IEPs
Instruction
Behavior

IEP process
IEP content
Implementing IEPs with fidelity
Monitoring student progress and collecting data
Submitting progress reports
Inclusive practices

Evidence-based instructional practices
Instructional and testing accommodations
Modifications
Assistive technology

Evidence-based behavioral strategies
Behavioral implementation plans (BIPs)
Positive behavioral intervention and support (PBIS)
Research Shows
A meta-analysis of 35 studies across three decades indicates that effective PD—that which results in changes in teacher practices and improved student learning outcomes—consists of seven commonly shared features:
Is content focused
Incorporates active learning utilizing adult learning theory
Supports collaboration, typically in job-embedded contexts
Uses models and modeling of effective practice
Provides coaching and expert support
Offers opportunities for feedback and reflection
Is of sustained duration
(Darling-Hammond, Hyler, Gardner, & Espinoza, 2017)
Effective PD consists of high-quality training and ongoing support that, ideally, involves a knowledgeable individual who observes implementation and offers corrective feedback. The goal of ongoing support is to improve and maintain the skills necessary for correct implementation, to maintain motivation and commitment, to address potential problems, and to prevent drift. Ongoing support should be provided frequently throughout the year, both on a scheduled and as-needed basis. Educators who receive high-quality training and on-going support implement with greater fidelity than those who do not. Moreover, those who receive extensive training typically implement with greater fidelity than those who receive only limited training.
For Your Information
In the event that training is not available or is not feasible, educators can learn the implementation procedures on their own. They can do so by carefully reading and following step-by-step procedures outlined in an existing manual or set of guidelines. A manual helps ensure a degree of program quality by increasing the day-to-day consistency of implementation for an individual as well as from person to person. The more specific the manual, the greater the potential that educators will implement a practice or program with fidelity.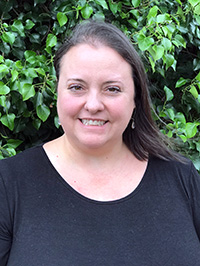 Tamara McLean
Exceptional Education Teacher
Nashville, TN

Tamara McLean, a special educator, describes a couple of ways training is provided at her school to general educators regarding accommodations (time: 0:54).
For more information on providing effective PD, see the following IRIS Modules:
Collaboration: An arrangement in which two or more individuals work together toward a common goal of planning, implementing, or evaluating a specific aspect of an educational program for a student or group of students.
Typically, multiple educators are responsible for providing services and supports to students with disabilities. School administrators can encourage collaboration by allocating time for these educators to collaborate on a regular basis. Recall that the majority of students who qualify for special education services spend at least some portion of the day in general education classrooms. They might also receive services from a special education teacher, one or more related service providers, and a paraprofessional. For this reason, it is essential that these educators have opportunities to collaborate about how best to support these students. Whether in pairs, small groups, or large groups, educators might collaborate in regard to:
Adapting the general education curriculum to meet the student's needs
Aligning general education and special education instruction
Identifying instructional practices and strategies that might benefit the student
Developing appropriate assessments
Research Shows
When school leaders (in this case, principals) supported teachers' collaborative efforts, these efforts were associated with increased student achievement.
(Goddard, Goddard, Kim, & Miller, 2015)
Providing effective PD and opportunities for educators to collaborate is a great starting point for helping to ensure that a student's IEP is implemented correctly. However, these activities do not guarantee that educators will implement the services and supports outlined in the IEP as intended. Further, these activities alone do not guarantee appropriate student progress. For this reason, it is critical that the school administrator have processes in place to monitor both implementation fidelity and student progress. The following page provides more information on how to accomplish these tasks. But first, Breanne Venios discusses access to IEPs at her school, the structures that have been put in place to provide PD, and ways to foster collaboration.

Breanne Venios
Principal, Spring Cove Middle School
Roaring Spring, PA
Access to IEPs
(time: 2:33)
---
Professional Development
(time: 2:44)
---
Collaborating
(time: 1:26)
For Your Information
There are several serious procedural errors that IEP teams should avoid when implementing the IEP. These include:
Failing to monitor a student's progress
Failing to implement the student's services and supports with fidelity
Failing to involve the student's parents
The last several pages of this module have included information about common errors related to the content on those pages. The handout below offers a combined list of these errors along with more detailed information about each.