What information does Mr. Irwin need to consider before proceeding?
Page 3: Benefits of RTI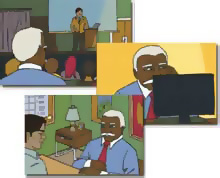 After receiving a broad overview of RTI, Mr. Irwin wants to learn more in-depth information about the approach. He attends conferences, researches the approach online, and meets with the principal of Rosa Parks Elementary to discuss his success with the approach. As a result, Mr. Irwin learns about the many benefits of RTI (outlined in the table below) for students, teachers, and schools.
Benefits
Early intervening for students who are struggling with reading
Ambitious instructional pace for struggling students
Increasingly intense levels of instructional interventions
Tier decisions based on objective data (e.g., progress monitoring data)
Identification of students with learning disabilities in the early grades
Shared responsibility and increased accountability for student learning
Parental communication enhanced by the use of data
Instructional decisions guided by progress monitoring data
Collaboration among administrative staff, teachers, and parents regarding students' learning
Potential reduction of behavior problems
Greater staff, parent, and student involvement in the educational process
Potential reduction of the over-identification of minority students in special education programs
Potential reduction in the number of students referred for special education services
Increased accuracy in the identification of students with a learning disability (i.e., fewer "false positives")
The staff at Jefferson Elementary School in Pella, Iowa, has been implementing RTI for several years. Listen as Brian Miller shares their success with helping struggling students (time: 0:21).
Transcript: Brian Miller
Seeing success in the general education classroom
We're not seeing as many kids that we're saying, "Once you're put into an intervention, you're going to be there for life." Some students are, and they continue to get service. But we're seeing more students that we're able to move out of it and get back into the regular classroom and see success there. We certainly feel that it's working for the students that have the needs.
Due to research findings and the positive results demonstrated in schools that have implemented one or more of the components of RTI—early intervening, high-quality instruction, and progress monitoring—RTI provisions have been included in IDEA '04.
The schools below have implemented one or more of the components of RTI: early intervening, high-quality instruction, and progress monitoring.
Ogden Elementary, Kansas
Background:
1996–1997 school year: 25% special education referral rate
Implementation:
1997–1998 school year: Began early intervention approach utilizing RTI concepts: improved reading instruction by incorporating scientifically based reading principles and grouping practices, early intervening, frequent reading assessments, a long-term professional development plan emphasizing reading instruction, increased parent involvement in the RTI process, and collaborative teacher planning time
Benefits:

2000–2001 school year: 9% special education referral rate
Reduction in discipline problems
Significant reading improvement
---
Rancho Unified School District, California
Background:
2001 school year: 123 fourth- and fifth-grade students were two to three years below grade level in reading
Implementation:
2002 school year: Implemented some RTI components (intense, systematic, scientifically based instruction in small groups for one hour per day) for 9 weeks with the 123 students who were about to be referred for special education assessments
Benefits:

After 9 weeks, the students showed statistically significant improvement in reading: more than a year's reading-level growth
After 2 years, only 8 of the 123 students (about 6%) had qualified for special education services
---
Glenn County, California
Background:
Nine school districts; a rural area
Implementation:
2000–2001 school year: RTI implementation began in one school in the rural district; 2005–2006 school year: Six schools were implementing RTI
Benefits:

85–90% reduction in special education referrals
65–70% fewer students in special education
---
M. Hall Stanton Elementary, Pennsylvania
Background:
2002–2003 school year: Urban school district, only 13% of students met state reading standards
Implementation:
2003–2004 school years: Employed elements often associated with RTI: comprehensive professional development, high-quality literacy instruction, frequent brief assessments, varied instructional practices (whole-group, small-group, and centers), literacy specialists, collaborative team meetings among school staff to discuss instructional planning and to review student data, collaboration among school professionals and parents
Benefits:

2003–2004 school year: 71% of students met state reading standards
2004–2005 school year: 73% of students met state reading standards
Fewer discipline problems
Research Shows
Up to 40% of students receiving special education services receive these services because of reading difficulties.


(President's Commission on Excellence in Special Education, 2002)

During the fall of 2004, 46.4% of all school children (ages 6-21) receiving special education services were being served under the learning disabilities category. These students represented 5.45% of the overall school population.


(U.S. Department of Education, Office of Special Education Programs, 2007)

Some researchers have suggested that the discrepancy between the number of students who actually have learning disabilities (LD) and the number of students who receive services for LD may be the result of schools' lacking the available resources to provide remedial services to struggling students.


(McMillan, Gresham, & Bocian, 1998)