What should content-area teachers know about vocabulary instruction?
Page 7: Building Vocabulary and Conceptual Knowledge Using the Frayer Model
Within a unit of study are many vocabulary terms that students must learn. Within that list of terms are a few representing key concepts. For example, in a science unit about rocks, the terms in the table below are commonly taught.
Science, Unit 2 Vocabulary (partial list)
basalt
foliated rocks
granite
gypsum
igneous rocks
marble
metamorphic rocks
mineral
obsidian
pumice
sandstone
sedimentary rocks
shale
slate
unfoliated rocks
Though students may learn these vocabulary terms independently, they still must understand the relationships between them and thus develop a deeper understanding of the main ideas. Within this vocabulary list, there are three terms that form the foundation for the entire unit: igneous rocks, sedimentary rocks, and metamorphic rocks. Because these terms are central to any substantial understanding of the chapter's content, teachers might need to spend more time making sure that students really grasp them. In cases like this, using a graphic organizer such as the Frayer Model can be helpful. When used appropriately, the Frayer Model allows teachers to incorporate the elements of vocabulary instruction discussed on previous pages (i.e., selecting words, explicitly defining and contextualizing the term, helping students actively process the word, providing multiple exposures to term).
Introducing and Teaching the Frayer Model
When they introduce this model, it is helpful for teachers to explain why it is useful for building vocabulary and conceptual knowledge. Then they can explicitly teach students what information should go in each section.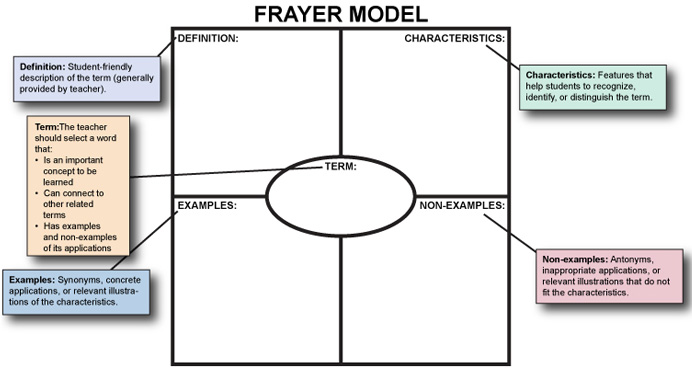 Click here to see a Frayer Model completed for one key concept in the science unit above: sedimentary rocks.
Initial instruction about the Frayer Model is heavily teacher-directed and requires teacher modeling. Teachers should demonstrate how to complete the graphic organizer by talking through what they are doing and how they are coming up with the information they enter into the different sections. Teachers should teach students how to use textbooks and other subject-matter materials to generate and discuss the information for each section.
The Frayer Model is not intended to be used as a worksheet for homework, something that would be no more effective than asking students to simply look up the definitions for a list of assigned words. Discussion is an important element of this practice. By filling out the Frayer Model with their classes, teachers help students to apply some of the practices discussed earlier in this module, such as contextualizing terms, actively processing information, and experiencing multiple exposures to terms.
For Your Information
It is not necessary to complete the entire Frayer Model in one lesson. Teachers may use the definition portion to first introduce a term to students. Then they can return to complete other sections of the organizer after students have built some conceptual knowledge by reading the text, seeing demonstrations, or working with associated content.
Click here for a pdf template of the Frayer Model for classroom use.
Examples of Frayer Models from Content Areas
Click on the links below for examples of completed Frayer Models.
Guided Practice with the Frayer Model
Once students are familiar with using this graphic organizer, they are ready for guided practice. After they've discussed the definition as a group, teachers can guide students as they complete the characteristics, examples, and non-examples sections. Watch the video below to see how a math teacher guides her students to generate characteristics of the term dilation and to distinguish examples and non-examples of this word. During this process, students learn to relate dilation to previous lessons and to review their knowledge of other words as they deepen their understanding of the new term (time: 2:05).
U
sed with permission from the Vaughn Gross Center for Reading and Language Arts at The University of Texas at Austin, copyright © [2010].
Independent Practice with the Frayer Model
Once students have sufficient experience with the Frayer Model, they should be able to complete sections in class without teacher guidance (i.e., independently, in pairs, or in small groups). When doing so, they should still be required to explain their rationale for the characteristics, examples, and non-examples they chose. It is helpful to ask students to show how they used information from their text or other curricular materials to complete sections. Click on the video to see how small groups of students explain how they came up with examples and non-examples for the vocabulary term dilations (time: 2:07). 
Used with permission from the Vaughn Gross Center for Reading and Language Arts at The University of Texas at Austin, copyright © [2010].
Now listen as Deborah Reed talks about how much of the Frayer Model students can complete on their own (time: 2:50).
In the next section of this module, you will learn about reading comprehension, another essential component for developing knowledge in content areas.