What should content-area teachers know about comprehension instruction?
Page 9: Activating Prior Knowledge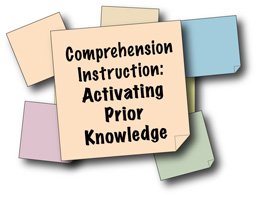 Students' comprehension of new information can be improved by activating their prior knowledge, a process that helps students make connections between new information and information they already know. Students who already know something about a topic—perhaps from prior experiences at home or at school—often find it easier to understand related material and to gain new information because they can anticipate what they will encounter in their reading and relate those new ideas to what they already know. Of course, students sometimes have difficulty activating their prior knowledge independently or else they do not have the requisite background knowledge at all. To help students to activate prior or to build requisite knowledge teachers can:
Did You Know?
By having students participate in activities or discussions, content-area teachers can identify incomplete, faulty, or conflicting ideas or misconceptions that could interfere with the students' ability to successfully learn and apply new information.
Explain the topic or standard about which students will be learning
Provide an overview of requisite content or concepts (e.g., review preceding content, use media or a hands-on activity to create the necessary context for learning new material)
Preview the reading material to note headings and subheadings, words in bold or italic font, and titles and captions on graphic sources
Actively engage students in discussing and integrating information
View the video to see how Anita Archer, an educational consultant, connects the students' prior knowledge about the term depression to help them to learn about the Great Depression (time: 2:37).
Video is courtesy Anita L. Archer.


Sharon Vaughn, PhD
Professor of Special Education
Director of the Vaughn Gross
Center for Reading and Language Arts
University of Texas, Austin
Activity
List three things Anita Archer does to help students activate their prior knowledge in order to learn the term corporation (time: 3:51).
Video is courtesy Anita L. Archer.