How can Ms. Milton facilitate Evan's and Emily's social adjustment?
Page 8: Common Courtesy and Effective Communication
During the process of learning about instructional considerations for Evan and Emily, Ms. Milton discovers that it is also important to facilitate Evan's and Emily's social interactions and peer acceptance in the classroom. This process need not be a difficult one. Ms. Milton can implement and suggest to her students a number of tips to help Evan and Emily in the classroom.
Communication Tips
Listed below are a few things that teachers should keep in mind when communicating with students with visual disabilities.
When approaching a student with a visual disability, one should state one's name or speak until the student recognizes the speaker. (For example, "Hi, Evan, this is Ms. Milton. I need you to let me know…")
One should alert the student to one's impending departure; otherwise, the student might continue talking even after the teacher has left.
Do not consciously avoid using words such as "look" and "see, " for these are part of everyday conversation.
When giving directions, be precise and be sure to give adequate information. (For example, "Paul is seated two desks to your right.") Avoid pointing at objects or using vague phrases such as "over there."
Consider using verbal forms (e.g., "nice job") or physical forms (e.g., a pat on the back) of praise, instead of visual forms (e.g., a smile) when acknowledging students with visual impairments.
Courtesy Tips
To make certain that students with visual impairments are not unintentionally excluded from either academic or nonacademic classroom activities, it is important to remember to provide verbal descriptions of what others see. For example, when Susie makes a funny face and everyone laughs, someone should describe the event. Likewise, written information such as notices on the walls may need to be read aloud to inform students of what is happening in the larger school environment (e.g., school dances or flyers for class president elections). Additionally, it is important for teachers and students to remember the following.
| | |
| --- | --- |
| Do | Don't |
| Speak in the students' native language | Use sign language |
| Speak in a normal tone of voice | Talk loudly to the students |
| Ask whether a student needs assistance and then wait for him or her to take your arm | Take a student's arm and lead him or her |
| Keep furniture in consistent places | Move objects around without warning |
| Have high expectations for students with visual disabilities | "Dumb down" your speech or expect less |
| Inform the students verbally of schedule changes or room assignments | Make unexpected or unannounced changes |
| Tell the students when something is being handed to them or put on their desks | Hand students items or place things on their desks without their knowledge |
| Ignore guide dogs when they are working (i.e., when wearing harnesses) | Play with guide dogs |
Listen as Vanderbilt Professor Anne Corn describes some basic considerations for communicating with students with visual disabilities.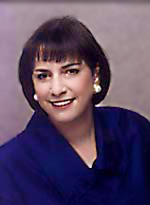 Anne Corn, EdD
Professor Emeritus
Vanderbilt University
(time: 0:25)
Transcript: Anne Corn, EdD
Well, first of all, please don't worry about using such phrases as "It's good to see you," or "Look at your page," because children understand that that's part of our vocabulary, and they understand it in the same way that other children understand those words. Let your class know that you have high expectations for all the children in the classroom, and that includes a child with a visual impairment.