How can Ms. Milton facilitate Evan's and Emily's social adjustment?
Page 9: The Development of Social Skills
Ms. Milton recognizes that it is very important that Evan and Emily feel included in all class activities and that they are able to make friends within the class. The importance of being accepted by one's peers and included as part of the class cannot be understated. Ms. Milton can facilitate classroom relationships by doing the following: 
Introduce students with visual disabilities as she would any students.
Be sensitive and discreet, and respect the students' degree of adjustment to their visual disabilities and their level of comfort when discussing it with others.
Encourage the students to provide direct answers when others ask questions about their visual impairments, if they are comfortable discussing it.
To promote independence, allow the students to rely on themselves whenever possible.
Encourage the students to ask for and accept assistance for certain tasks. In addition, to foster good peer interaction and a feeling of self-worth, the students should be encouraged to offer assistance to others.
Be a role model. Like all students, students with visual disabilities are sensitive to teasing from their peers. The teacher's acceptance of the students will provide a positive example for the class.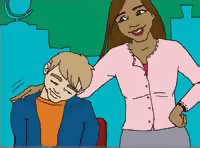 Additionally, students with visual impairments are sometimes unaware of social conventions. For example, they may turn away from someone who is speaking to them. Therefore, it may be beneficial to infuse basic social-skills instruction as part of the daily routine for the entire class, since these are skills that all students use in social interactions. When deciding whether social-skills instruction is necessary, it is helpful to assess the students' present level of social functioning, including an appraisal of their peer interactions. Such an assessment may include information from the TVI and the students' families.
Some interventions may be as simple as encouraging students to face others when they are speaking. Other skills may require the teacher to use a more systematic approach. It is important to recognize that it may be overwhelming for students with visual impairments to address all needed skills at once. Therefore, the teacher should choose to work on one or two skills at a time. See the table below for social deficits that students with visual disabilities often exhibit and possible strategies for addressing them.
Skills that Enhance Social Integration
Skill
Strategy
Direction of eye gaze
Encourage students to face people when speaking to them and to maintain "eye contact" when possible.
Relaxed but erect body stance
Prompt and reinforce students to have upright posture, to sit up, to keep their chins up, etc.
Positive initiations
Suggest ways the students can ask others to play a specific game or participate in an activity during recess, etc.
Sharing in group activities
Make the students aware of school and community opportunities for participation, such as band, drama club, team sports, dances, and academic clubs.
Eating etiquette
Teach and reinforce the students' appropriate posture, their use of utensils and napkins, their chewing with mouths closed, etc.
Interpreting verbal and non-verbal cues
Provide direct instruction on how to recognize the emotional overtones in people's voices and how to use and respond to common gestures.