What is autism spectrum disorder and what are the characteristics associated with it?
Page 2: Autism Spectrum Disorder Characteristics
ASD is referred to as a "spectrum disorder" because children with ASD demonstrate a great range of strengths, abilities, and areas of need. Although they all display the two major characteristics of ASD (i.e., differences in social communication/social interactions and behaviors), they differ in the severity of these symptoms. The table below highlights the differences in the symptoms displayed by the children highlighted in the Challenge video. These children represent the diversity of students a teacher might encounter in a general education classroom.
Social Communication/Social Interaction
Restricted, Repetitive Patterns of Behavior/ Interests/Activities

Drew
(4 yrs old)

Communicates only when he initiates the interaction
Interacts with others only to get items that he wants
Does not participate in most age-appropriate activities
Shows no interest in peers
Content to be by himself

Lines up toy cars
Tantrums when given instructions or asked to participate in non-preferred activities


Jaquese
(10 yrs old)

Makes unsuccessful attempts to interact with peers
Has difficulty with language

Obsessed with comic book superheroes—excessively quotes and acts out scenes from their stories


David
(2 1/2 yrs old)

Does not have functional play skills
Is not interested in peers
Is non-verbal
Cannot communicate wants and needs effectively

x

functional play skills

Skills associated with using toys and materials in the manner in which they are intended to be used (e.g., rolling a toy car instead of just spinning its wheels).

Eats a limited number of foods
Throws self on floor, hits parents, and throws objects when unable to communicate wants and needs


Michelle
(15 yrs old)

Is outspoken with adults and peers
Has difficulty taking cues from her social partners
Violates others' personal space
Has difficulty making friends at school

Obsessed with outer space
Rocks back and forth in her chair
For a child or student to be diagnosed with ASD, he or she must present behavioral differences in early childhood. The American Academy of Pediatrics, among others, identifies a number signs of ASD in the first two years of life.
child and student
We distinguish between the terms "child/children" and "student(s)." "Child/children" refers to infants, toddlers, and young children. "Student(s)" encompasses individuals from preschool through transition/vocational programs.
Early Signs of ASD in the First Two Years of Life
Lack of appropriate gaze
Lack of warm, joyful expressions with gaze
Lack of sharing enjoyment or interests
Lack of alternating to-and-fro vocalizations with parents
Lack of response to name
Delayed onset of babbling past nine months of age
Decreased or absent use of pre-speech gestures (waving, pointing, showing)
Not speaking single words by sixteen months
No two-word utterances by twenty-four months
Repetitive movements or posturing of body, arms, hands, or fingers
Loss of language or social skills at any age
To better understand some of these signs, view the video below (time: 9:02). It features three children who display many of the characteristics listed above and compares their behavior to three children without ASD.
Source: Kennedy Krieger Institute; used with permission
Transcript: Early Signs of Autism
I'm Rebecca Landa, Director of the Center for Autism and Related Disorders at Kennedy Krieger Institute. You're about to watch a brief tutorial illustrating the early signs of autism spectrum disorders, or ASD. You will see three pairs of videos of one-year-olds. Within each pair, you will first see a child with neuro-typical development, followed by a child who shows early signs of ASD. The developmental features indicative of ASD shown within these videos fall into three main categories. These include effective communication and sharing enjoyment, making social connections, and the one with which we will begin: seeing social opportunity through play.
This nineteen-month-old child does not show signs of ASD. He has chosen to play with the balls. He quickly integrates the lady into his play. He pretends that the balls are food and offers a bite to the lady.
Mother: He pretends a lot of stuff is food, and he always wants you to offer it to him.
Observer: Yeah, okay. Um mmmm. You're making some yummy food.
He understands that food, spoons, plates, and eating go together. As he creates a pretend play activity, he remains aware of the people nearby. He enjoys incorporating social interaction into his play and offers the lady a bite.
Observer: Thank you. That sure is tasty.
He's able to pay attention to the lady, the doll, and the pretend food all at once. He shares his excitement about the toys with the lady, looking at her and smiling.
Observer: Hot.
After the lady comments that the food is hot, he links his play and language to her idea.
Observer: It's okay now. It's cool. It's nice and cool now. Yeah.
Here he imitates the lady's actions with the pretend lipstick.
Observer: I'm going to look so pretty now with my lipstick on. Oh, it's doesn't come off.
This helps him to learn new play skills and at the same time synchronizes his actions with the actions of others.
Observer: Yeah, she has lipstick on. Oh, just like mommy wears. She looks so pretty. Thank you.
This nineteen-month-old child show signs of ASD. He has an intense interest in the toy phone. He does not share his enjoyment of the phone with others. He does not look towards others and smile.
Mother: Shows, you know, sensory [inaudible]. He really has an addiction to telephones lately. It's okay, because it's helping him to sound. It's probably, like, ten telephones laying around my house, because he walks around carrying them then sits them down and then he goes on to the next one.
Although he puts the phone to his ear, he does not show creative play with the phone. When his name is called, he does not respond.
Mother: Elliott. Ellie. Ellie. Elliott.
He does not offer the phone to others so that they can have a turn.
Observer: He returns to his hands, and progressively he's not.
His mother tries to distract his attention away from the phone.
Mother: No, no, let mom see it. Let mommy see the phone.
She begins to tickle him. Although he seems to enjoy the tickling, he does not look at his mother or make a social connection with her. He does not try to communicate with his mom to keep the social game going.
This fourteen-month-old child has a mild motor delay but does not show signs of ASD. As he explores a new toy, he remains aware of the people nearby. He checks in with his mother behind him to ensure that she also see the toy. Next, he shows that he understands the social communicative meaning of the woman's pointing gesture by immediately looking at the sticker then he looks over at another sticker she had pointed out before.
Observer: Let me get you another one.
He continues the woman's topic of communication as he points to the ticker sticker. He shows the motivation to maintain social engagement with others and the ability to communicate using coordinated gaze, vocalization, and gesture.
This fourteen-month-old show signs of ASD. First, he flaps his hands while enjoying the bubbles. He does not share his enjoyment by looking at the man. He does not respond to his name.
Observer: Ben. Ben. Ben.
Although he looks at the man's pointed finger, he does not follow the direction of the man's gesture to locate the object of the man's attention.
This fourteen-month-old does not show signs of ASD. While she enjoys looking at and exploring the toy, she stays engaged with the people nearby. She tries to share her enjoyment with her mother as she turns to show the toy to her then she shares her enjoyment with the lady across from her by directing her gaze and smile toward the lady. Also, she recognizes that the lady is a source of help. Her request for help is clear and effective. Coordinating eye contact, gesture, and vocalization for purposeful communication is a sign of healthy social and communication development.
This fourteen month-old child shows signs of ASD. Notice how his attention is so focused on the toy that he does not interact with the people nearby. He does not share his attention with others. His exploration of the toy is also unusual. He drops the toy onto the table and watches it move. When the toy stops moving, he does not use eye contact, vocalization, or gesture to ask for help. He also tenses his body and mouth in an unusual way. Even though the lady is talking to him, he shows no interest in her. He does not seem to understand that her gesture is an offer to help him. He does not check in with the lady or his mother to see whether they are paying attention to the toy that he is enjoying.
ASD is a neuro-developmental disorder affecting multiple aspects of development, especially social and communication skills. Children with ASD often show unusually intense interest in certain objects or sensory experiences. They may repeat certain behaviors over and over again. The signs of ASD are not transient but rather persist over time. The earliest signs of ASD are often subtle and become clearer in the second and third year of life. A diagnosis of ASD should be made by one or more experts who gather a thorough developmental history, directly assess the child's developmental abilities, and conduct a medical exam.
For more information about ASD early detection and intervention or to sign up to receive our newsletter, please visit autism.kennedykrieger.org/card.
(Close this panel)
Listen as Nancy Rosenberg, a parent of a young adult who has ASD, reflects on the early signs that her son exhibited. Next, listen as Adrienne Golden discusses the characteristics of the children with autism that she works with and some of the early signs she looks for in the classroom.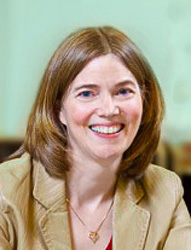 Nancy Rosenberg, PhD
Parent of a young adult with ASD
Director of Distance Learning ABA Program
University of Washington
(time: 3:48)
Adrienne Golden
Susan Gray School
Early Childhood Lead Teacher
Vanderbilt University
(time: 2:57)
Transcript: Nancy Rosenberg, PhD
Brian was diagnosed when he was two and three months, which 20 years ago was pretty good. I think part of that was because he was pretty significantly impacted. Up until 18 months, we didn't have a worry in the world. I don't think that means there weren't early warning signs. I think it was that we just didn't know what to look for. In retrospect, I remember a friend who had a child Brian's age right around 12 months saying, "Oh, she is just pointing at everything. She's driving me crazy because she's pointing and wanting me to acknowledge everything," which of course Brian wasn't. And I remember thinking at the time, "Oh, I wonder when Brian's going to start doing that?" And, of course, we know now that that's a big early warning sign, a child's not starting to point.
He wasn't particularly social. He was hard to engage, especially between a year and 18 months, and again I remember thinking, "Oh, he's just not going to be the life-of-the-party kind of kid. He's just more reserved." But there really wasn't anything that we thought was wrong at that point. At 18 months, we were starting to get worried but only because he wasn't really talking much. He could label all of the letters. So you'd hold up a letter, and he could say them, but those were his only words at that point. Up until 18 months, we thought he was really smart. His receptive vocabulary was tremendous. He loved looking at books, and we'd just get him to label all these different things. I remember a fish book that he had. He knew all these different kinds of fish.
Between 18 months and two years, things got really rapidly out of whack. It was clear that something was wrong. His self-stimulatory behaviors really started to emerge. I've had an expert tell me that Brian's the highest self-stim kid she's ever seen, especially in his childhood, and it's been one of our biggest challenges trying to break through that. And that really started to emerge around that time. He started running back and forth flapping his hands. Flapping his hands was a big thing, and at first we'd just come up with all of these explanations for it. I remember he'd stand in front of his reflection in the oven and flap his hands, or his reflection in the sliding glass door. "Oh, he's pretending to be a conductor." And I remember him running back and forth, back and forth, and different people, like, "Oh, he's chasing his shadow. Oh, he's pretending to be Batman." But what he was doing was stimming.
So at around 20 months, I took him to the pediatrician because I was again mostly concerned about his not talking. I talked to my pediatrician about my concern. She got me in a place for an evaluation, and literally within a couple weeks of that evaluation we had a speech therapist and a special educator coming to our house to work with Brian. It was with his work with the speech therapist that I really started to realize how wrong things were, because she was using a typical speech therapy approach, embedding it all in very naturalistic play, trying to work on his speech, and she couldn't get him engaged with anything. She was pulling out all of her toys that I'd seen other kids in the neighborhood just love—a doctor's kit and a pretend playground—and she just couldn't get him engaged at all, and I could really see how unusual that was. And so then she and the special educator were the first people to mention anything about autism.
Transcript: Adrienne Golden
We've had a wide range of kids with autism. For the most part, they have some social communication deficits. They tend to be very solitary in their play, a little more interested in adults than kids, but generally not interested in others. We try to bring that out in them. A lot of repetitive behaviors, so we'll see them lining up cars or materials. They have a very rigid sense of their play. They have in their head what they think they want their play to be and aren't very receptive to other people getting in the way of it, and you can see that's it's really rigid and routine, and they like to do the same thing over and over. The kids I've had really enjoy a routine. When they come in, in the morning, they want to wash their hands, sit down for snack, then play, and if snack's not there, kind of throws them off, and so you see them trying to work through that. Also repetitive behaviors, flapping or toe walking or just any sort of behaviors that are just very repetitive.
They all have their own little quirk or thing that they like to do. You can see a lot of similarities in them, but they're unique in what they display. But I think the social deficits are usually the biggest and most obvious. And then, when you really observe them, you can see the behavior piece of it. I generally watch their social behavior. I think language is hard because kids develop language at such different rates, although it is something to watch out for. I usually watch more for their social. If they're very isolated and they prefer to be in a completely different part of the classroom than the other kids, or if a teacher goes over to sit with them and engage with them and they just give up and walk away, that is a red flag for me. Or if I see them flapping their hands or walking on their toes, those repetitive stimming behaviors sets off a red flag in my head. I think it's important to note those and watch over, not too long necessarily because you want to get them diagnosed if it's there, but to make sure that it's something that's consistent and persistent and it's not just, oh, one day they were really excited and flapped their hands or they might prefer to walk on their toes or today they were not feeling well, and so they were playing by themselves, make sure that's it's something that's more common than not for that child. Maybe this is autism then kind of go from there.
Ask other professionals that you know, occupational therapists or a speech therapist, "Hey, have you noticed these things? What do you think? It might be autism. I don't know." And then if other people have a consensus as well about that, they may be bringing it to the parents and say, "When we do this, we notice that your child does this." So they can actually know it's not just me saying, "Oh, I think we've seen this exact behavior, and it's a concern because these are some things we usually see with autism," and then going from there and have them look into getting a diagnosis. It's definitely making sure it's something more persistent and not just a once-in-awhile kind of thing.
Activity
View the videos below. Each pair contains one example of a child engaged in typical age-appropriate behavior and one of a child exhibiting characteristics of ASD. For each pair of videos, compare and contrast the behavior of each child. Be sure to list the characteristics associated with ASD that the child with this disorder is displaying.
Play

Thirteen-month-old Kyle plays with a collection of colorful nesting cups. He plays with them as they were designed to be played with, stacking the smaller cups inside the larger ones. He hands cups back and forth with an observing adult, who prompts him to continue his play.

In this video, seventeen-month-old Evan plays with a toy phone by tipping it over and throwing it. Even after an observing adult demonstrates how to use the toy as intended—pretending to answer a call for Evan and passing him the handset—he persists in his own style of play.

Speech

Two-year-old Alex is sitting in a highchair with food on a tray in front of him. An adult in the room chats with him about his breakfast, and Alex responds in kind. The adult tells him that they will wait until his food "gets nice and warm. It's a little bit hot, sweetie." Alex replies, "It's a little bit hot?" The conversation goes back and forth, with Alex following the adult's train of thought each time and responding appropriately.

An adult enters the room where thirty-month-old Lucas is playing. She greets him: "Hi, Lucas!" To which he replies, "Hi, Lucas." The adult says, "No. Say, 'Hi, Georgia!" and Lucas again repeats her. "Hi, Georgia." When the adult asks, "How are you?" Lucas replies, "How are you?" Once more, she prompts him: "Say, 'I'm fine,'" and Lucas again complies. "I'm fine," he says.

Response to Name

Twelve-month-old Kyle is playing with toys on the floor. When an adult speaks his name, Kyle immediately turns toward her in recognition. He smiles and points before beginning to crawl toward the adult and the sound of her voice.

Two adults try to get nineteen-month-old Evan to respond to the sound of his own name. Even after adding physical touches and tickling to their attempts, however, Evan continues to avoid eye contact with either of the adults and shows no sign of recognizing his name.
Source: Centers for Disease Control and Prevention