What should teachers consider when working with students with autism spectrum disorder?
Page 7: Faces of Autism Spectrum Disorder
Children and students with ASD vary greatly in their strengths and needs. However, despite the challenges that these individuals and their families face, all of the parents appreciate their child's individual personality traits, take pleasure in watching them progress, and enjoy celebrating their accomplishments. Watch the videos and listen to the audios below to learn more about three individuals with ASD.
Benjamin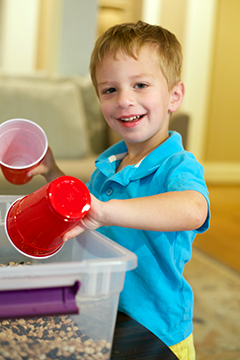 Benjamin, who is almost three years old, attends pre-school. He is a happy and social child and enjoys playing with his older brother, as long as they play something that he likes to play. Benjamin has a language delay and has sensory issues, mostly related to food textures. Early signs of ASD included difficulty with transitions, repetitive play behaviors, and overreaction to minor occurrences (e.g., something falling on the floor). After receiving early intervention services, Benjamin has made great progress in a short amount of time in his communication skills and behavior. Listen as Lindsey and Ryan, Benjamin's parents, describe their child (time: 4:00).
Transcript: Lindsey and Ryan, Parents
Ryan: We think Benjamin is a highly functioning child who is diagnosed with autism. He likes to play. He loves to go to the pool and swim. He loves to go to the park and just run around and get on the swing. He loves to just interact with people and other kids. Everything about that is just normal childhood, and we always say to each other, "You know, ninety percent of the time, he's just normal."
Lindsey: I agree with him. He is the happiest child. He is giggly and sweet and cuddly, and everybody is his friend. He will run up and hug and cuddle with just about anybody. That is one of my favorite things, just hearing his teachers and other people talk about, "We just love Benjamin." And I can see why, because he's just pretty much happy most of the time. You know, he's just a fun-loving little two-, almost three-year-old boy.
One thing that has always stood out to me when he was diagnosed was that the doctor that diagnosed him said, "Benjamin is not the kid that we would have diagnosed in the waiting room. He's not the kid when he walked in, you'd say, 'Yeah, that kid is on the spectrum.' " Just keeping an open mind about the fact that it is a spectrum, and just because a child has an autism diagnosis does not mean x, y, and z.
He's got some sensory things with food texture, like wet fruits, if that makes any sense. Like, he won't eat watermelon or grapes or apples or that kind of thing. He likes crunchy things. We also cut the tags out of his shirts. I think some of the sensory stuff was also head banging and biting and sometimes even biting himself. I think that was a soothing thing for him. He loves swinging and twirling, but I think those are some of the things he needs, kind of a reaction. We've noticed the sensory stuff mainly in his food and eating. He has come such a long way. The words that he was saying went from, like, a nine-month-old, and now he's like at a sixteen-month-old. That was a four-month period. We're seeing a lot of improvement with his spoken language, but where we are seeing the biggest improvement is in his receptive language. Whereas before I feel like when he was first diagnosed, I would say, "Benjamin, go pick up your toy," and he would look at me with this blank stare like he knew I was talking to him, but he didn't know what that was all about. And now I can give him two-step directions. "Go pick up your book and put it on the table," and he toddles over there and picks it up and puts it on the table.
We've been working with him with speech therapy and trying to insert ourselves into his kind of play world, and I feel like that has really enabled him to understand the benefit of verbal communication and understand how to use it. I think also what really started the step towards understanding communication and why it's important was learning sign language. When we first started therapy, we taught him just a few signs like "help," "more," "eat," "drink," and that was, like, the first time I think that it clicked with him that "Oh, my goodness, if I show mom the sign for drink she's going to go get me some milk. Or if I drop something on the floor and I can't pick it up and I give the sign for help, they're going to go pick that up for me," and I think something clicked in him then.
Ryan: Immediately we saw his banging of his head go away once he communicated in that fashion and tell us I want something to drink or I want some milk or I want some tea. He would go over to the fridge and give us a hand signal. I think a lot of it early on was just the frustration he was feeling for not being able to either verbally communicate with us or understand what we were saying.
Lindsey: My stress level has definitely gone down a lot since the communication has improved, because I feel like before I was living like on the edge at all times. I was walking on eggshells around him because I didn't want to upset him and I didn't want him to melt down.
Watch Benjamin as he engages in his favorite activity, playing with a bucket of beans. As he does so, his parents describe his strengths, the progress he has made, and the challenges he still faces (time: 5:42).
Transcript: Lindsey and Ryan, Parents
Section 1: Repetitive Play
Lindsey: This is one of Benjamin's favorite activities. He likes to play with the beans. Sometimes he'll let us play with him, sometimes he won't. But we try to insert ourselves whenever we can. This is also one of the activities where he gets kind of in his own world. He's very social typically, and this is also typical.
Benjamin: No.
Lindsey: He doesn't like it when they fall on the floor, and sometimes he kind of overreacts to that, which was one of kind of the signs, red flags that kind of came out when we thought about getting him, getting him tested, was that his reactions to things seemed kind of over the top. So as you'll see, if it happens, if any of them fall, it's kind of a big deal, but as I say he gets kind of in his own world with this. He doesn't like it when anyone tries to kind of insert themselves, unless he brings us in like I think he is trying to do. So we kind of watch what he does a little bit and then we can try to insert ourselves a little bit.
[Ryan drops some of the beans.]
Lindsey: Uh oh, well, now he made a liar out of me because he didn't freak out. Can you pick those up? Can you pick them up? Pick them up and put them in. Put them in. Good. In. Put it in. There you go. I'll put one in, too. Here's your cup. Can I hold the cup?
Benjamin: No.
Mrs. Jacob: No? Okay. Pour it in. Good job. All right. Slow pour. Good job. Can I put some in?
Benjamin: No.
Lindsey: Benjamin, look. In. Now you pour them in. Good job. As you can see, it's pretty repetitive. It's pretty much the same thing: pour back and forth. But one of the improvements that we see with him was about six months ago I couldn't even put my hand in the beans without a little meltdown from him. So now I can at least kind of get in there a little. Now, handing me a cup, that might be pushing it.
Benjamin: See, see, see!
Lindsey: I do see. Can you show me again? Pour it in. Uh oh. Good job.
Section 2: Transition
Lindsey: He could literally do this for an hour, kind of without stopping unless someone kind of inserts themselves and moving him away from this, which we can try to do. Maybe I'll bring out another activity, and we can see kind of what a transition might look like. I'll go grab his blocks and see if we can transition him into another activity.
Ryan: What do you think? Should we try the blocks?
Lindsey: Benjamin, how about we try the blocks now?
Benjamin: No!
Lindsey: Can we put these away?
Benjamin: No!
Lindsey: Should we try?
Benjamin: No!
Lindsey: How about one more time and then we'll play with the blocks.
Benjamin: No!
Lindsey: All right put these away. Pour it in. All right put the cups in. All done. All right. Let's try the blocks.
[Benjamin runs crying away from the table.]
Lindsey: And that's the typical transition that we get. We'll bring the beans back, but that's pretty typical. Transitions are very, very hard for him. Especially when it's from one kind of desired activity to maybe one that he's not as into. So that's kind of something that we're working on, that they're working on with him at his school because that's going to be something that's he's going to have to do in school. So…do you want the beans again?
Another thing that was kind of a red flag for us before he was diagnosed was his receptive language was not…we weren't noticing that he was kind of understanding what we were telling him to do. Where his older brother, if we said—his older brother is only thirteen months older—and so if we said, "Go pick up the book," he'd toddle over and pick up the book and hand it to us. And Benjamin wouldn't do any of that, and so as you just saw Ryan say, "Give your mom a kiss and then you can play again," and you saw him do that, that is, like, a huge step for us that he actually could follow that direction and follow through with it, which we're happy to see because that's definitely a step in the right direction for us. But, again, he could do this all day long.
Section 3: Strengths
Lindsey: And I think what you can also see is when you think of a child with autism a lot of times…
Benjamin [interrupting]: See?
Lindsey: I see him. You think of a child who's not making any eye contact, who's kind of sitting alone in the corner doing his own thing. And, while he does have these moments, the majority of the time, and what I consider as one of his strengths, is that he is very social. And he does point and notice things and hug you, and he looks you in the eyes. So, again, when they talk about the spectrum, this is what they mean. Like, he is a very social kid, but he just has these other little things, like this focused attention, and the language delay is also huge.
[Benjamin high-fives his dad.]
Lindsey: Good job.
Finn
Finn is a very social and happy ten-year-old who just began middle school. He has a language impairment and is academically behind his peers. Finn displays repetitive behaviors (e.g., plays with his hair, tugs at his shirt), constantly fidgets, and engages in self-stimulatory behaviors. Finn also has difficulty transitioning, especially when changing from a preferred activity (e.g., playing with his iPad) to a less-preferred activity. Despite these challenges, Finn is well liked by all of his peers. Listen as Andy and Becky, Finn's parents, talk about how their son's ASD impacts his life at home and at school (time: 2:12).
Transcript: Andy and Becky, Parents
Andy: Finn is like every other student in many ways, and sometimes we're reminded when we're around some of our peers and our friends and other parents, and we might be making a comment about something that we think, because of our experience, is an autistic experience, and really it's a normal ten-year-old experience. It's a great reminder for us sometimes when we realize those things and we go, "Okay, this is just having a normal ten-year-old boy. This isn't having an autistic boy." He can behave very much like his peers. He's well loved and appreciated by his peers. The girls, in particular, are very sensitive to his needs, and perhaps that's obvious to others, but it's been very sweet to see that. Finn can run. He can play. He can participate in physical activities. He loves physical education. PE is by far his favorite subject. Some of that is just part of his sensory stuff and wanting to stimulate his body, but he's really normal in those types of settings. He's very musical. He likes to sing and participate if there's an instrument or something of that nature involved. I'm not sure that he's a great recorder player, but he can participate and be just like his other peers and friends in those scenarios. That's very encouraging to us, that in some of those special types of educational experience he's like his little buddies.
Becky: I'll also add in that the boys treat him like a boy. Like, if Finn is messing around, they'll say, "Finn, come on, knock it off," which they would say to their peers as well. So we have girls that are very caring and nurturing, and we have boys being boys, and Finn just fits in to all of that.
Andy: We're very fortunate that Finn is mobile and can move his body from the lunchroom to the music room and such without needing lots of aid in that area. That has been both a blessing and a curse sometimes in that Finn can appear to be very normal to people. So, just at face value, he's a very beautiful child.
Watch Finn and his mom interact while they read several stories. Pay attention as Finn's mom points out some of his behaviors that are reflective of ASD (time: 5:46).
Transcript: Becky, Mother
Becky: Okay. Oh, thank you for sharing. Can you show me what to do? Move it back? Then do I go like this?
Finn: Yes.
Becky: Yup. Do I get some points? Huh? Go back? Whoops. That wasn't very good, was it?
Finn: Over.
Becky: Should I start over?
Finn: Let me try.
Becky: Okay, you show me then we're going to do a little reading. Okay? So this is one of his preferred activities, certainly, on the iPad. And as we transition here it could potentially be a challenging transition, and you'll notice, too, just some of this extra behavior: shirt, hair, fidgeting. That's all pretty normal activity for him whether he is doing this or something else, as well. And that can be a challenge, certainly in the classroom where we're expected to sit in our seats and be still and pay attention. Okay, one more and then we'll do a little reading, okay? All right. Are we all done?
Finn: No.
Becky: Yes. Are we all done? Last one. Okay. Last one. Okay, button off. Can you turn the button off?
Finn: Yeah.
Becky: Okay, button off. Thank you, Finn. Do you want to choose a book? Do you want to do Pete the Cat or Adventures of Frog and Toad?
Section 2: Social Communication
Becky: Do you like to help others?
Finn: Yes.
Becky: Yeah. Who do you help?
Finn: Me.
Becky: You help yourself?
Finn: Self.
Becky: Who else do you help sometimes?
Finn: The bunnies.
Becky: The bunnies, yeah. Do you help mommy?
Finn: Hey, mommy?
Becky: Uh huh?
Finn: Where's Nanny?
Becky: Nanny's taking a nap. And so that's something, too, is he's constantly aware of where people are and asking where people are. And that does come out at school, too, doesn't it? You wonder where your teachers are, right? [reading] " 'Great job, Pete. You were a big help.' said the Easter Bunny. He got an award for a job well done."
Finn: Well done.
Becky: "He was the number one helper."
Finn: One helper.
Becky [reading]: "Happy Easter everybody." Do you like this book? That was a good choice. Would you like to read or do you want to play Beyblades?
Finn: This one.
Becky: You want to read Frog and Toad?
Finn: Yes.
Becky: Okay. Choose your story.
Finn: Si.
Becky: Si. Finn also went to Spanish immersion school, and so we also get Spanish in every once in awhile. Which one are you going to choose? Do you know? Oh, that's a good one. Do you remember what this one is called?
Finn: "Spring."
Becky: "Spring." That's right. And this is a book that Finn has had for probably four years. Right?
Finn: Four years.
Becky: Four years. And you love these stories. We usually come back to the same stories.
Section 3: Wait Time
Finn: The story.
Becky: The story. That's right. And that's something, too, that I think is helpful for educators to know, is just he has the words. It just sometimes takes him a little while to get out, or has the thoughts, and so just being patient…And you are really comfortable on the sofa right now, aren't you? And you can see all the fidgeting pretty clearly, can't you?
Finn: Can we read some more?
Becky: You want to read some more?
Finn: Yes.
Becky: Okay, you read for a minute.
Finn [reading]: "One day in summer, Frog was not feeling very well. Toad said, 'Frog…'"
Becky: " 'You are looking quite…?' "
Finn: " '…green.' "
Becky: That's kind of funny, isn't it? Because frogs are green.
Brian
Brian, twenty-two years old, recently completed high school. Brian is considered to be on the low-functioning end of the spectrum. He has a significant intellectual disability as well as expressive and receptive language impairments. One of his most-noted early signs was excessive self-stimulatory behaviors (e.g., hand flapping, back-and-forth pacing). He lives at home with his family, who provides a lot of supports to meet his needs. Brian recently began a twenty-hour-per-week part-time job that he loves and that suits his interests—especially being outdoors. Brian's infectious smile makes others smile when they see him. Listen as Nancy, Brian's mother, discusses her son's strengths and needs (time: 5:17).
Transcript: Nancy, Parent
Brian's greatest strength is his infectious happiness. He hasn't always been this way, but especially now he is extremely happy most of the time, and he has what somebody once called unedited joy. There is no inhibition about any of his emotions and that includes happiness. He just walks around with a big smile on his face, and he's out in the community almost all of the time now. People see that, and they smile even if they have no idea why Brian is smiling. The other really big strength that I think Brian has is his patience. I think Brian really lives in a world that he doesn't understand. Despite our attempts to make everything functional for him, I think a lot of it he just doesn't understand. Just a couple of examples of that. He follows a dressing schedule. I put up a picture schedule for him every morning that shows the sequence of what he needs to put on. And he points to a picture of his underwear. He'll go get his underwear. The drawers all have pictures on them. He'll put his underwear on. He'll go back and take that picture down, and he'll point to the next picture, which is his jeans, and he'll get those out of the drawer marked "jeans." If he gets out of synch at any point—like, after jeans is his belt—so he'll put on his belt, but if he gets distracted and he goes back to the schedule and the belt picture is still on there and he doesn't realize he's already done it, he'll just get another belt out of the drawer and I'll discover later in the day that he has two belts on. He just doing the things that he doesn't understand because we taught him to do it.
Another example of that is we taught him to empty the dishwasher, and part of that is putting the silverware away in the silverware drawer, and we've also taught him to clear his place at the table. So he takes all of his stuff into the kitchen, but we keep finding his dirty silverware from clearing the table in the silverware drawer because he doesn't get the reasons why in one case you would put it in the silverware drawer and the other case you wouldn't. This whole idea of clean and dirty. He's willing to do all the stuff, but he really doesn't know why, and we don't really have a good method for telling him why because his language is so impaired. But, given that he doesn't understand, I just think he is incredibly patient.
So those are a couple of his biggest strengths. He has pretty significant autism. I would definitely put him on the severe end of the spectrum, both in his autism but even more in his intellectual disability and his language impairment. Because he has pretty significant intellectual disability,
his language is very impaired. I think that his receptive language is equally impacted with his expressive language, and you just can never use language to try to explain things. He will never be able to live on his own. He needs a lot of supervision, again because he does not get the world. There's no concept of safety.
We've taught him to make purchases at the store using an ATM card, and he can do it. He can select something. He can go to the line. We have his ATM card in a little pouch with his iTouch, which he uses to help him communicate. He can stand there and do the transaction at the little ATM machine at the cash register, but he really has no concept of what's going on. He doesn't understand that he's paying for something. It's just, "Well, when I want these Cheetos, they want me to stand in this line, and run this card through this machine," and so with those kind of limitations to his understanding of how the world works I don't foresee him ever be able to live on his own.
He in general is very well-behaved these days, but we struggled for years with significant challenging behaviors, and I have been realizing just in the last six months that they're always there bubbling beneath the surface, because he's had a lot of changes in the last six months. We have had somebody working with him for the last five years who is just amazing, and she's pregnant so we've been transitioning him to two new people. He has a paying job now. We're very excited about it, but it was another big change. It's 20 hours a week, and we had to switch his schedule around in other ways. And we've definitely seen behaviors in all these different changes, and it makes me realize that, even though he's gotten things pretty stable, the behaviors are always there when things get a little bit different for him.
Watch Brian across the years (preschool, preteen, teen, young adult) as he uses various visual schedules to help structure the activity he is engaged in (time: 6:50). Notice that when Brian is younger he requires tangible reinforcers as well as verbal and physical prompts, but as a young adult he relies on the visual schedule without prompts or reinforcers. (Note: Though provided by Brian's mother Nancy, the description that accompanies the video is read by a narrator.)
Transcript: Nancy, Parent
Section 1: Learning Activity Schedule
Brian is four in this video. As you can see, we had lots and lots of toys clearly displayed around the room, but Brian would never, ever just get a toy off the shelf and play with it. Instead, he would run back and forth flapping his hands or wander around on his tiptoes.
We had systematically taught him how to play with many of the toys, but he still wouldn't do it unless we specifically prompted him to do so. I was using graduated guidance to teach Brian. With graduated guidance, you prompt from behind and try to back off whenever you can, only stepping in when you are needed. I tried to use as little talking as possible, especially when prompting Brian, to avoid him becoming dependent on verbal prompts.
Brian was very hard to interest in anything and was motivated by very few things other than food. To try to motivate him to complete his activity schedule, we made every other page a "snack page" and taught him that on a "snack page" he could take a small edible (often a half jelly bean or a Skittle) off a plate. Later on, we were able to fade out these pages, first moving to a "snack" every two pages, then every three pages, until we got to the point where he only got a "snack" when he was finished with his schedule.
The notebook with one picture per page was critical for Brian. I had tried using strips of pictures, both horizontal and vertical, to teach him sequences, and it didn't work. He would lose track of where he was in the sequence of pictures. The one picture per page and the turning of pages between steps really worked for him. Later on, he was able to transition to strips of pictures.
Section 2: Completing Activities Independently with Reinforcers
This video is several years later. Brian has made a lot of progress in his ability to independently complete activities, but will still not initiate doing an activity on his own. He can now complete the activity schedule on his own while I make dinner, fold laundry, or otherwise get work done! He still needs the snacks every other page but is now independently able to take them himself.
Section 3: Choosing Activities Using Notebook
By the time Brian is seventeen, the activity schedule has evolved a lot. Brian no longer needs reinforcers built in; he just knows he will get to have a snack when the activity schedule is finished. His activity schedule notebook is now empty. As he opens to a page, he selects an activity off of a choice board and places it on the page. He does the activity and then turns the page to a new blank page and selects another activity. He knows he is done when there are no more blank pages in the book. Brian still seems to benefit from the structure of the notebook even though he is choosing the activities on his own.
Section 4: Using Checklist Independently
We started using this form of checklist with Brian when he was in his early teens. We found that, when we tried to teach him a sequence of steps for a task, he could master the individual steps but was very prompt-dependent in moving from step to step. Getting ready to go out was a good example of this: he could put on his shoes, he could put on his coat, he could put on his glasses, but he required our prompts to do each of these things. It made getting ready to go anywhere difficult as we had to both get ourselves ready and make sure we were constantly prompting Brian to move forward.
This checklist, once Brian had learned it, was hugely successful. All we have to do, as you can see in the video, is tell Brian to do his checklist and he can work his way through the steps without our prompts. We can then just worry about getting ourselves ready to go! Having a method for him to remove items as he completed them was very important because otherwise he would lose track of where he was in the sequence.
In the last month, Brian got a new job that requires him to wear a uniform (special coat, safety vest, special hat, etc.). This promised to make getting out of the house in the morning very complicated. But it was so easy to just make pictures of these items and add them to Brian's checklist. It was amazing how quickly, within this known structure, Brian was able to independently complete the additional steps. We have a similar checklist in Brian's bedroom so that he can independently get dressed in the morning.