What should teachers consider when working with students with autism spectrum disorder?
Page 5: Working with Families of Children with Autism Spectrum Disorder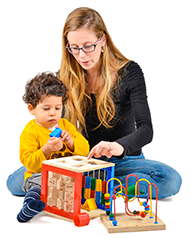 Family involvement is one of the most important—if not the most important—factors in ensuring a child's success at home and in school. Keeping the child and family at the center of the process will help IFSP or IEP teams create service plans that are guided by the child's needs and that can be supported by their families. Family members—parents, caregivers, siblings—can provide information such as:
The child's strengths and needs
The cultural and developmental appropriateness of goals and intervention strategies
Supports that are feasible for the child's family based on their unique circumstances (Keep in mind that families of young children often implement interventions in the home environment.)
Return to the Challenge: Feasible Family Supports
Recall that David, the child we met in the
Challenge
video, is non-verbal. During the IFSP meeting, the multidisciplinary team suggested that David's family work on his communication skills for fifteen minutes each night at dinnertime, a naturally occurring routine. However, David's mom indicated that she is alone at dinnertime because her husband is at work at that time. In addition, she is busy at dinner feeding David's six-month-old sister, who is just beginning to eat solid foods. After hearing from David's mom and discussing this further, the team decides that its original goal is simply not realistic. They determine, with the mom's input, that bath time is an enjoyable time for David and a much better time to work on his communication skills.
Listen as Wendy Stone discusses the importance of involving families when working with children with ASD.
Wendy Stone, PhD
Professor, Educational Psychology
Director of the Research in Early Autism Detection and Intervention Lab
University of Washington
(time: 1:41)
Transcript: Wendy Stone, PhD
There are so many reasons why families have got to be involved in any intervention or teaching that involves a child with autism. First of all, they know their child the best. They can tell you what's typical, what the child's behavior is in situations that the teacher will never be able to see. Parents may have figured out how to deal with certain behaviors, or how to manage or prevent certain behaviors, and those tips can be really important for teachers. Second, you really want parents to be able to use similar strategies at home that are used in the school or preschool setting. So if you want to generalize skills across settings, which is important for any child but sometimes more challenging for children with autism, it's important to have some carryover. For example, if a teacher's working on playing appropriately with a train set by rolling a train on the tracks then a parent may want to also do something like that at home with a similar material. Another reason is that parents are more likely to work on behaviors that are of importance to them and to their home functioning. Parents see their children during everyday routines, which can be very challenging. We want parents to be able to use these strategies at home in meaningful situations, not just within the school setting. So it's important that the skills that are learned at school also translate to home. We can increase the efficiency of learning if we can work together with families.
Parent Challenges
Another way the team can keep families in the center of the IFSP/IEP process is to understand the potential struggles and challenges that families of children with ASD might encounter. Additionally, keep in mind that families can be defined in a number of ways (e.g., single parent household, extended family living together, foster family) and therefore might require different kinds of supports. Below are some challenges often experienced by the families of children with ASD.

For Your Information

ASD is often referred to as an invisible disability. That is, there are no physical characteristics that readily identify a child with ASD as having a disability. Because these children look like typically developing children, others often view their behavior as inappropriate and associate it with bad parenting skills. Parents report that this causes stress and feelings of guilt.

High divorce rates – Almost twice as high as in families of typically developing children
High stress levels – Due to factors such as the child's:

Cognitive impairment
Challenging behavior
Language delays
Unpredictable behavior
Hyperactivity
Inability to self-regulate
Lack of self-care abilities

Lack of time – Lack of caregivers with knowledge of ASD reduces the amount of time a parent has available for work and leisure activities.
High levels of fatigue – Children with ASD can require a lot of care and supervision. In addition, some have sleep issues that interrupt their caregivers' sleep.
Financial burdens – Costs for services and supports (e.g., medical services, therapy) are high and not covered in full by insurance or other programs.
New roles – Parents assume roles such as child advocate, case manager, inclusion specialist, transition specialist, or medical expert.
To learn more about the challenges of raising a child with a disability, visit the IRIS Module:
First, listen as Nancy Rosenberg, a parent of a young adult with ASD, describes some of the stressors her family experienced. Next, Andy and Becky talk about the challenges of parenting their child with ASD.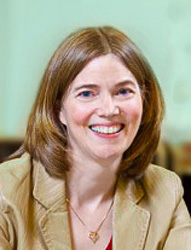 Nancy Rosenberg, PhD
Parent of a young adult with ASD
Director of Distance Learning ABA Program
University of Washington
(time: 5:09)

Becky and Andy
Parents of a child with ASD
(time: 3:36)
Transcript: Nancy Rosenberg, PhD
I think Brian's childhood was unbelievably stressful for everybody involved. There were just so many stressors. There was the financial stress. I learned about ABA pretty early on, and as quickly as possible got an ABA program going for him, but that was before insurance was paying for it, so that was incredibly expensive. You couldn't use typical babysitters, because they couldn't handle Brian, so babysitting cost $20 an hour instead of $6 an hour like other parents were paying. So all of the financial stuff was very stressful.
Brian's behaviors were incredibly stressful. He needed watching all of the time. We used to joke that you think that just by chance he might start doing something appropriate but it never seemed to be true. He would climb on anything and was just obsessed with climbing on things. All of our bookshelves were eventually bolted to the walls after they had come tumbling down. We had bars put on all of our upstairs windows. He would get on top of anything. He would jump anything or smear anything he could find, any shampoo bottles, dish soap, a milk jug, a cup of coffee, or a diet coke left out. He was very attracted by water of any kind. We have many stories of when we'd be out with him, and he would somehow see water somewhere and just make a beeline for it and go right in.
He'd have huge tantrums; you know, pee and poop everywhere. It took years to get him potty trained. And of course poop was something that was so fun to smear. Many, many, many nights spent cleaning up poop that had been smeared all over the place. And his stim was very stressful also. He had very high rates of self-stimulatory behavior. I was reading everything I could at the time, but back then the going line was don't let them stim. Every minute stimming is a learning moment lost, and so you should try to keep them from stimming. And what that meant was somebody behind him every second of the day trying to prompt him to do something appropriate. So it was either us or one of his ABA tutors. They were here for three hours a day but the rest was me, and it was incredibly stressful because, first of all, he didn't want to be doing anything but stimming, so they weren't pleasurable interactions. It was very hard to get him interested in doing anything else, and he would resist it. It was work. There was no fun involved in it. It meant, because I had read how important this was, that any moment that he was left to his own devices to stim I had to feel guilty about it.
We were seeing very little of friends or relatives at that point, because it was virtually impossible to take Brian anywhere so people had to come to us, and our house was kind of like a war zone. And I just remember the times when we were with other people, like at holidays, it was just constant stress. I either had to give up any hope of interacting with other people and just be on Brian doing what I'm supposed to be doing, which is stopping him from stimming, or I'm going to interact with other people and feel guilty that Brian's over there stimming. And so that was very, very stressful.
Then we were very worried about the impact of this on our other son. That was very stressful as well. By two years, it was completely clear that there was no danger of autism in him or really anything else, so we shifted from worrying about whether he was going to develop autism to worrying about the impact of all of this on him. Our house was a war zone. It was very difficult to take the two kids anywhere together, because it was hard to find a place that Brian could be safely that David might also enjoy. And that became progressively harder as the kids got older, because even though David was two years younger the gap between him and Brian pretty rapidly increased, and so when they were really young the sensory things that we could take Brian to the jumping pit or the climbing apparatus at McDonalds David liked, too, but David out grew that stuff and Brian didn't. So, yeah, it was stressful. Things have happily gotten better.
Transcript: Becky and Andy, Parents
Andy: One of the challenges of being the parent of a child with special needs, it's just communication. You spend so much of your time and energy preparing for IEP meetings, advocating for your child in various situations, communicating with your teacher probably more than other parents are, trying to integrate them into other extracurricular activities wherever that may be, managing medical appointments and therapy appointments and pharmaceutical stuff. It takes up a lot of time and energy, and so for us just not spending all of our evenings and all of our free time on that and trying to maintain a healthy communication in our marriage, and some play time for us, and times to just go out and just be a couple, and that's certainly a challenge. And then, as we've had other children, now it's the challenge for us to maintain some balance between our children and not just focusing all of our attention on Finn but also parenting our baby and giving him the time and energy that he needs too. Those things in particular, I think, have been really difficult. Fortunately for us, we're pretty aware of that and try to be pretty diligent about not letting that overwhelm us and getting away and trying to find some time where we can just be us, too.
Becky: I think another challenge for parents of kids with special needs is that it can tend to be somewhat isolating. I don't know if anybody completely understands the full picture of what we deal with on a daily basis. And so for a parent being transparent enough with your family and with friends to let them in and let them carry the load a little bit is a huge challenge because you want to look like you have it all together. You're doing the IEP meetings and doing the communication and still making time for your friends and for your spouse and for your other children, so just being transparent enough to ask for help when you need it
Andy: It's really hard because I think most of our natural tendencies is to just get it done. Some of us are raised with this attitude of, you know, buck up and make it work and don't complain and push through, which is not healthy at all. We kind of live in a world like that to where the idea is just to not bother anybody else, not trouble anybody else. That is very isolating, and many of us have struggled with that in our lives and in our situations with our children, and many of the people listening to this probably do, too. So it's a great temptation to isolate, but it's a great blessing if you can find a way past that, to find some people in life that you can just tell the truth. It's embarrassing sometimes; I have a ten-year-old who still has pottying issues. Fortunately, he can accommodate most of his needs, but even still there are challenges in that, and it's just embarrassing sometimes. It's really not something you want to chat with your friends about, especially your friends who have normal, beautiful children who are soccer stars and straight A students. That gets difficult sometimes, but if you can find a couple of people that you're okay to just say, "Hey, my kid made a mess in the bathtub tonight, and that was really difficult." It's really awesome to have somebody to be able to really talk about that kind of stuff with.
Research Shows
Families are connected and interdependent; what happens to one member of the family can affect the dynamics of the whole. The earlier a child is identified as having ASD, the earlier the child and family (including the siblings) can get appropriate supports and services.
Parents who are unaware that they have a child with ASD might use ineffective parenting strategies, which can make them feel frustrated and doubtful of their own parenting abilities.


(Sofronoff & Farbotko, 2002; Karst & Van Hecke, 2012)

The parents of children with ASD frequently use maladaptive coping strategies, particularly self-blame.


(Rodrigue, Morgan, & Geffken, 1990; Karst & Van Hecke, 2012)

Because siblings will usually be involved in one another's lives longer than the parents, they also require training and supports.


(Conway & Meyer, 2008)

Siblings often share the same feelings about their siblings with ASD as their parents may, including isolation, guilt, concerns about the future, and desire for more information.


(Conway & Meyer, 2008)
Supporting Families
Once educational professionals become familiar with the potential struggles and difficulties that families of children with ASD might encounter, they can lessen parent stress and help their children make meaningful progress through the interventions that they provide. Because interactions with school staff can be an additional source of stress for some families, professionals should listen to them, communicate frequently, and be responsive to their concerns and input. Keep in mind that teachers should communicate about the child's positive behaviors and not just about his or her challenging behaviors.
Teachers can further support families by helping them find an appropriate support network. There are a number of groups or networks that offer supports and services to families of children with ASD (e.g., Autism Support Network). Many parents express great satisfaction when they are able to create networks with other parents with children of similar ages and abilities, and these associations often lead to lifelong friendships.
Listen as Adrienne Golden discusses the importance of caregivers and educators communicating with and providing support for families. Next, listen as Nancy Rosenberg describes some of the supports that helped her cope with stressors she experienced.
Adrienne Golden
Susan Gray School
Early Childhood Lead Teacher
Vanderbilt University
(time: 1:56)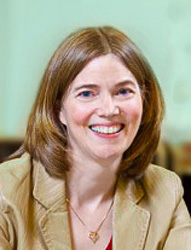 Nancy Rosenberg, PhD
Parent of a young adult with ASD
Director of Distance Learning ABA Program
University of Washington
(time: 2:49)
Transcript: Adrienne Golden, Early Childhood Teacher
I think families are a huge part of the classroom for all kids. They know their kids the best. They've spent the most time with them. They've known them from day one, and they can provide us a lot of insight about the child, what they like, what they don't like, how they respond to different situations, strategies that have worked in the past, or just haven't worked in the past. Often, kids are different at home and at school, so they can really provide us a lot of insight into what the child is doing at home or out in the community, and what's important to them, because each family has something different that's important for them and for their child to be working on.
It's important to be consistent across different settings, so if they're doing something at home that seems to really work, how can we make that work in our classroom or vice versa? If we're seeing something that's really working and maybe the family is struggling with that, how can we help them use the same strategies at home so the child's receiving the same support everywhere? So they're getting used to, this is how I behave in all situations, or this is how I work through these situations at home and at school. I try to keep an open line of communication and gather information from them and then talk to them a lot about how well their child is doing in the classroom. They know that their child is going to struggle with a lot of things. That's a given, so we touch on that some, but I always like to focus on the positive. And, you know, "Oh, today, he said this word that he's never said before. We made eye contact at circle time," and those kinds of things to really help them see that their child is being successful. And then really talking to the families about what's a struggle at home and how can we help with that? And then saying, "You know, we were really struggling with how are we going to get your child to stay seated at lunchtime. And that was a struggle for us, and these are some things we've tried and it's really working, so if you're having that struggle at home, maybe you can use some of the same strategies." And some families have offered to make visuals for them and those kinds of things. Just anything that we're doing at school that could help them at home.
Transcript: Nancy Rosenberg, PhD
I just wanted to make it clear that we've had so much help and support throughout the years, both at school and in the home and community environment. For one thing, my husband works at Microsoft, and we were part of a group that advocated early on when Brian was, like, six and seven, we were pushing to get Microsoft to cover ABA therapy for kids on the autism spectrum. When my son turned eight, they started covering it. That made such a difference because we were providing a lot of ABA therapy. We were getting respite in family support from the Department of Developmental Disabilities, and I can't say how much that helped ease the stress.
And then another thing that I always had that made such a difference, an expert friend to call who could give me advice or assistance. I wasn't much of a support-group person. I wanted to talk to an expert, and probably because we went to the experimental education unit when my son was young, I was hooked up with people that really knew what they were doing. I think of so many times over Brian's childhood that I just felt completely helpless and uncertain what to do, and I had these people I could call that could help.
Then the final thing was getting knowledge, going back and getting my PhD. And I'm not necessarily recommending that to everybody, but that knowledge on how to teach and help my child myself was the best support I could have had. I remember when I was doing ABA with my child, people would say things, like, "Oh, I don't want to be my child's therapist. I just want to be his mother." Part of me understood that, but part of me was, like, "Yeah, but a mother needs to be able to teach their child things, and I am learning how to teach my child." I'm just so thankful for that education, because now when a problem comes up, and they always do, I have the knowledge and the strategies to deal with it, and that's the biggest support I could have had. I'm not dependent on trying to find somebody else who knows how to do it. I know how to do it myself.