Do perceptions matter?
Page 2: Common Perceptions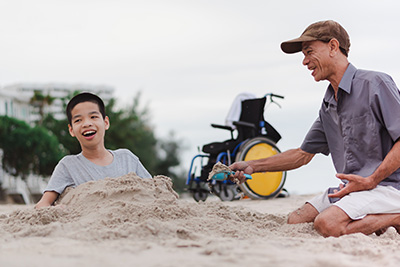 Just as our perceptions influence how we respond to the world around us and interact with others, so too can our beliefs and attitudes affect how we perceive disabilities and those who have them. Though our perceptions are frequently accurate, at other times these inwardly held beliefs are based on misinformation or misunderstanding. Sometimes, our beliefs are so deeply ingrained within us that we are unaware of them altogether and come to regard them as self-evident truths. Take a moment to consider the table below and the common misperceptions it describes.
Common Misperception
Fact
It takes a special, rare kind of courage to navigate the world if you have a disability.
People with disabilities adapt to their environment and preferred lifestyle just like anyone else, their peers without disabilities included.
It is the special responsibility of people without disabilities to look out for and take care of those with disabilities, because people with disabilities are almost always in need of some kind of assistance.
Most people with disabilities are more than capable of taking care of themselves. If a person without disabilities sees a situation in which assistance might be required, it is okay to politely offer help, but the wishes of the person with the disability should always be honored.
People without disabilities and those with disabilities lead completely different lives.
In the case of most people with disabilities, there are far, far more similarities in lifestyle, behavior, professional and personal ambitions, and day-to-day routines than there are differences. As captured in the photo at the top of this page, a child with a disability is enjoying a day at the beach with his father, just like any other child.
Let's face it, there are always going to be at least some barriers for people with disabilities somewhere, and there's very little individuals can do to change that.
By working together, there is so much we can do to lessen or eliminate many of the barriers faced by people with disabilities, but to do so we have to listen to their needs, involve people with disabilities in community discussions, and focus on a goal of creating shared spaces where everyone is valued and welcome.
Source: Adapted from https://www.easterseals.com/explore-resources/facts-about-disability/myths-facts.html
Activity
Erik has retinoschisis, a congenital condition that caused the gradual deterioration of his retinas. Before losing his sight entirely around the time of his 14th birthday, Erik participated in the general education classroom at school, rode his bike, and played basketball.
Based on what you have read above, describe what you think Erik's life will be like after losing his vision. Take a moment to write down a few of the barriers you believe he might face.
When you described Erik's life, did you consider education, employment, recreational and sports activities, community engagement relationships, and honors? The table below showcases some of the highlights of Erik's life.
Education

Graduated from Boston College with a double major
Earned a master's degree from Lesley College

Employment

Middle school English and math instructor, wrestling coach
Author of Touch the Top of the World (a memoir), No Barriers: A Blind Man's Journey To Kayak the Grand Canyon, and The Adversity Advantage: Turning Everyday Struggles into Everyday Greatness, among others
Motivational speaker whose appearances include the Asia-Pacific Economic Cooperation (APEC) Summit in Chile
Film producer of Touch the Top of the World, Blindsight, and Blind Skiers Edge, among others

Recreational and Sports Activities

Wrestler: In high school, represented Connecticut in the National Freestyle Wrestling Championships
Mountain climber:

While in high school, became the first blind person to trek the 50-mile Inca Trail to Machu Picchu
Completed the Seven Summits, the highest point on every continent (only 150 individuals have achieved this accomplishment)

Skydiver: Became one of only two blind solo skydivers
Bicyclist:

Biked tandem with his father from Hanoi to Ho Chi Moinh City (1,200 miles)
Completed a six-day bike pack of the White Rim Trail

Runner: Competed in the New York Marathon
Kayaker: Kayaked the entire 277 miles of the Colorado River through the Grand Canyon

Community Engagement

Co-founded an organization, No Barriers, to help individuals with disabilities to face and overcome their challenges

Relationships

Married his girlfriend, Ellen, at the summit of Kilimanjaro
Has two children

Honors

Carried the Olympic Torch through Phoenix
Honored with a Time cover story about his conquest of the world's highest peak
Received multiple honorary doctorate degrees
Received the National Courage Award
Received the ESPN Excellence in Sports Performance Yearly Award
Now, think back to the list of barriers you predicted for Erik.

Is it possible any of those barriers reflect society's biases?
Would you eliminate some of the barriers now that you know the whole story? If so, which ones?

Consider the following quotations and answer the related questions.

"Society makes the handicaps, not the disability."

Paul Longmore


Consider the sponsorship for Erik's climb. His major sponsor was American Federation for the Blind. Do you think a "non-disabled" organization would have agreed to be a major sponsor? Why or Why not?
"We all experience barriers and have challenges."

Deb Smith


Imagine that you are climbing a mountain for the first time. Who would you rather have on your team: Someone who has summited all seven of the world's highest mountain peaks but has a visual impairment or someone who has never climbed before but has no visual impairment? Explain your response.
"Society imposes low expectations of those who have disabilities."

Erik Weihenmayer


Let's assume that at least some people would opt to climb alongside the inexperienced climber with "normal" vision. Why do you think they might do so? What attitudes or beliefs might sway their decision making?
Perhaps the most important thing to remember when interacting with people with disabilities is simply that they are people first. And just like all people, they are unique. They have preferred activities, social circles, ambitions, hopes, fears, and challenges, visible or otherwise.
They are also unique in how they view their disability. Consider the case of Jay, who uses a wheelchair. A common misperception is that people who use wheelchairs are chronically ill or feeble. Some might believe that wheelchair use prevents participation in certain activities enjoyed by people without disabilities. In the video below, Jay dispels this mistaken belief (time: 1:54).
Narrator: What kinds of things do you like to do?
J-Rod: Alone, I like to draw. Drawing is, like, a stress-reliever. I'm into making my own anime because I love watching anime. Like Fairy Tail, all of that. Like Dragon Ball Z. But with friends, sleepovers just like normal kids do. Like, one of my brother, cousins here, we try do something at least for every weekend, try to get together, since we know that school is kind of, like, since we're in 8th-grade, going onto high school next year, we might not be able to chill with each other that much because of all that work. Yeah, that's mainly what I do with all of my friends.
J-Rod: I'm doing track, shooting, and archery. Oh yeah, and they just put me in weight lifting recently. So I think I'm going to be, like, bench pressing for that. Working out again. I'm practicing shooting, which will also help me in archery because both of those take time and patience, aiming, setting up the thing to shoot.
Narrator: What are your strengths?
J-Rod: I'm optimistic, which really brings my spirits up even though it might be, like, a grim situation or a gloomy situation. I try to think on the bright side of mostly everything, which is another thing that helps me not, like, succumb to obstacles that try to stop me.
Now watch Jay's parents talk about his greatest strengths and needs and describe what they would like people to know about their son (time: 2:46).
Narrator: What do you see as J-Rod's greatest strengths?
Mother: He has a conquering spirit. Every time we even want to feel disheartened about a situation or we think that there's something that someone is saying it can't happen, it's almost as if he has the decision in his mind, like, "You're going to tell me what it is I can't do, but I'm going to show you what I can do." And he does it with a humble spirit. He doesn't try to talk trash. He's out to prove to himself.
Father: In many ways, he's an overachiever. So I'm not mad about that at all. Go ahead and overachieve. So, you know, do what you need to do to be successful. One thing that I am happy about as far as his overall mentality is we've taught him to make the best out of his situation and not allow his situation to make him.
Narrator: What would you like people to know about J-Rod?
Father: We want people to know that J-Rod is…he's a kid. He's a regular ol'boy. He's silly. First and foremost, he's a boy. I mean, regardless of whatever, regardless of him being in a wheelchair, he's a boy. He'll be on the couch, jump down on the couch, and wrestle you. Like right then…grrrrrrrr…and really be playing for real, so he's a boy. He's a regular ol'boy. He's a regular ol'boy.
Mother: If there was something I wanted to say, that I wanted people to know about Jay is his heart's bigger than his body. I believe that there's nothing he can't accomplish. I believe that there are a lot of kids out there that have the same hunger that he has, or it could be opened and or enhanced if just given an opportunity. If somebody just cared. If somebody just actually showed interest in what that child did instead of talking about everything they think they can't do. Find out what it is that they can and have a genuine interest in it. I believe that J-Rod blooms and shines because of his smile and his demeanor, his character. He's very contagious. And there's probably some other kids out there just like him if you just give them a chance to let them bloom.