Early Childhood Behavior Management:
Developing and Teaching Rules
Initial Thoughts
Jot down your Initial Thoughts about the Challenge: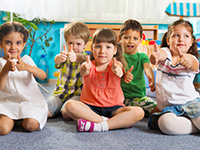 (Opinion) Do you think Mrs. Rodriguez's current behavior management system is working? Explain.
How can teachers help young children learn expected behaviors?
How can teachers encourage and reinforce expected behaviors?
When you are ready, proceed to the Perspectives & Resources section.