How can teachers encourage and reinforce expected behaviors?
Page 7: Using Classroom Reinforcement Systems
In addition to rule reminders and positive feedback, some teachers use a more structured approach to motivate and acknowledge children for following the rules. They do this by implementing a classroom reinforcement system—a preventive, or reinforcement-based, system in which children are acknowledged and earn rewards for their appropriate behaviors. When teachers reinforce children for following rules, the children learn what to do in the classroom and are more likely to behave accordingly in the future.
For Your Information
Some classroom systems for managing behavior include punishment (i.e., loss of preferred activities or rewards or the presentation of unwanted stimuli).
There are a number of reasons why punishment-based systems are not appropriate for young children. Punishment-based systems:
Do not help children understand the rules or how to engage in appropriate social behavior.
Involve giving children attention for inappropriate behavior, which could increase the likelihood that the (inappropriate) behavior will occur again.
Can shame and humiliate children, creating a negative classroom climate.
Examples of punishment-based systems
A teacher has a tree on a bulletin board, and each child has an apple with his or her name on it. When the child commits a rule infraction (i.e., engages in behavior that violates the rule) the apple is moved down the branch until it falls off.
When they engage in problem behaviors, a teacher writes children's names on the board.
A teacher uses a color-coded stoplight system.
There are two types of classroom reinforcement systems: one in which children access a group reward, and one in which children access individual rewards. Some teachers might prefer the group reward as a way to foster cooperation and a sense of community. For example, a teacher can create rules posters (like the ones below) and hang them around the classroom in conspicuous locations. Each poster contains one classroom rule and a simple blank table. Each time a child is acknowledged for following a classroom rule he or she is directed to make a X on the table with a dry-erase marker. Once the table is filled with Xs, the class earns a celebration.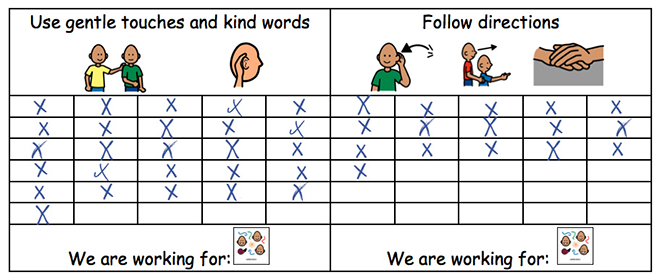 Credit
The Picture Communications Symbols ⓒ1981-2014 by Mayer-Johnson LLC. All Rights Reserved Worldwide. Used with permission.
On the other hand, some teachers might prefer an individual reward to encourage individual children to be more accountable for their own behavior. For example, a teacher might hang pictures of treasure chests on a bulletin board for each child. Each time a child is acknowledged for following the rules he or she would earn one coin to put in his or her treasure chest. When the treasure chest is filled with coins, the child earns a special reward or celebration. These should be based on the interests and preferences of the children, as well as the restrictions of the school district or program. Some examples of potential rewards or celebrations include extra time on the playground, a dance party, stickers or stamps, a popcorn party, or a visit from a special classroom guest to read a story.
Tips for Teachers
There are several tips that can help teachers make classroom reinforcement systems more successful. These include:
In the initial stages of implementing a classroom reinforcement system, it is important to remember that children might need frequent reinforcement. This is especially important for those who typically have a difficult time following the rules.
The rewards or celebrations must come more liberally in the beginning. In the example above, this might mean that children receive a celebration after five boxes are filled, as opposed to when the entire table is filled. As children become more successful in earning celebrations, teachers can increase the target level that children are attempting to reach.
To make the reinforcement more salient and motivating for children, the teacher could allow children to vote on what type of group reward they want to earn, or allow each child to select his or her own reward. Giving children a choice gives them ownership over the process.
When using a reinforcement system, teachers can focus on all the rules or only on the rules children are having trouble following.
There are an infinite number of visuals teachers can use for their reinforcement systems (e.g., adding fish to a fish tank, cookies to a cookie jar, or petals to a flower). The point is that, whatever you use, it should help children to see their progress towards the reward.
Mary Louise Hemmeter discusses classroom reward systems (time: 1:24).
Mary Louise Hemmeter, PhD
Nicholas Hobbs Chair
in Special Education and Human Development
Vanderbilt University
Transcript: Mary Louise Hemmeter, PhD
Sometimes teachers will have classroom-wide systems where, when they see a child engaging in one of the expectations or when a child sees another child engaging in one of the expectations, they'll put something up on the bulletin board. They might have high-five handprints and they do high-fives for children who are engaging in the expectations, and they write their names on the handprint and what they did and they put those on the wall. They might have a tree, and every time a child engages in an expectation they put leaves on the tree with the child's name. And that actually is a way to kind of get a classroom-wide focus on the expectation so it's not just about an individual child but it's about us all engaging in these expectations. If you have a child who you're particularly concerned about then we would say develop a data-collection system that allows you to track that child's behavior more intensively or more often. But we would definitely initially work on collecting data on children who are doing the expectations, as opposed to children who aren't. We're really trying to get everybody focused on catching children engaging in the expectations so that it promotes that positive approach to discipline in the classroom.
For Your Information
x
Positive behavioral interventions and supports (PBIS)
A three-tiered framework (i.e., primary, secondary, tertiary) that provides a continuum of supports and services designed to promote appropriate behaviors and to prevent and address challenging behaviors.
Some schools use positive behavioral interventions and supports (PBIS), an evidence-based framework, which includes school-wide expectations and acknowledgement systems as part of their universal practices to promote the appropriate behavior of all students. In the development of school-wide acknowledgement systems, schools are advised to ensure that systems are appropriate for the age of the student. This caution is particularly relevant to the implementation of PBIS with younger children. For example, a system in which children receive tickets for following the expectations and only later participate in grade-wide or school-wide celebrations once they have earned the requisite number of tickets is developmentally inappropriate for young children because the reward is not immediate. Further, the children might not understand how their appropriate behavior led to the reward, and it can be challenging for children who did not earn enough tickets to participate in the celebration. These children usually cannot make the connection between their behavior and the loss of the reward. Although there are similarities to classroom-wide and school-wide reinforcement systems, in classroom-wide systems, the link between children's behavior and the reward is more concrete and immediate, making them developmentally appropriate.
Pyramid Model
The Pyramid Model for Supporting Social-Emotional Competence in Infants and Young Children defines the practices that are used in applying PBIS to early care and education classrooms. Designed for classroom use but expanded for program-wide implementation, the Pyramid Model is consistent with the philosophies of PBIS and can be used by preschool teachers in schools where PBIS is used with elementary students. This model includes more developmentally appropriate intervention and reinforcement practices for younger children. To learn more about the Pyramid Model, visit The National Center for Pyramid Model Innovations.
Mary Louise Hemmeter describes the Pyramid Model (time: 1:25).
Mary Louise Hemmeter, PhD
Nicholas Hobbs Chair
in Special Education and Human Development
Vanderbilt University
Transcript: Mary Louise Hemmeter, PhD
TACSEI and CSEFEL were two federally funded training and technical assistant centers. CSEFEL was the Center on the Social and Emotional Foundations for Early Learning, and TACSEI was the Technical Assistance Center on Social Emotional Interventions. These two centers collaboratively developed the Pyramid Model, which is a prevention, promotion, and intervention model for addressing challenging behavior and social-emotional development in young children, and then developed training materials for teachers related to that model. Most people think about the Pyramid Model as the early childhood version of PBIS. While PBIS is used to describe a school-wide approach, the Pyramid model was conceptualized as the practices that should be used by all classroom teachers to address social, emotional, and behavioral needs of all children in the classroom. When the Pyramid Model is implemented across classrooms in a program, often referred to as program-wide positive behavior support, it is PBIS for early education. But it's consistent with PBIS and the principles of promotion, prevention, and intervention, and the principles of focusing on promoting positive social skills before you think about what to do about the problem behavior.
Revisit Mrs. Rodriguez's Classroom
Mrs. Rodriguez's children respond well to the positive feedback they receive for following the rules. Upon reflection, Mrs. Rodriguez realizes that her color-coded clothespin system is actually punishment-based and isn't meeting her children's developmental needs. Consequently, she replaces it with a token system. Now when children follow classroom expectations, they can earn tokens throughout the day. These, in turn, can be redeemed for prizes like a sticker, being the line leader, ten minutes of free time, or a one-on-one lunch with Mrs. Rodriguez. With the token system, children never lose tokens for violating expectations. They are simply reminded of the rule and given an opportunity to change their behavior. At first, the "price" of rewards is low, so children can earn one quickly (at least once per day). Eventually, Mrs. Rodriguez will price items based on their appeal so that the children can save up over multiple days for a reward they want.
For Your Information
Even when using a proactive reinforcement-based system, rule infractions will occur. Teachers can address occasional, minor rule infractions using a variety of easily implemented strategies (e.g., ignoring, redirecting their behavior, reminding them of the rules). However, for children who have persistent or severe challenging behaviors, teachers might need to use a more intensive, individualized approach. To learn more about addressing persistent challenging behaviors, view:
Recommended Practices: Addressing Persistent Challenging Behaviors