What characteristics might Mrs. Garcia look for in a reading approach?
Page 2: The Benefits of PALS
Mrs. Garcia's remedial reading class has a wide range of reading abilities and includes students both with and without disabilities. Several of them read at a fourth-grade level or below, while others read at a seventh-grade level. Because her students have such diverse learning needs, Mrs. Garcia is excited to discover that PALS is effective for students with learning disabilities, low-performing students without learning disabilities, average-achieving readers, and English learners (ELs).
In addition to improving the reading performance of students, PALS:
Allows all students—those with and without learning difficulties—to be actively involved in peer-mediated sessions
Makes it possible for students with disabilities to spend more time in the least-restrictive environment, thus increasing their access to the general education curriculum
Can be used as a research-validated reading approach in schools implementing response to intervention
Research Shows
High-school students in remedial and special education classes who were reading far below grade level (i.e., grades two to six) and participated in PALS scored higher on a measure of reading comprehension than did members of the control group who did not.


(Fuchs, Fuchs, & Kazdan, 1999)

High-school students with mild disabilities who participated in peer tutoring using a reading comprehension strategy in history class performed significantly better on chapter, unit, and year-end tests than did members of the control who used guided notes.


(Mastropieri, Scruggs, Spencer, & Fontana, 2003)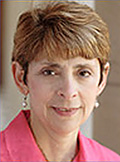 Lynn Fuchs, PhD
Nicholas Hobbs Endowed Chair
in Special Education and Human Development
Vanderbilt University, Nashville, TN
Lynn Fuchs highlights the main features of the PALS approach (time: 0:40).
Besides accommodating the needs of students of various academic abilities and actively including all students in reading activities, PALS boasts a number of additional benefits for teachers and students. Specifically, the approach:
Is easily implemented
Is cost-effective
Accelerates student achievement in reading
Encourages on-task behavior and student participation
Allows students more opportunities to read
Allows students to receive corrective feedback
Is enjoyable
Motivates students
Promotes collaboration and positive social interactions
For Your Information
Because PALS is easy for teachers to use and improves students' reading skills, the U.S. Department of Education Program Effectiveness Panel has deemed it a "best practice."