What components comprise high-quality reading instruction?
Page 4: Phonemic Awareness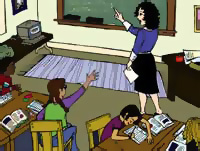 Phonemic awareness refers to the ability to listen, identify, and manipulate phonemes—the smallest units of sounds that are combined to create words. For instance, the three phonemes in the word "mop" are /m/ /o/ /p/. Students learn to read more easily when they are aware of these phonemes.
For Your Information
Phonemic awareness is not the same as phonics. Phonemic awareness relates exclusively to spoken sounds. Phonics, on the other hand, corresponds to how spoken sounds are represented in written text.
Why Should I Teach It?
Students who acquire phonemic awareness skills in the early grades generally:
Have an easier time learning to read
Acquire better reading comprehension
Learn to spell more accurately
Learn how to decode words
Conversely, when difficulty with sound blending and segmenting occurs, students often have a hard time learning how to transfer spoken sounds into written text, exacerbating reading difficulties.
Research Shows
Students with poor phonemic awareness skills in first grade are more likely to have reading difficulties in fourth grade.


(Pressley, 2006)

Phonemic awareness is the best predictor of students' ease of early reading acquisition, better than IQ, vocabulary, and listening comprehension.


(Sensenbaugh, 1996)
How Do I Teach It?
When Should I Teach It?
Phonemic awareness is typically taught in kindergarten and first grade.
A teacher's primary focus is to help young students listen for, identify, and manipulate speech sounds so they can learn to recognize and create different words. It is important for teachers to introduce beginning readers to the relationship between sounds and words by providing auditory examples of how words are formed with sounds.
Here's an example of how a teacher might introduce the relationship between sounds and words to help students understand how words are formed.
Phonemic Awareness

Teacher: We are going to learn about sounds today. We are going to move sounds around to form new words. To make a new word, you have to change the beginning sounds and then say the new word out loud.
Listen, /mat/. I am going to change the word mat to hat.
Take off the first sound /m/.
That leaves /at/.
Then add /h//h/ /at/.
The word is /hat/.
Now, change the /h/ to /p/.
Say the new word.
Below are some helpful hints on how kindergarten and first-grade teachers can incorporate phonemic awareness instruction in the classroom:
Tips for Teaching
Start with easy "blend" sounds that are continuous, such as /m/, /s/, and /f/, rather than with short, "stop" sounds, such as /b/, /d/, and /t/.
When modeling sounds, instruct students to watch your lips and mouth.
Ask students to practice in front of mirrors as you model, so that they can watch the movements of their lips and mouths.
Use games, music, pictures, and objects to teach early phonemic awareness skills.
Engage students in active learning techniques. For example, students can hold up fingers for each sound heard in the word "bubbles." Or small toys and objects can be used to cue students (e.g., a student holds a toy dog and says the sounds /d/ /o/ /g/).
Avoid adding in extra sounds such as the "schwa" / ə / after individual phonemes (e.g., /tə/ instead of /t/).
The Bigger Picture
Phonemic awareness is part of a bigger picture called phonological awareness. Phonological awareness is composed of a continuum of skills that support students as they learn to read and spell accurately. Phonemic awareness (which is composed of blending, segmenting, and manipulating phonemes and words) contributes more to reading success than do the other phonological awareness skills. The graphic below illustrates this continuum of skills.
Phonological Awareness Continuum

discriminating     counting     rhyming     alliteration               

blending     segmenting     manipulating

 



Phonemic Awareness
For Your Information
Although this page discusses the technical differences between phonemic awareness and phonological awareness, be aware that other resources sometimes use the terms interchangeably.