How is high-quality instruction integrated into the RTI approach?
Page 12: Effective Instruction at Tier 3
A small percentage of students who do not make adequate progress with Tier 2 intervention may benefit from Tier 3's more intensive, individualized intervention. Tier 3 intervention is typically delivered outside the general education classroom, generally by someone who specializes in designing and providing individualized interventions (e.g., a special education teacher, a reading specialist). In some school districts, Tier 3 is delivered through the special education program, while in other districts Tier 3 is considered part of the general education program. Tier 3 differs from Tier 2 instruction in that it is:
Focused on individualized goals, which may or may not be on grade level
Guided by progress monitoring data
More intense, often with longer or more frequent sessions
In schools in which Tier 3 services are still provided as part of the general education program, a student may receive Tier 3 interventions as a supplement to the Tier 1 classroom instruction.

At Rosa Parks Elementary, Tier 3 is delivered through the special education program. Using the progress monitoring data, Ms. Washington and Mrs. Hernandez have decided that the amount of progress Jack has made thus far does not support the end-of-year reading goal. Mrs. Hernandez requests a special education evaluation for Jack. The IEP team determines that Jack has a learning disability and that he will receive Tier 3 intervention, which is provided by Ms. Jacobs, the special education teacher.
High-Quality Instruction
The intensive, individualized Tier 3 instruction is based on research-validated instructional strategies that meet the individual needs of each student. Three variables that affect types of instructional intensity include:
Time – Depending on the age of the student, instruction should be provided daily, ranging from 40 to 60 minutes, which must be taken from the daily schedule. Two options to consider are:

Providing Tier 3 intervention twice a day (e.g., 20 minutes in the morning and 20 minutes in the afternoon)
Providing Tier 3 intervention at the same time as Tier 2 intervention

Duration – The duration of the Tier 3 intervention may vary by individual and may last from several semesters to years.
Reducing group size – Interventions are provided in small groups with no more than a 1:3 teacher-student ratio.
Listen as Sharon Vaughn discusses these three variables of instructional intensity (time: 1:06).

Transcript: Sharon Vaughn, PhD
Students who are in Tier 3 should be those students, those very few students, who have not responded adequately to effective Tier 1 and Tier 2 instruction.
Because students haven't responded to typical effective instruction, instruction that is modified, adapted, and situated to respond to their individual needs is necessary.
There are several ways to adjust instructional intensity. One way is by time, so the amount of time a student is provided instruction. A second way is by duration, meaning related not just to the time each day the student gets it but for how many days, weeks, months, the student receives the instruction. Thirdly, by reducing the group size, so that students are either taught in very small groups or one on one, so that highly specified instruction with many opportunities for responding, including correction and feedback, are available.
Here are some considerations Ms. Jacobs keeps in mind to help her plan her lessons with Jack.
Phonemic Awareness Lesson

Ms. Jacobs uses the phonological awareness continuum to help her plan her lessons for Jack. Jack is able to discriminate whether two words begin or end with the same sound. He is also able to identify the number of syllables in a word. But Ms. Jacobs knows that blending, segmenting, and manipulating sounds are the most complex skills along the continuum and contribute most to Jack's decoding and ultimately to his improved reading literacy.
Phonological Awareness Continuum

discriminating counting rhyming alliteration

blending segmenting manipulating




Phonemic Awareness
One of Jack's individualized goals is to blend sounds. First, Ms. Jacobs teaches Jack how to "push words together" by using compound words. (Note: It is important to remember that this phonological awareness activity only requires auditory discrimination skills and oral responses from Jack. He is not yet required to read the words used here.)
| | | | |
| --- | --- | --- | --- |
| base ball | baseball | hot dog | hotdog |
| bath tub | bathtub | sand wich | sandwich |
Next, she has Jack practice "pushing" two-syllable words together (i.e., words that are not compound words).
| | | | |
| --- | --- | --- | --- |
| /noo/ /dle/ | noodle | /pic/ /nic/ | picnic |
| /mar/ /ble/ | marble | /chi/ /cken/ | chicken |
When Jack is progressing adequately, Ms. Jacobs will require him to blend "/m/ /ou/ /sss/" instead of "/m/ /ouse/." Ms. Jacobs also practices rhyming with Jack.
| | | | |
| --- | --- | --- | --- |
| map | clap | gap | lap |
| tap | slap | rap | zap |
Ms. Jacobs prepares a list of words. She reviews the letters and sounds of the words with Jack.
She asks Jack to say the word after she gives him the individual sounds.
Ms. Jacobs stretches the sounds more and decreases the amount of time she pauses between sounds. For example, instead of "/mmm/ /a/ /nnn/" she asks Jack to say "/mmmmmmmmannnnnn/."
Frequent Monitoring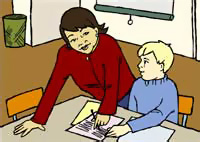 Teachers delivering Tier 3 intervention need to continue progress monitoring on a weekly basis. Additionally, they should collaborate with the general education teacher about students' progress. Adaptations for delivering core instruction should be based on students' data and their responses to previous instruction.
The table below provides a brief summary of some options that may be implemented in a Tier 3 intervention.
Tier 3 Intervention Options
Who receives instruction
Students who are not making adequate progress with Tier 2 intervention
Amount of daily instruction
Instruction may vary, depending on the age of the student, from 40–60 min. per day (+ Tier 1)
When instruction is provided

Scheduling options for Tier 3 might include:

Tier 3 intervention twice a day (e.g., 20 minutes in the morning and 20 minutes in the afternoon)
Tier 3 intervention at the same time as another teacher provides the Tier 2 intervention to other students

Duration of instruction
Varies by individual—may be several semesters or even years
How instruction is implemented
Instruction should be implemented with teacher/ student ratios of no more than 1:3.
Frequency of progress monitoring
At least one time every 1–2 weeks
Who provides instruction

Reading specialist
Special education teacher

Where students are served
Generally, outside of the general education classroom. This can, but does not always, include special education.