What techniques will help Alexandra and Zach become independent learners, and how can they gain those skills?
Page 4: Self-Monitoring
Self-monitoring is a strategy that teaches students to self-assess their behavior and record the results. Though it does not create new skills or knowledge, self-monitoring does increase or decrease the frequency, intensity, or duration of existing behavior. It also saves teachers time monitoring students' behavior.
Benefits for All Students
Self-monitoring provides more immediate feedback to students than is possible when teachers evaluate the behavior.
The strategy clearly depicts improvement over time in behavior for both the student and the teacher.
The self-monitoring process engages students.
Self-monitoring facilitates communication between students and their parent.
Students can avoid competition because of the individual nature of the strategy.
Self-monitoring incorporates academic and social skills (e.g., counting, reading, classifying, cooperating).
The strategy increases students' awareness of their own behavior.
Self-monitoring produces positive results.
(Moxley, 1998; Rock, 2005)
Benefits for Students with Disabilities
In addition to the benefits described above, studies on self-monitoring with students with disabilities in inclusive classroom settings have demonstrated positive changes in the following behaviors:
Social behaviors and completion of written classroom work at the high school level
The ability to follow directions in junior high school classes
Less aggressive behavior
Academic engagement and fewer disruptive behaviors for elementary-age students
On-task behavior, less disruptive behavior, and listening skills for grades 7 through 9
Math fluency
(Gumpel & Shlomit, 2000; Hughes, Copeland, Agran, Wehmeyer, Rodi, & Presley, 2002; McDougall & Brady, 1998; Rock, 2005; Wehmeyer, Yeager, Bolding, Agran, & Hughes, 2003)
Though self-monitoring can be used in many ways for many different behaviors, this module will focus on two of the most common and easiest to use. These are self-monitoring of attention (SMA) and self-monitoring of performance (SMP).
Self-Monitoring of Attention
SMA is great for students who might be easily distracted, get up from their seats, bother other students, or fiddle with objects. The student can monitor the frequency or duration of these behaviors.
Self-Monitoring of Performance
SMP is appropriate for students who need to monitor some aspect of academic performance, such as the rate at which they correctly complete class work or the overall accuracy of their performance. It is especially useful for building fluency.
Alexandra has difficulty paying attention during instruction. Ms. Torri has decided to teach Alexandra the strategy known as self-monitoring of attention.
Zach has trouble completing his class assignments, so Ms. Torri has decided to implement self-monitoring of performance with him.
Before Ms. Torri implements these self-monitoring strategies with Alexandra and Zach, she needs to review the five steps in the self-monitoring process.
Steps in Self-Monitoring
Teaching students to self-monitor is a straightforward process. The steps below are the ones teachers should use, and we'll discuss each of them in turn.
Now that Ms. Torri is familiar with the steps in the self-monitoring process, she is ready to implement this strategy with Alexandra and Zach.
Click on the movie below to see how Ms. Torri implements SMA with Alexandra (time: 2:57).
Transcript: Select a Behavior to Self-Monitor
Narrator: Ms. Torri has decided to implement self-monitoring with Alexandra to help her pay attention in class and focus on her work. Because she's noticed that Alexandra spends a lot of time out of her seat, Ms. Torri has defined "paying attention" for Alexandra as "in her seat," "doing her work," and "listening to the teacher." Next, Ms. Torri needs to collect baseline data on how often Alexandra pays attention. She observed the behavior during math class for five days and determined that Alexandra spends on average only 25 percent of the class period paying attention. Now that Ms. Torri has determined that Alexandra does indeed have a problem paying attention, she needs to obtain Alexandra's cooperation to effectively implement the self-monitoring strategy.
Ms. Torri: Alexandra, I wanted to talk with you today about paying attention in class. I've noticed that you're really having problems staying in your seat and focusing on your work lately. But I think that there may be a way to help you with this. I've used something with kids just like you and it worked well. I think it would really help you to pay attention better. Do you think you'd like to try it?
Alexandra: I guess.
Narrator: The next step is for Ms. Torri to teach Alexandra the procedures for self-monitoring.
Ms. Torri: Okay, let's talk about what it means to pay attention. Here are some things that you need to think about to figure out whether or not you're paying attention: "Was I in my seat, doing my work, and/ or listening to the teacher?" Now, let's pretend that you're doing your math practice in the morning. Show me what you look like when you're paying attention. Good, now tell me what you're doing.
Alexandra: I'm doing my math problems.
Ms. Torri: Good! That's paying attention! Now I'm going to show you how to help yourself pay attention. I'm going to play a tape that has some beeps on it. Every time you hear a beep, you should ask yourself, "Was I paying attention?" Now what do you do when you hear a beep?
Alexandra: Ask myself if I was paying attention.
Ms. Torri: That's right. Then you use the sheet and circle "yes" if you were paying attention and "no" if you were not paying attention.
Narrator: Ms. Torri role-plays with Alexandra. First, Ms. Torri pretends to be the student and then they switch roles. The last thing Ms. Torri needs to do is establish when and where the student will self-monitor the behavior.
Ms. Torri: Now, Alexandra, tomorrow when you do your math work, we will use the beeps to help you do your work. We will do it just like we practiced today.
Narrator: Alexandra self-monitors her attention for several days.
Ms. Torri: Okay, Alexandra, remember to listen to the beeps. Every time you hear a beep, ask yourself, "Was I paying attention?" and mark your sheet.
Narrator: At the end of each math class, Ms. Torri and Alexandra graph how often she was paying attention.
(Close this panel)
Activity
SMP with Zach
Zach hates math. He'd much rather think about riding his bike than practice math, which in turn means that his scores on daily class assignments are poor. He knows his math facts fairly well, but because his assignments are rarely complete he almost never makes passing scores on them.
Click the pictures below to help Ms. Torri implement self-monitoring with Zach to improve his math performance. Bob Reid, PhD, University of Nebraska, an expert in this field, will offer feedback for each step.

Step 1

Step 2

Step 3

Step 4

Step 5
Step 1

Ms. Torri knows that the first thing she needs to do is define the behavior she wants to change. She has decided to improve Zach's math performance. Help Ms. Torri determine the best definition of "improving math performance" for Zach.
Click on the most appropriate definition, then listen to Bob Reid's feedback. (Hint: Remember SOAP)
Number of problems completed
. This is not a bad answer but remember Zach could do problems incorrectly, so try another choice.
Number or percent of problems correct
. This is the best answer. It shows objectively that the student is improving.
Trying my best
. This is not objective enough. You need a more specific behavior.
Number of problems completed
Number (or percent) of problems correct
Trying my best
Step 2
(Graph 1)
This data suggests that Zach's performance is acceptable, try again.
(Graph 2)
This data is inconsistent, some performance is acceptable, some is not. You probably need to take more data.
(Graph 3)
This is correct. The data clearly show Zach has a problem.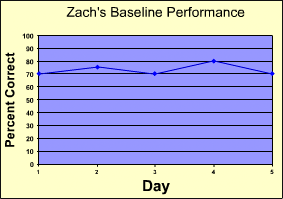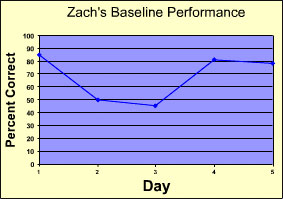 Click "View Graph Description" under any graph to open a description in this area.
Step 3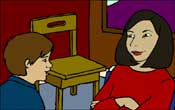 (A)
What Mrs. Torri is doing here is pointing out that Zach has a problem. This is something a teacher would say.
(B)
Here Mrs. Torri is telling Zach how to solve the problem. This is something a teacher would say.
(C)
This is not appropriate, Teachers should be optimistic, but don't promise the moon. You can't guarantee that he'll always make an "A" on his test.
A. Zach, I want to talk to you about your math. I know that you don't like math and that you've had some problems on your class assignments. Yesterday you refused to work on it at all.
B. I think one problem is that you need to practice your facts more. You know that old saying "Practice makes perfect." Well it's true for math.
C. I know a way to help you practice more. I used it with another student last year and now he always made an A on his test and so can you. How about it?
Step 4

Now, tomorrow during math class we'll start doing this for real.
OK Zach, your goal is to complete the assignment and get at least 75% of the problems correct each day.
Now let's practice. I've got a math worksheet. You complete the assignment and when you're done we will count up the number you get correct and write it on your tally sheet.
You will track your progress each day to see if you're meeting your goal. Each day you'll write down on your tally sheet how many problems you get correct on the daily assignment.
Ms. Torri previously obtained Zach's willing cooperation. Now it is important she discusses the desired behavior with Zach.
Next, Ms. Torri models the procedures for Zach. It's important for the student to see the procedures used so that he can understand them.
Then, Ms. Torri has Zach practice completing a math sheet, check his work and record his performance on his tally sheet. While this step may not seem important, it is necessary in order to determine the student understands the procedures and implements it correctly.
Finally, Ms. Torri specifies the class and time periods that Zach will self-monitor the behavior. It's crucial that Ms. Torri gives reminders if Zach forgets to monitor his behavior or is implementing the strategy incorrectly.
Step 5
This data shows inconsistent performance, you may need to go back and re-teach procedures.
This graph shows no improvement. Something's not working.
This data shows success. Here the intervention worked, the student's performance is increasing.
This is not Zach's graph – the strategy isn't working
This is Zach's graph – math performance improved
This is not Zach's graph – inconsistent performance or unclear results