What techniques will help Alexandra and Zach become independent learners, and how can they gain those skills?
Page 6: Goal-Setting
One powerful self-regulation strategy is goal-setting. Self-regulation can be challenging for both the students and the teacher if it is not clear what they are striving toward or how to get there. In fact, Winne (1997) noted that effective learners are those who are goal-oriented. A teacher can guide students to establish achievable goals in order to reach their desired results.
Benefits for Teachers & Students
Goal-setting offers structure by specifying a target goal.
The process provides feedback on progress.
Goal-setting motivates performance.
Using goal-setting is easy. Let's go back to the earlier example of Zach and his poor math performance. In setting a course to improve his scores on his daily classroom assignments, Ms. Torri and Zach should follow the steps outlined below.
Step 1: Choose an Appropriate Goal
There are two things to keep in mind when choosing a goal:
Difficulty – How challenging the goal is. Goals that are too easy or too hard aren't very motivating. The best goals are those that are moderately challenging. Teachers should help students set their goals to ensure that they are realistic and attainable.

Example: If Zach says, "I want to get an A on all of my daily math assignments!" Ms. Torri can respond, "Well, that's a good long-term goal, but maybe we should try to get your math scores up to Cs first."
Specificity – How well a goal is defined. Goals should be specific, not vague.

Example: "Complete every assignment and score 75% or above on classroom math assignments for the next six weeks" is more specific than "Do better on math assignments."
Step 2: Determine a Timeline
The best goals are those that can be accomplished fairly quickly. Indeed, goals that take a long time to accomplish may deter motivation because progress is slow. However, that doesn't mean you shouldn't make long-term goals! You just need to string together a series of short-term goals toward a long-term goal.
Example: Increase Zach's math goal every six weeks to reach the long-term goal of scoring 95% or above on his tests.
Step 3: Establish Progress Monitoring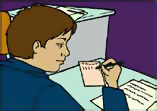 To maintain structure as well as motivation, a student needs to be aware of what kind of progress he or she is making toward his or her goal. The teacher can help by establishing procedures that will give the student continuous feedback and will track his or her progress.
Example: For continuous feedback, Ms. Torri and Zach will create a graph to reflect Zach's math scores on his classroom assignments throughout the next 6 weeks. Basing their decisions on his progress, Ms. Torri and Zach will determine a new short-term goal and graph Zach's scores for the subsequent six weeks.
If you aim at nothing, you will hit it every time.