What techniques will help Alexandra and Zach become independent learners, and how can they gain those skills?
Page 8: Multiplying Success
Now that you've learned about self-regulation strategies, here are some tips to help you maximize the success of implementation. One thing the teacher should consider is the classroom environment. Self-regulation strategies are more effective when the teacher sets up predictable and stable routines. In contrast, self-regulation strategies are less likely to be successful in a classroom environment that is disordered or chaotic. Students should be taught that the classroom environment affects their behavior and influences their performance. Sometimes they may need to study in a different place or ask the teacher for an accommodation. For example, they might ask for a place to study that is quiet and free of outside distractions, to make it easier to learn and complete assignments.
Click on the movie below to learn more tips for using self-regulation strategies (time: 1:30).
Transcript: Tips For Using Self-Regulation Strategies
Most students self-regulate their own behavior routinely. For those students who don't develop these skills independently, the strategies should be taught based upon what makes sense for the student and the situation. While this module focused on four different types of self-regulation strategies, they are rarely used in isolation. In fact, the strategies are commonly and effectively used in combination with one another. For example, self-instructions or self-statements naturally work well for self-reinforcement. Students learn to use statements such as "I'm good at this!" upon successful completion of a difficult activity. Therefore, the students' self-statements become their own reinforcements. Self-monitoring and goal-setting are often used in combination. The simple act of setting a goal lends itself naturally to monitoring one's progress. A student who sets a target of completing her homework for four days out of the week will need to keep track of her homework completion in order to determine if she has met her goal. Although these strategies may be used in isolation, they are more commonly used in combinations of two, three, or four. Remember, it all depends on the student and the situation. Self-regulation is a helpful intervention for teachers to implement at all grade levels. It is an important life skill that students use both in school and in other settings.
As was mentioned in the movie:
Self-regulation strategies may be used in isolation or used together in different combinations.
Individual students' needs and classroom expectations should be taken into consideration when deciding which strategy to use.
Student Outcomes
Learning and practicing self-regulation strategies positively affect student outcomes. They allow students to reinforce their own behavior(s). As mentioned earlier in this module, self-regulation strategies are successful with students with learning disabilities, emotional or behavioral disorders, or attention deficit/ hyperactivity disorder (ADHD).
Self-regulation can be empowering for students and can facilitate changes in their behavior. Listen as Torri Lienemann, a researcher from the University of Nebraska, and her student Sabre discuss ways self-regulation has improved his learning outcomes.

Torri Lienemann
Program Coordinator for Cognitive Strategies Instruction
University of Nebraska
Lincoln, Nebraska
(time: 2:04)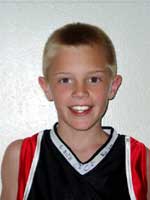 Sabre
Fourth-Grade Student
(time: 0:10)
Transcript: Torri Lienemann
These students that I am working with currently all have been identified as having attention deficit/ hyperactive disorder, and students that have attentional problems often do not plan or organize written compositions or school work in general. The research in the area indicates that self-regulation interventions can produce meaningful improvements in behavior as well as academic performance for students with ADHD. I chose some strategies that would be simple enough to implement but that would potentially improve their academic performance.
First, I modeled the strategy and the use of the strategy and my meta-cognitive processes so the students knew what they should be thinking as well as what they should be doing while they're performing the strategy or writing a composition.
There was a cue card or prompt that they were able to use to look back at that, and then as well as a graphic organizer for planning and organizing their composition. And so I modeled that and then after I modeled the whole process of going through, planning and organizing and writing the story, then I had, then we did that together. So where we would plan and organize and write a story, until finally they were able to do that on their own. And they were just provided enough support so that they would be successful but that they would also learn how to use that independently. And this process took, like I said, generally it's only about a week, six or seven sessions. Their attention and their attitude toward writing changed dramatically. Their teachers in their classroom said that also transferred into their writing in the classroom and their attention to their writing and the more completeness of their compositions. It took very little time and not a lot of prompts to get these students' performance to dramatically improve.
Transcript: Sabre, Fourth-Grade Student
The strategies helped me write longer and better stories. I enjoy writing about the character. It was easy to understand.
Self-regulation is also successful with middle- and high-school students. In a 2005 interview, Tom Lovitt identified four major skills that middle-school and high-school students should master in regard to self-regulation. These four life management skills may carry over into adulthood and future life endeavors:
Managing time
Identifying support or help
Goal setting and planning
Identifying options
Students may transfer the skills they have gained using self-regulation into other areas of their lives. This is extremely useful when these strategies are implemented in students' early years. As students mature, they may continue to develop their self-regulation skills across school years and into adulthood.
On the page concerning self-instruction, Perspectives and Resource Page 5, you learned how self-regulation strategies helped "the little professor" complete a puzzle task. He also transferred the strategies he learned in the classroom to a novel situation.
Listen to Karen Harris explain how these strategies were taught to "The Little Professor", then listen as Sabre's mom, Amy, discusses how his learning self-regulation strategies has affected other areas of Sabre's life.
Karen Harris, PhD
Professor and Currey-Ingram Chair of Special Education
Vanderbilt University, Nashville, TN
(time: 1:49)
Sabre's mom
Amy
(time: 0:34)
Transcript: Karen Harris, PhD
It was routine for all of the children at class meeting to talk about what they might say to themselves with a problem they were currently having. And the class would help each child come up with something to say to themselves, what we would call a self instruction or self-statement, and then the teacher would reinforce use of that self-statement. The other students could help reinforce use of that statement. And when the child got really good at using that statement, they could move on to another thing that they wanted to use. And during group discussion, he had talked with his peers that one of the things that gives him trouble is when he gets frustrated, he wants to quit and he gets angry. And together with the teacher and with class meeting, they had worked out not only what he would say to himself to help calm down the anger response but also a physical reaction that is actually very in line with what we know about research with frustration: He moved away from the task, took a deep breath, when he was ready re-approached the task and re-started. This teacher did all of this based on what she had observed in human behavior and based on ways that she had found to help young children manage their own behavior and their learning. And I was remarkably impressed. I could only imagine what we could get with young children if from preschool through kindergarten and up into adulthood, we systematically, the way this teacher did, help children figure out difficulties, challenges, that either emotionally or cognitively tended to disrupt their performance and help them figure out self-instructions—or you can call them self-statements—that would help them stay with the task. Self-instructions alone are not enough. If a child doesn't know how to put a puzzle together, they're not going to be able to put the puzzle together simply because they have instructions that they can say to themselves to stay on task and deal with frustration and so forth. They're also going to need puzzle-problem-solving strategies.
Transcript: Sabre's mom, Amy
It's made him more confident. It made it easier for him to understand. He sometimes has a hard time getting things and certain words, and I think it put it into an easier way for him to see it. I think it's helped him in a lot of ways. Sometimes, he tries to use them in other things. He was really struggling with homework. And he was giving up, and now I think it's really helped him turn around. He's understanding it more. I think he's gotten a little bit of his confidence back in order to do those things, like math and reading. Now he knows he can accomplish things.