What procedures might Ms. Lin suggest?
Page 6: Model It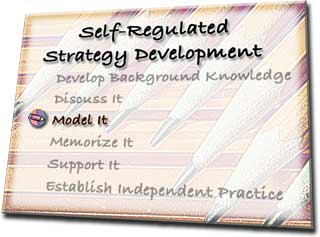 Mr. Carter recalls that the third instructional stage—model the strategy—is one of the most critical stages of SRSD. He understands the purpose of modeling is to:
Expose his students to the thought processes used by skilled learners
Show his students how to perform the steps in a strategy
Demonstrate to his students the reasons the steps in a strategy are necessary
To do all of this, Mr. Carter uses a think-aloud process in which he verbalizes his thoughts as he demonstrates the writing strategy. A good think-aloud process will give Mr. Carter's students the answers to the following questions:
What am I being asked to do?
What strategies do I know that can help me?
What do I need to do first?
Am I using all my strategy steps?
Have I checked my work?
Have I met all my goals?
Mr. Carter remembers Ms. Lin's important advice: How well he models the new strategy can determine how well his students are able to apply it. He should take care not to skip any steps of the writing strategy during his think aloud. Ms. Lin has explained that just going through the steps is not sufficient, particularly for his students with learning disabilities. Indeed, Mr. Carter might find it necessary to model the writing strategy several times. Click to view a sample graphic organizer Mr. Carter will use to model the writing strategy.
While Mr. Carter models the steps for the writing strategy, he also models another of the self-regulation strategies by showing his students how to use self-statements. He explains to his students that positive self-statements can help them to remain motivated and are a reminder that working hard will help them to achieve their goals. Because negative self-statements interfere with writing, Mr. Carter models how to respond to negative thoughts with positive self-talk. He asks his students to come up with positive self-statements that they can use to help meet their writing goals.
Activity

Some of Mr. Carter's students made negative statements about writing. Help turn their negative statements into positive ones. Click here or on the bulletin board icon to get started.

Karen Harris, PhD
Division of Educational
Leadership and Innovation
Arizona State University
Tempe, Arizona
Listen to Karen Harris discuss the importance of self-talk (time: 1:25).
Click on the movie below to view a teacher modeling the WWW, What=2, How=2 strategy for her students (time: 2:20).