Universal Design for Learning:
Designing Learning Experiences That Engage and Challenge All Students
Wrap Up
Because of the range of learner variability, educators may find it difficult to design learning experiences that engage and challenge all students. However, when they use the Universal Design for Learning (UDL) framework, educators anticipate learner variability and design instructional experiences that incorporate options for all learners. When designing instruction through a UDL lens, educators must remember that barriers to learning exist in the design and not in the students themselves. With this in mind, educators can eliminate barriers and design flexible learning experiences that make learning more accessible for all students. This accessibility empowers students to become expert learners, thus increasing learner agency.
The UDL framework is built on three principles:
Provide multiple means of engagement: Educators proactively plan more than one way to incorporate students' interests, to encourage their efforts, and to promote self-regulation while learning.
Provide multiple means of representation: Educators make sure to use more than one way to present information, to clarify and promote a shared understanding of the language and symbols used in the content, and to foster students' comprehension.
Provide multiple means of action and expression: Educators plan more than one way for students to physically interact with learning experiences, to communicate their thinking and understanding, and to use executive functions.
When designing instruction, educators can apply these principles to the four primary instructional components—goals, assessments, methods, and materials. The table below highlights key features for each of these components when a UDL lens is applied.
Instructional Component
Key Features
Goals
Goals should be:

Clearly written
Separate from the means

Assessments
Assessments should be:

Aligned with the learning goal
Incorporated throughout the learning process
Flexibly designed with options for:

How teachers assess
How students respond

Used to inform instruction and future design

Methods
Methods should be:

Flexibly designed with options for students to participate in the learning experience
Adapted and combined to address learner variability

Materials
Materials should be:

Flexible rather than fixed
Available in multiple formats
Culturally responsive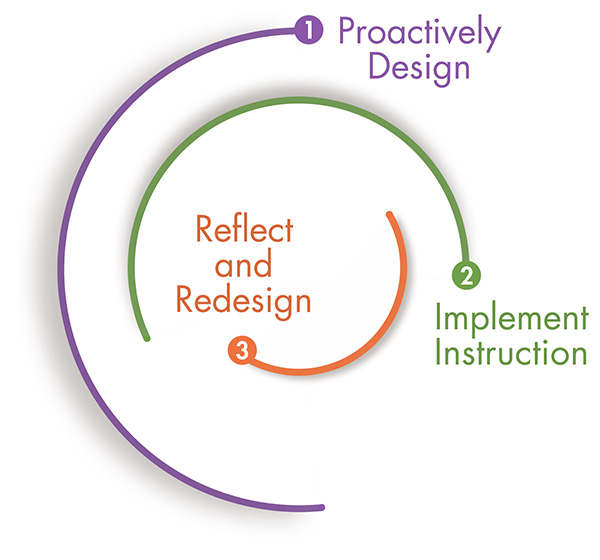 Designing a learning experience using a UDL lens is an iterative process. Educators can make small changes and apply the UDL framework throughout the learning experience as they:
Proactively design—before instruction
Implement—during instruction
Reflect and redesign—after instruction
Revisiting Initial Thoughts
Think back to your responses to the Initial Thoughts questions at the beginning of this module. After working through the Perspectives & Resources, do you still agree with those responses? If not, what aspects about them would you change?
Do these learning experiences sound familiar? Do you think they are effective?
How can educators design instruction that engages and challenges all students?
How can educators identify and address potential barriers when designing instruction?
When you are ready, proceed to the Assessment section.